Using White
Wall Paint Colors
White wall paint colors are probably the most popular choice for interior painting. But that doesn't mean white is the easiest color to work with for painting and decorating a home.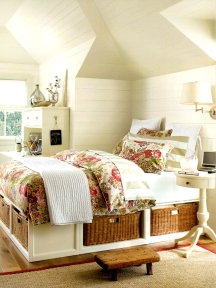 The color white is synonymous with cleanliness, freshness, and a feeling of space and light.
Because of these connotations, white looks most appropriately in kitchens, bathrooms and bedrooms.
When used in large amounts in a home, it is believed to encourage a clear mind, de-clutter the senses, and provide a perfect backdrop for imagination and creativity.
Not All White Paint Colors Are Created Equal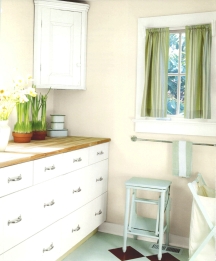 White is considered a safe painting and decorating color in that no one will find it offensive. But it can also look incredibly cold, sterile and unattractive if used in the wrong tones.
The thing is, white paint colors come in a great many subtle variations. When you look at each one individually, all you see is plain white. But when viewed together, it becomes obvious that shades of white can be warm, cool, dull, bright, faded, yellow, pink, green, gray and so on.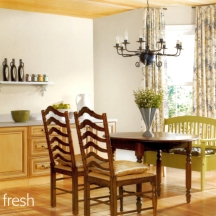 And not all whites go well together! When using white paint in a home, one of the most common mistakes people make is not being consistent.
For example, they paint the ceiling a bright pure white, the walls a warm white, and the woodwork a cool shade. As a result, even though all the surfaces are white, they still look mismatched and unrelated - because their temperatures and undertones have not been aligned.
It can be a good idea to layer and combine different shades of white for variety and depth (especially in all-white rooms). But they must be selected carefully to make sure they look harmonious and consistent together.
So when in doubt, use the same shade of white everywhere, but vary the sheen level (flat on the walls and ceiling, semi-gloss on the woodwork).
Using White Wall Paint Colors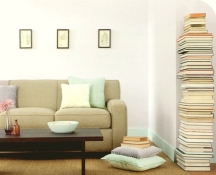 White paint colors require lots of natural and artificial light to look fresh and clean. Otherwise, even the most gorgeous and delicious shade will appear grayish, dull and boring.
In addition, natural textures and fibers are a must in all-white rooms to keep things interesting.
Keep in mind that white-based room color schemes can look as bold or as understated as you wish - the result will depend on what other colors you pair the white with.
For example, white walls look really smart and chic when combined with grays.
Black and white paint color scheme also looks classy and timeless.
But natural wood (flooring, furniture or woodwork) is needed to add some much needed warmth and a hint of color to such achromatic schemes.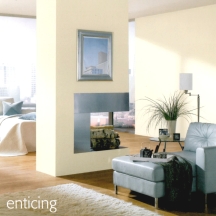 You can create an elegant and sophisticated palette by pairing white with subtle tints or shades of other colors - light sage greens, grayed blues, or pale beiges.
Or you can choose to add a punch of strong color with a few strategically placed decorative accents or wall art. Just a touch of red, cobalt blue, lemon yellow or lime green will go a long way here, because all colors appear twice as bright on a white background.
Don't feel like going through hundreds of white wall paint colors to find the right one for your home? Check out the Paint Color Cheat Sheets for the best 6 shades of white.
Check This Out (recommended):
Most Popular Interior Paint Colors - Best Paint Colors
from Sherwin Williams - "Paint Color Cheat Sheets"
White Room Projects From Our Visitors:
Here are some great white room photos and stories submitted by other visitors to this page - take a look and don't forget to leave a comment!

Simple White Wall Paint Color: Our Living Room Makeover
When we first bought the house, this living room was painted a pretty bright orange color and everyone hated it. So of course it was the first on the …...
My White Japan Inspired Basement Not rated yet

I like Japanese style, and that's what I was going for here. Though most of the items in my room do not in fact have much to do with Japan, there is …...
Custom Mixed White Wall Paint Color in My Living Room Not rated yet

Hey this is my freshly painted white living room.
I used white color paint and added a few drops of black paint to get the desired effect, as you …...
Our White Painting Idea for a Living Room Not rated yet

We wanted to use an earthy color scheme in our house. So we started by painting the walls white (we used Asian Paints, lustre finish).
All of our …...
Looking for a Painter?

See also: