Share Your Painting Project...
...and See Your Name in Lights!
Want to show off your painting idea and get feedback from the entire world?
Share it here and I will build a page just for you on this site, featuring your project - so that everyone can see it, comment and get inspired.
The best ones will also be included in my Newsletter and posted on our Facebook page for even more publicity for your skills and creativity!

Post the Photos and Tell the Story

For example, you can include:
what paint color you used
name and brand of the paint color
why you chose this color/faux finish/pattern/etc
how you did it
what you used for the inspiration
what mood you were going for
how it turned out
if you got the desired effect
tips/advice for others
...and anything else you want to include to make it interesting and useful
Psst..!
Are you a decorator, house painter, faux finisher or a home stager? Then don't forget to include your website/blog link at the end of your story - I'll make it clickable after I approve your post.
Examples of Other People's
Painting Projects:
See what others have created with paint and color, and shared with you - and make sure to leave a thoughtful comment!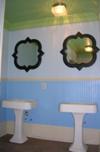 Historic Bathroom Revitalization - Painting and Remodeling Project
This bathroom project has been a labor of love and a lot of hard work. The space I was dealing with is located in a 1912 Arts and Crafts style home, …

Charles W. Nash House - Exterior Painting and Restoration Project (1890 Painted Lady Victorian)
This 1890 (Flint, MI) Queen Anne Victorian was painted in five different shades of Behr paints - with the dominant color being pink, yes I said it pink. …

E. M. Roger's House (1907) - Exterior Painting Makeover
The E. M. Roger's House is a 1907 Queen Anne Victorian home. My restoration and design team has nearly completed a $120,000 complete authentic restoration …