Ideas for Faux Painting
Kitchen Surfaces
Faux painting kitchen walls is not the only way to update a tired kitchen. Cabinets, countertop, backsplash tile, floors and even ceiling are also great surfaces to use as a "canvas" for experimenting with different faux painting techniques and effects.
Whether you are trying to revitalize an old kitchen within budget or looking to create some serendipity and color in a kitchen redo, there are decorative painting techniques and tricks to achieve your goal.
Do not try to faux paint every kitchen surface if you want a clean and sophisticated look. Keep it simple and make one or two areas your focus. Nothing is more visually disconnected than too many patterns in conflict.
Do choose one or two areas (cabinets, countertop, floor, ceiling backsplash or wall) to create something individual and inviting.
Also, try to limit your entire kitchen color scheme to 3 colors to keep it feeling united.
Ideas for Faux Painting
Kitchen Cabinets:
A decorative glaze is a transparent medium to which you add a paint color of your choice. Glazing will change and tone your base color, but will not entirely cover it.
Glazing over painted cabinets will add depth and definition to the details and panels in your wood cabinetry and the medium will "catch" in the wood grain to make it more prominent and interesting.
A glazed surface can mean a striae or wood grain type of appearance, or it might be textured to look like leather or mottled to create a cloudy effect.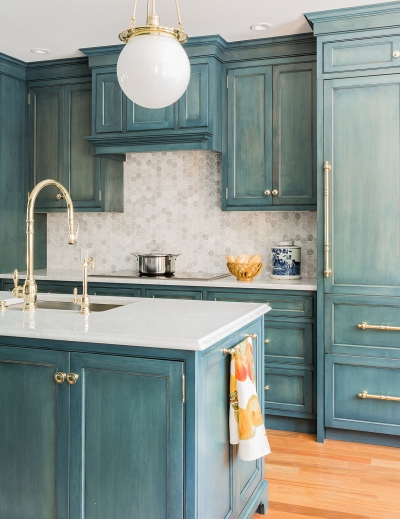 Darker over lighter shades give more detail to the wood surface, while lighter over darker shades give a more Scandinavian "frosted" look.
Alternatively, you might paint your cabinets in two tones of color and add an accent color with a jeweled or ceramic hardware knob.
Stenciling or hand painting a design on cabinet doors that coodinates with a fabric or wallpaper is another idea for renewing your kitchen theme.
You might also try a trompe l'oeil painting of a butterfly, a colorful bird, a type of fruit or vegetable on a single cabinet door for a surprise interest.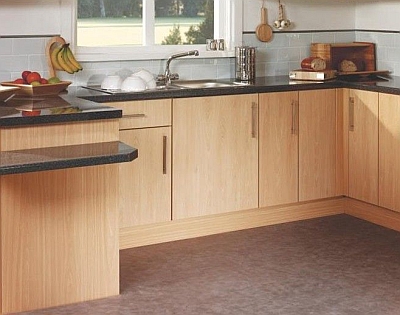 Do not neglect the interior of the cabinets. If the cabinets are older, the insides will need to be refreshed. Use a color that coodinates with your overall kitchen design colors and the exterior cabinet finish.
Dishes and glassware will look so much better against a color than against dark wood! Each time you open a cabinet door, a fresh new color will brighten your day.
And if you have lighted cabinets, you will enjoy this color change and emphasize your kitchenware all at the same time.
Ideas for Faux Painting
Kitchen Walls: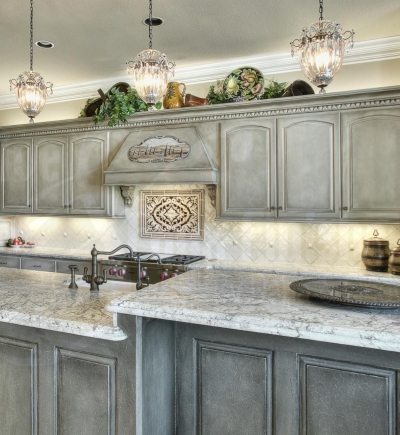 If you glaze your walls or paint a mural on them, keep the cabinets a single color. You do not want to overdo any surface and "distract" the eye.
A rich, medium toned faux painted kitchen walls would be a nice contrast both with lighter and wood cabinets. The finish that is put on the walls should be only a couple of shades deeper than the base coat, otherwise the end result might be spotty or garish.
You can also choose a non-windowed wall or a run of backsplash to do a simple mural of the appropriate countryside of your area or a favorite venue. Look in art books and magazines for ideas and inspiration.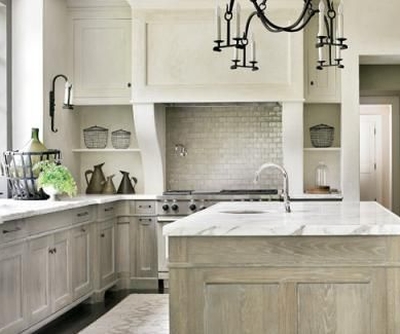 If you have little or no talent, hire an artist or create a simple stencil design at the ceiling border or at the chair rail to give your kitchen more definition.
When painting just a small scene, you might want to draw and paint a frame around it.
Any painted finish in a kitchen area should be well coated for protection and durability with a varnish or urethane that is non-yellowing. This is especially important if you are doing a scene as a backsplash (which has to withstand water and light scrubbing).
Ideas for Faux Painting
Kitchen Tile: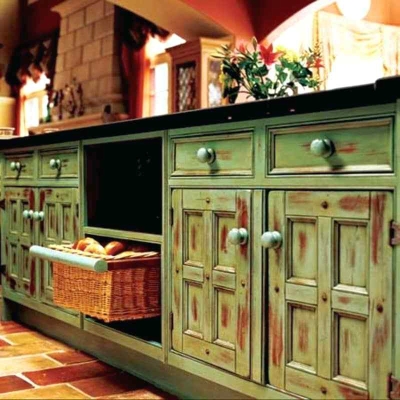 If your backsplash tile is a wrong color, in less than perfect shape or looks dated, this little problem can be easily fixed with paint. Of course, you will have to prepare the surfaces properly before painting, and find the right paint product for the tile, but the transformation will be amazing.
And you don't have to settle for a solid color when painting tile. In fact, you can faux paint your old and boring backsplash tile to make it look like real granite or marble (if you do a good job, no one will tell the difference... unless you tell them).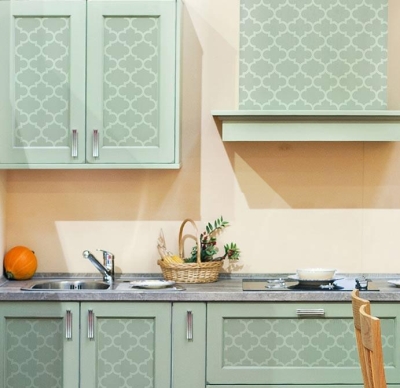 You can also create an illusion of tile squares on a wooden countertop or a painted and plastered backsplash area (just don't forget to allow for grout lines for a realistic effect).
Each tile might have a simple hand painted or stenciled design, or if you have talent, some fruits or vegetables on a few of them.
You can also create simple terra cotta tiles with reds and browns, and then use a decorative glaze to mottle them.
And again, remember to seal your work with a good quality (industrial grade would be best) varnish or urethane.
Ideas for Faux Painting
Kitchen Countertops: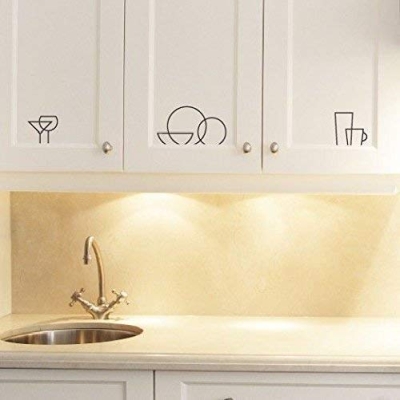 Just like with tile, you can not only change the color of old, dated finishes like laminate, but you can even fool the eye and create expensive, real stone countertop imitations with paint alone
Again, proper surface preparation and using the right products is a must here.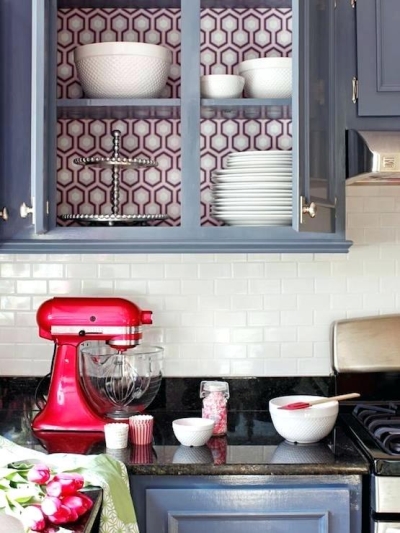 Consult "how to" books from your paint or art store for a convincing look, or copy from a real marble or granite sample when painting.
The countertop could also be done as faux painted "tiles".
This is a great way to "modernize" a kitchen for very little money, but always use a cutting board over any painted surface as so not to mar it (even if you protect it with a varnish - which you must always do anyway).
Ideas for Faux Painting
Kitchen Floors: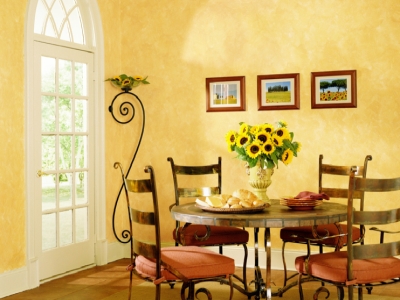 Any decorative design, whether it's a checkerboard, a faux rug or a border must be done on well sanded wood, coated with a good alkyd primer. Wood is porous, so colors will fade out and paint will not hold well if applied without a proper base. Choose porch and floor paint for the most resiliency.
Checkerboard floors, consisting of 12"x12" squares look best if drawn on the diagonal, and give a country kitchen look to your space. It is important to have some contrast between the two colors to enhance your result.
You might also do a few faux rugs, measured carefully, in a cheerful color blocking or "crewel" look patterns.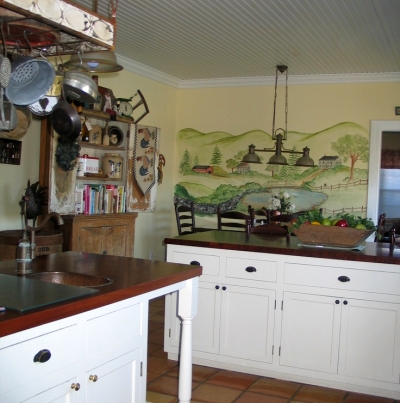 Color blocking, or checkering with 3 colors is very "now" and could be used to unify your wall, cabinet and appliance colors in your kitchen.
A very interesting floor look can be created by spattering two or three colors over a base coat. This type of design is great for hiding poor quality wood flooring and certainly will not show dirt or wear. It is best reserved for a beach or country cottage though.
If yours is a newer or just sanded floor, work with your floor finisher to complete this process and then all of the floor will be refinished at the same time.
Ideas for Faux Painting
Kitchen Ceilings: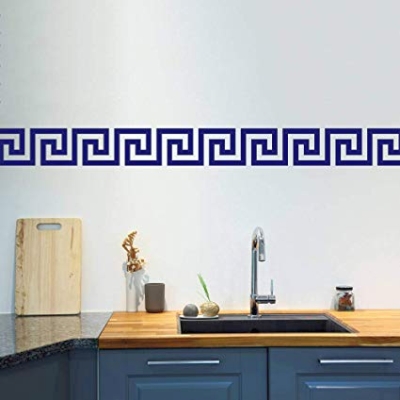 White is not always the best answer for ceilings.
If you want to enhance the kitchen space and make the ceiling appear seamlessly higher, paint it a pale derivative of whatever you paint on your walls.
To bring down the height and cozy up your kitchen, go with a deep ceiling paint color. A midnight blue looks lovely and mysterious.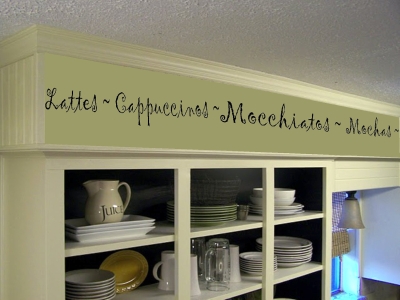 A dark color on the ceiling will also hide any damaged plaster or piping that might be visible with a lighter color (paint any pipin the same color as the ceiling to make it blend in and "disappear").
Then, if you glaze over the ceiling with a slightly deeper color than the base, you can achieve a nice cloudy look.
An antique tin ceiling could be made with a metallic paint onto which squares are drawn and shaded.
With the art of faux painting, kitchen surfaces can be transformed, renewed and updated. You spend a lot of time in your kitchen, so make it yours!
Contributed by Joanna Dole (profile coming soon).
Get a FREE Faux Painting
Kitchen Estimate:

See also: