New Jersey Wallpaper Projects
Here are some things you need to consider before starting your New Jersey wallpaper project.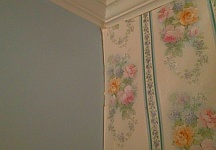 Wallpaper: most people have a love/hate relationship with it. It's an easy way to change the mood and style of any room, but a hassle to install and a real pain to remove.
After many years, wall paper coverings are in again.
With thousands of choices - from traditional to contemporary patterns - you have unlimited possibilities to express yourself.
By installing wallpaper to all the walls in a room, just to an accent wall or below the chairail only, you can add interest and texture, and redecorate any room without cluttering the space.
New Jersey Wallpaper Hanging:
It's Not an Easy Task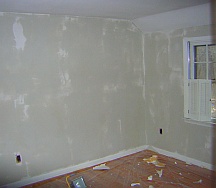 Wallpaper hanging
is not an easy task, and requires skill, precision and patience. If you have none, it's better to leave the job to professionals.
Loose seams, curling edges, bubles or dried glue will look cheap even if you choose the best paper in the world. After unsuccessful attempts, many people end up with wasted materials, damaged drywall and finally call for professional installation. But correcting mistakes is often more expensive than doing the job right the first time.
New Jersey Wallpaper Painting:
You Never Know What Will Happen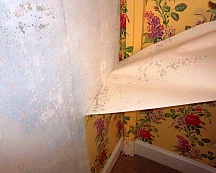 Painting over wallpaper
can be done, but is not recommended, because it rarely produces professionally looking results.
Not all wallpapers can be painted over, and most react by bubbling or coming off the wall. But the worst thing is, you can never know if it's going to be successful until the walls are painted, and painted wallpaper is much harder to remove without damaging the drywall. People choose this alternative hoping to save some money, but cutting corners this way can often backfire.
New Jersey Wallpaper Removal:
Not For the Faint of Heart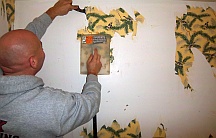 Wallpaper removing
is a messy, tiring, time-consuming job.
No matter what the label says, most wallcoverings are very difficult to strip, especially when they have been incorrectly installed in the first place.
After removing old wallpaper it's often necessary to skim coat, sand and prime the entire surface. In some cases, when trying to remove wallpaper, homeowners or unexperienced workers damage the surface to a point where the only solution left is to replace drywall - experiments can be costly.
Although beautiful, wall coverings are expensive to install and remove. And if you love the look and feel of wallpaper but are not ready to commit, consider faux finishes - most can be easily painted over when you grow tired of them.
NJ Wallpapering
Contractor Quotes:

See also:
Cape May county, NJ: Avalon 08202 Cape May 08204 CMCH 08210 Ocean City 08226 Sea Isle City 08243 Seaville 08221 Stone Harbor 08247 Woodbine 08270. Painting contractor NJ in Atlantic county: Atlantic city 08401 Brigantine 08203 Egg Harbor Township 08234 EHT Galloway 08205 Linwood 08221 Longport 08403 Margate city 08402 Mays Landing 08330 Northfield 08225 Smithville 08201 Somers Point 08244 Ventnor 08406. House painting in NJ - Camden county: Barrington 08007 Berlin 08009 Cherry Hill 08002 08003 08034 Gibbsboro 08026 Haddon Heights 08035 Haddonfield 08033 Sicklerville 08081 Voorhees 08043, painting NJ homes.