Apply, Paint, Repair or
Remove Popcorn Ceiling?
These days, most people want to remove popcorn ceiling texture from their homes.
Popcorn ceiling texture was very popular from the late 50s to early 80s, but then fell out of favor, when people realized that such ceilings are hard to maintain, become dust traps and often contain asbestos.
Besides, most realtors now say that the dated look of ceiling texture "popcorn" negatively affects a house's value, causing prospective buyers to negotiate down.

Nevertheless, there are some people who still love the look of a popcorn texture ceiling and, more importantly, the reasons for installing it are still valid - it hides many surface flaws and is a great alternative to replacing drywall. Plus, acoustic ceilings are often helpful for noise insulation, and can add a cozy feeling to a room.

NOTE: There are also other ways to texture a ceiling that provide similar benefits and more durability - the most popular ones are mud swirl ceiling texture, knockdown ceiling texture, or orange peel ceiling texture.
To Apply Ceiling Texture Popcorn...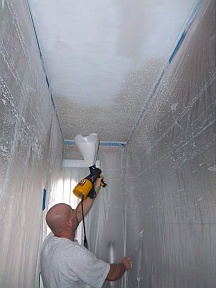 A special acoustic sprayer is required to apply ceiling texture "popcorn" - the job is messy, so the entire room must be covered with plastic - walls, floors and furniture. Other textures can be applied by hand, so the mess is more controlled.
After applying ceiling texture "popcorn", some homeowners choose to add a light sprinkling of gold or silver flakes to dress up the "fifth wall".
To Paint a Popcorn Ceiling...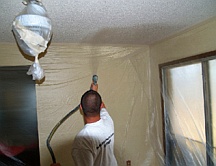 Painting a popcorn ceiling is usually only possible by spraying - even specialized roller covers can sometimes strip the texture down to the drywall. Painting ceiling texture like mud swirl can be safely done with a roller, however spraying often produces a more even coverage.
Popcorn Ceiling Repair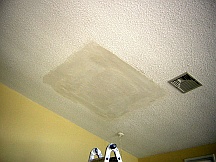 Popcorn ceiling repair is tricky, because the larger the damage area, the more difficult it is to match the existing ceiling texture pattern.
With other ceiling textures, repair is usually easier, but not completely foolproof. With all textures, it's usually necessary to repaint the entire ceiling, otherwise the repaired area will stand out.
To Remove Popcorn Ceiling...
If your house was built prior to 1979, your "popcorn" contains asbestos. Removing popcorn ceilings that contain asbestos is not only not advisable, it is plain dangerous! So for safe and legal popcorn ceiling removal, you should find a local asbestos testing and abatement company
to do the work. Your second option is to spray a fresh coat of "popcorn" right over the existing asbestos ceiling texture - that way the harmful stuff will be encapsulated.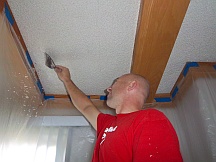 In newer homes, you can safely do the job yourself, but it's better to use a professional who can remove popcorn ceiling texture without damaging the drywall, smooth out the ceiling and prepare it for painting.
Removing ceiling texture like orange peel or knockdown is usually done by skim coating it with joint compound.
Get a FREE Quote to
Remove Popcorn Ceiling:

See also:
Apply, Repair, Paint or Remove Popcorn Ceiling in New Jersey: Cape May county, NJ: Avalon 08202 Cape May 08204 CMCH 08210 Ocean City 08226 Sea Isle City 08243 Seaville 08221 Stone Harbor 08247 Woodbine 08270 popcorn ceiling removal Atlantic county, NJ: Atlantic city 08401 Brigantine 08203 Egg Harbor Township 08234 EHT Galloway 08205 Linwood 08221 Longport 08403 Margate city 08402 New Jersey removing popcorn ceiling Mays Landing 08330 Northfield 08225 Smithville 08201 Somers Point 08244 Ventnor 08406 Camden county, NJ: Barrington 08007 Berlin 08009 Cherry Hill 08002 08003 08034 Gibbsboro 08026 Haddon Heights 08035 Haddonfield 08033 Sicklerville 08081 Voorhees 08043 removing popcorn ceilings in New Jersey.