Tips for Choosing the Right
Paint Color for Woodwork
Learn about the 3 ways of choosing the right paint color for trim, doors, windows and other woodwork in your home.
When it's time to paint woodwork, how do you choose paint colors? Do you (like so many other homeowners) simply slap on a coat of white on the doors, windows and trim and consider it done? If so, that might be the missing piece and difference between the professionally coordinated room color schemes you see in magazines and the not-so-impressive reality of DIY home decorating color schemes.
There are 3 ways of choosing the right paint color for the woodwork in your home. Let's take a look at each one separately.
Coordinating Paint Colors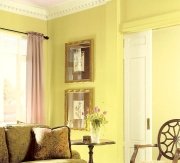 Even white color has to be coordinated with the other colors used in the room. The shade of white you choose for painting the woodwork must relate to the wall color or to other fixed white finishes in the room. If it doesn't, the trim will look too harsh or dirty, or completely out of place. Chances are, it's happened to you at least once, and now you know the reason why.
All whites are not created equal - after all, there must be a reason for over 100 shades of white in a typical color deck! If you want to create beautiful and balanced paint color schemes, learn how to properly choose paint color shades and undertones for your woodwork. Your rooms will never be the same!
Matching Paint Colors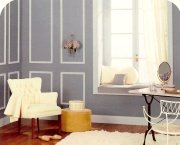 Pure white is not the only (and often not the best) option for painting woodwork. You can also match interior trim colors to the wall color.
To do that, you will need to tint your white trim paint with the wall color. Or, you can pick the lightest shade on the same color strip where your wall color is found.
This option is great for those people who don't like the harsh contrast that pure white often creates. Besides, it's an ideal choice for painting small rooms. The result will be soft and flowing.
Decorating Paint Colors
There are situations where white color simply doesn't fit in.
For example, if your interior color scheme is very deep and saturated, or you have some gorgeous french doors that are worth highlighting. That's when you should break away from your "white trim" habit and use "real" colors on the woodwork.
For ideas and inspiration, see "Unconventional Interior Trim Colors".
Choosing the right paint color for trim may seem like a lot of work, but the results will be so worth it!
See Also: