Kitchen Cabinet Refinishing
New Jersey Project Ideas
Creative solutions and ideas for kitchen cabinet refinishing.
New Jersey homeowners will agree that a beautiful kitchen is one of the most favorite places for the entire family, a pride of any woman and a major selling point of any house.
Outdated materials and wrong colors can become a real eyesore both for you and for prospective buyers.
But if you don't want the huge costs and mess of a complete kitchen remodeling or refacing, and if you'd like to save thousands of dollars and dramatically update the look and feel of your kitchen, then our cabinet refinishing ideas are just what you need.
Kitchen Cabinet Refinishing
New Jersey Project Idea #1:
Staining Wood Cabinets

Staining kitchen cabinets will bring out the beauty of any wood kitchen. If your wood cabinets have been previously painted or stained, they will have to be stripped down to bare wood first.
Then - the possibilities are endless! You can choose from dozens of traditional wood colors and finishes or, if you dare, you can even go with decorative stain colors like blue or green.
Kitchen Cabinet Refinishing
New Jersey Project Idea #2:
Kitchen Cabinet Painting
For this idea to work, your cabinets don't have to be wooden. In fact, even painting laminate cabinets is possible!
As always, proper surface preparation is critical for beautiful and long-lasting results, but once it's done, you can experiment with color.
Besides, you don't need to limit yourself to one color only - combining 2 or 3 colors can produce a totally different style. For example, you can try white and peach, tan and sage, different tones of the same color and so on!
Kitchen Cabinet Refinishing
New Jersey Project Idea #3:
Faux Wood Graining

By painting cabinets with this decorative technique, you can imitate the look of wood without the expenses of refacing!
This idea can work for transforming the entire cabinets or just for cabinet door refinishing. Refinishing cabinet doors this way will make your kitchen look more solid and rich, no matter what it was originally made of.
Kitchen Cabinet Refinishing
New Jersey Project Idea #4:
Crackling Technique for Cabinets

This decorative painting finish works great for both kitchen and bathroom cabinet refinishing.
It produces an aged, antique, expensive looking type of finish that can add class and authenticity to any surface.
Play with different color combinations for the "cracks" and top coat, then don't forget to apply a protective sealer for durability.
Kitchen Cabinet Refinishing
New Jersey Project Idea #5:
Wood Distressing Technique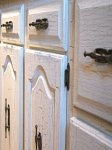 Distressing is a great idea for wood cabinet refinishing. Distressed wood is considered chic and stylish and will give your home that warm, comfortable, weathered look and feel of heritage.
This finish is achieved by sanding off the paint or stain, to reveal the undercoat or bare wood in places where finish would wear off naturally, then a protective sealer is applied for durability.
Kitchen Cabinet Refinishing
NJ Quotes:

See also:
Cape May county, NJ: Avalon 08202 Cape May 08204 CMCH 08210 Ocean City 08226 Sea Isle City 08243 Seaville 08221 Stone Harbor 08247 Woodbine 08270. Painting contractor New Jersey in Atlantic county: Atlantic city 08401 Brigantine 08203 Egg Harbor Township 08234 EHT Galloway 08205 Linwood 08221 Longport 08403 Margate city 08402 Mays Landing 08330 Northfield 08225 Smithville 08201 Somers Point 08244 Ventnor 08406. House painting New Jersey in Camden county, NJ: Barrington 08007 Berlin 08009 Cherry Hill 08002 08003 08034 Gibbsboro 08026 Haddon Heights 08035 Haddonfield 08033 Sicklerville 08081 Voorhees 08043 and New Jersey painting.