Neutral Paint Colors:
Things You Need to Know
Prefer neutral paint colors over bright hues? Here are a few tips for working with off-whites, beiges, grays and browns.
Why Do You Choose Neutrals?
Using "real" color on the walls takes courage. It allows you to express yourself, but also makes you vulnerable in a way - because it reveals your taste or lack thereof.
That is why neutral paint colors are so popular - they feel safer, so a lot of people choose to hide behind a beige paint color all their lives.
But that doesn't mean you are a color "coward" if you prefer neutral color schemes in painting and decorating!
In fact, neutrals are perfectly fine and even necessary in a home - as long as they are used intentionally and not by default.
Neutral tones give our eyes a rest and help separate "real" colors in the decor. They stay in the background and allow furniture, wall art, pattern and other design elements to take center stage instead.
Are Neutral Paint Colors Really Safe?
Any professional decorator will tell you that neutrals are much trickier to work with than other colors. The reason is, most neutrals are not really neutral!
With the exception of pure white, pure black and pure flat gray, neutral shades have little amounts of other colors added to them, creating subtle variations in temperature and undertones.
It can be hard to tell if the neutral you are looking at is warm or cool, or to figure out its undertone until you compare it to other neutral shades.
And that is what makes neutrals difficult to work with - they often change appearance in the presence of other colors. So you can't just pick a random off-white, gray or beige paint color for the walls without regard to the existing colors in your decor. Because instead of looking safe and neutral, it may throw your entire room color scheme off balance.
And this is especially true when creating all-neutral color combinations. That's why you need to devote at least as much time to choosing the right neutral, as you would to selecting a "real" color for your home.
Will the Real Neutral Please Stand Up?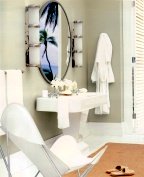 When most people talk about neutral paint colors, they usually mean beige, brown, off-white or gray. But in reality, virtually any color can be called a neutral.
For example, in nature, green is the "neutral" or background color for all other colors. Also consider your own wardrobe: is dark blue your personal "neutral"? Finally, think about your favorite pair of blue jeans - just about any color gets paired with them!
In a home, any muted, quiet color used predominantly in a color scheme, can work as a successful (even if unconventional) neutral. So don't limit yourself only to "traditional" neutral shades - maybe try a pale sage green or a grayed down French blue this time!
Want a shortcut to the best traditional and unconventional neutral paint colors? Take a look at my Paint Color Cheat Sheets.
Neutral Colored Room Projects From Our Visitors:
Here are some great neutral colored room photos and stories submitted by other visitors to this page - take a look and don't forget to leave a comment!

See Also: