Painting and Decorating:
It's a Self-Discovery Tool
What if I told you that painting and decorating your home can be a great self-discovery exercise? Sounds like a stretch? Let me explain first...
There are several ways to look at home painting and decorating. Some people think of it as a chore, and want to get it over with as soon as possible. To others, it's a hobby, a chance to get creative or even show off. But almost no one realizes that decorating with paint can also be a personal discovery tool in a sense, that will accurately reveal both your strengths and weaknesses.
And I am not talking about the surface stuff you'll learn about yourself, like whether or not you are good at choosing paint colors, what your signature home decorating color schemes are, or that you can't cut a straight line when painting ceilings even if your life depended on it.
What I mean by personal discovery is that the hidden inner stuff will be brought to the surface - your fears, insecurities and lack of self-confidence. Believe it or not, the process of painting and decorating can become a catalyst that will propel your personal growth to new heights and show you areas for improvement.
Are you a trend setter or a trend follower?
Do you follow paint color trends because you truly like the new "color du jour"? Or is it because you want to appear hip and cutting edge?
Have you ever started a trend - even if it's only among your friends? Do you copy or are you copied? Are you a home fashion slave or a free spirit?
Are you trying to fit in or stand out?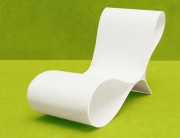 Do you let other people's opinion affect your home painting and decorating choices? Do you have the guts to go with pink (if it's your favorite color), while everybody else is choosing teal? Do you pick dramatic paint colors, surrealistic art or designer furniture because you are trying to impress somebody, because your interior decorator said it was "in" or because it's really who you are?
Who are you trying to please?
Do you find yourself painting rooms right before major holidays? Is it because you want to make a present to yourself, or because the in-laws are coming? Are you one of those people who only paint and maintain the front of the house and neglect the back? Do you avoid having your friends over because your kitchen is outdated? Do you need to have your paint color and design choices validated by someone before you go ahead with the project? Or is your personal preference enough to make a decision?
Think about these questions the next time you are decorating with paint. Who knows, maybe your answers will change the way you approach your house painting and decorating projects from now on, or even how you make other, more important decisions in life!
See Also: