Interior and Exterior
House Painting Ideas and Tips
for a picture-perfect home
Surprisingly, most people still think of house painting only as a way to make their homes look beautiful.
When in fact, if done properly, home improvement painting can result in even bigger benefits.
For example, you can:
Raise the value of your home (by applying smart home painting ideas)

Help your house sell faster (by choosing paint colors that sell)

Lower your energy bills (by caulking and painting walls with special products)

Hide structural flaws and eyesores (by using exterior and interior paint colors strategically)

Visually manipulate the space (by painting rooms creatively)

Imitate expensive materials and fool the eye (by using decorative wall painting techniques)

Restore, protect and extend the life of surfaces (by implementing professional house painting tips and tricks)

... and much, much more!
Ready to learn how to get the most out of painting your home?
Then stick around, because everything you need is right here!
Need House Painting Services?
If you are looking for FREE house painting estimates, this site will make you an educated customer.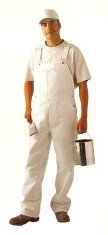 No contractor will ever take advantage of you!
You will learn about:
Worst and best places for finding quality home painters

What to look for in painting contractors

How to compare painters' quotes

How to do a contractor background check

Money-saving ideas, solutions and options
Want DIY Painting Ideas and Instructions?
If you are a do-it-yourselfer, you will LOVE our:
Exterior and interior painting ideas

Guides to choosing paint color

Beautiful room color schemes

Most popular paint colors

Best paint colors to sell your home

Faux paint examples

Faux finish techniques

Exterior and interior painting tips

Tutorials for painting every surface (from painting kitchen cabinets, to removing wallpaper, to garage floor epoxy coating instructions)

Ways to protect, beautify and raise the value of your home
This site is constantly growing, so subscribe to our RSS Feed to stay up to date with all the latest additions.
You can also follow us on Twitter and connect on Facebook.
Or, better yet, sign up for our Newsletter - you'll get our best stuff right in your inbox, so you never run out of ideas for your home!
Would You Like to Get
a FREE Quote for Painting?

Most Popular:
Paint Color Cheat Sheets is a shortcut to the best paint colors: a list of most popular Sherwin Williams paint colors that always work.
Paint colors critique - ask a question about choosing paint colors and get feedback on your chosen color schemes.
House Painter and interior decorator jobs available; hiring faux finishers and designers for part time positions. Apply here.
Painting stripes on walls in your home: tips, tutorials and inspiration for striping paint projects...
Interior paint finishes: find out how to choose the best paint finish for painting ceilings, walls, doors and trim in your home.
Room color schemes for painting and decorating. Learn how to create inspiring decor and paint color schemes for your home.
Explore house paint colours, find the right wall painting colors for your home...
Interior paint colors: complete guide to choosing perfect interior wall colors every time.
Interior home painting: industry insider tips on how to save money on your next home improvement painting project.
Selecting paint colors: learn how to choose paint colors for open floor concepts. Photo examples of creating interior color schemes for open areas.
Painting ceilings: learn how to paint a ceiling and make it appear higher or lower with our cool room painting tricks.
Decorative interior painting: find out how, by properly choosing interior paint colors and using decorative wall painting techniques, you can add some
Wall painting techniques: how to paint a wall to hide its flaws - painting preparation, applying wall textures, decorative wall painting techniques.
Interior house painting colors: learn how to harmonize and choose interior paint colors – see photos and instructions.
Learn how to choose paint colors: photos and instructions for picking the best paint colors and creating beautiful interior color schemes.
Interior paint color combinations: a step by step example of choosing paint colors and creating home color schemes for apartments.
Room colors and interior paint color combinations for a small house or apartment.
Mixing paint colors: learn how to extend home painting colors and create tints, shades and tones.
Home improvement painting: interior painting tips, exterior house painting tips, room painting tips and FREE estimates for house painting.
Coordinating paint colors: learn a fun and easy way to coordinate wall painting colors and create room color schemes...
Most popular paint colors have a few things in common. See what makes best paint colors, best...
Best paint colors for the interior: foolproof, no-fail, most popular Sherwin Williams paint colors...
Paint color swatches: learn how to make oversized paint color chips for testing different interior paint colors.
Paint color wheel explains how colors are created and how they relate to each other when used in home color design.
Home color design: do you know the right order of choosing colors for painting and decorating?
Interior trim colors: you need to put some thought into choosing the right paint color for your woodwork.
The House Painting Blog features our latest posts on choosing interior paint colors, room color schemes and creative painting ideas.
House painting contractors NJ: need someone to do painting in New Jersey? Request an estimate for your South Jersey Painting project today!
Faux painting New Jersey homes – get a FREE quote for decorative painting in NJ. Browse thru available faux finishes for NJ painting projects.
Painting Contractors New Jersey: find out the price for your NJ painting project. NJ house painter offers custom interior and exterior work.
Painting Contractor NJ: request a cost estimate for painting NJ homes. All work comes with a 2 year guarantee.
Do you have a comment or a question you'd like to ask us? Contact us directly!
Deck cleaning NJ: professional NJ powerwashing contractor offers deck cleaning and sealing services. Get a bid for your New Jersey power washing / deck cleaning job!
New Jersey deck cleaning and sealing services. Professional NJ powerwashers will pressure clean your wood deck to remove mold and mildew, dirt and tannin stains.
New Jersey powerwashing services offered by a professional NJ pressure washing contractor. Get a quote for power cleaning in Cape May, Atlantic, Cumberland and south Camden counties.
NJ powerwashing: New Jersey deck cleaning, house washing, pressure cleaning brick/concrete patios and driveways, removing mold/mildew stains, oil/grease, graffiti.
NJ power washing services by AK Painting and Powerwashing - NJ deck cleaning and sealing, roof cleaning, brick and concrete cleaning, house washing.
Powerwashing in NJ - our services include: NJ deck cleaning, low pressure cleaning roof shingles, pressure washer cleaning siding, driveway and patio cleaning, power washing brick and concrete.
Home painter NJ: a full service NJ painting company offers professional service for painting New Jersey homes at reasonable rates.
House painter New Jersey – a reliable NJ house painting contractor handles large and small NJ painting projects. Request a no-charge consultation and quote
New Jersey house painting contractor offers professional painting services for homeowners in NJ: painting, staining and more… Get a FREE quote today!
NJ house painter backs up all his New Jersey painting projects with a 2-year guarantee. Schedule your interior or exterior NJ painting job today!
NJ painting contractor specializes in custom painting New Jersey homes. 2 Years written warranty for all New Jersey house painting projects.
Local NJ painting contractors - homeowners can request a quote for South Jersey painting projects from a trustworthy NJ house painter.
Painting Contractor New Jersey: quality NJ painting contractor provides FREE estimates for painting South Jersey houses.
Professional painting in NJ: receive a no-cost bid from an experienced painting contractor. New Jersey homeowners get a complimentary color consultation.
Wall Color Ideas: find out how to choose paint colors and pull paint color ideas from a piece of printed fabric.
Paint Color Ideas: discover how to get wall color ideas and pull wall painting colors from a classical painting.
Paint color palette: learn how to use monochromatic house painting color schemes and combinations in your home.
Home color scheme: how to choose and put together double split complementary interior paint color combinations.
Paint color combinations: learn about one of the easiest room color schemes - a split complementary home color scheme.
Interior paint color schemes: instructions and photo examples for creating a triad home color scheme.
Paint color schemes: tutorial for putting together interior paint color combinations for your home.
Interior color schemes - find out how to compose complementary paint color schemes and interior paint color combinations.
House paint color combinations: illustrated tutorial for choosing interior paint colors based on a rug.
House painting color schemes and interior paint color combinations keyed to a flower.
Wall painting colors and house painting color schemes inspired by a bowl of fruit.
Room paint colors: do you make this mistake when choosing paint colors for dark rooms? Read on to find out...
Interior wall paint colors: find out how natural and artificial lighting affects your wall paint color choices and what you can do about it.
Home decorating color schemes: learn how to find your own signature home painting and decorating style.
Wall paint colors: follow in the footsteps of decorators to learn how to choose paint colors.
Choosing the right paint color for woodwork: how to choose paint colors for trim, doors and windows.
Choose paint colors for trim, doors and windows; interior paint color tips and ideas.
How to choose paint color for the woodwork in your home - doors, windows and trim.
Color for house painting: are you a copycat when it comes to choosing wall paint colors?
Choose interior paint colors that suit your taste: get wall color ideas and inspiration for house painting.
Choosing colors to paint a room doesn't have to be stressful. Choose paint colors and create beautiful interior paint color combinations.
Wall paint color can be tricky. Learn why your interior paint colors may look uneven, blotchy, different and weird on the walls...
Do you paint sample colors on the walls? Learn a better way of testing interior paint colors ...
Paint color chips: pros insist on using oversized paint color swatches. Should you follow suit?
Color paint chips: how to find that perfect shade with small and large paint color chips.
Interior paint color samples: 2 unusual ways to sample paint colors before painting rooms.
Color in the home: do you know why and how to test different wall paint colors?
Paint colors for house painting should never be chosen in a paint store. Find out why...
Paint color samples: learn the do's and dont's of using samples when choosing interior paint colors.
Choosing wall colors: decorator's advice for selecting paint colors based on your home size.
House paint colors: tips, tricks and tutorials for matching and coordinating paint colors.
Painting and decorating as a self-discovery tool. When decorating with paint, you get to learn so much about yourself!
Paint color mixing chart offers a great way to learn how different home painting colors are created.
Designer paint colors on a bargain: find out how to buy cheap interior home paints for your project...
Need colors to paint a house? Learn where to find exterior and interior paint colors that don't cost you a dime.
Custom paint colors: instructions for mixing paint colors when you need to adjust the shade.
Paint color experts and decorators show you how they choose and coordinate house painting colors
Choosing paint color is like choosing an outfit. Here's a fun and easy approach to picking and coordinating paint colors...
Home paint colors: here's what you need to know about light and dark house painting colors and their light reflective value...
Room color can be warm or cool... or both at the same time! Find out how to understand and use home paint color temperatures...
Paint color trends: the good, the bad and the ugly about the latest
Interior wall colors: do you know what wall paint colors are really neutral? Find out the answer here...
Wall colors: do you know which home paint colors are clean, and which are muddy and how to coordinate them?
Picking paint colors involves some planning. Find out the right order of selecting paint colors for your home...
Choosing a paint color: illustrated instructions for choosing the right paint color for your interior home painting project.
Choosing paint colors: before you start choosing interior paint colors, consider the 3 things that can influence your color selection choices.
Cool wall painting ideas: unique accent walls, creative focal wall projects, unusual interior painting ideas...
Gray paint colors are very versatile. Learn how to choose the right shade of grey for painting the walls...
Painting accent walls: before you paint an accent wall, learn how to choose the right color and wall for your project.
Most popular paint colors for interior home painting: see the most frequently chosen interior wall colors, room by room...
Popular interior paint colors by age and gender: find out the best paint colors for painting rooms as voted by homeowners...
Sherwin Williams paint colors, important tips about Sherwin Williams paint chart, Sherwin Williams paint swatches and samples.
Sponge painting is a technique of applying or removing glaze from the walls with a sea sponge. Learn how to sponge paint here.
Ragging faux paint techniques involve dabbing or rolling a ball of cloth on a surface to create decorative glaze effects.
Successful kitchen color schemes are created by properly selecting countertop, cabinet, flooring and wall finish colors...
Kitchen painting ideas by decorating styles: see traditional, country, contemporary, modern, asian kitchen wall color ideas...