Interior and Exterior
House Painting Ideas and Tips
for a picture-perfect home
Surprisingly, most people still think of house painting only as a way to make their homes look beautiful.
When in fact, if done properly, home improvement painting can result in even bigger benefits.
For example, you can:
Raise the value of your home (by applying smart home painting ideas)

Help your house sell faster (by choosing paint colors that sell)

Lower your energy bills (by caulking and painting walls with special products)

Hide structural flaws and eyesores (by using exterior and interior paint colors strategically)

Visually manipulate the space (by painting rooms creatively)

Imitate expensive materials and fool the eye (by using decorative wall painting techniques)

Restore, protect and extend the life of surfaces (by implementing professional house painting tips and tricks)

... and much, much more!
Ready to learn how to get the most out of painting your home?
Then stick around, because everything you need is right here!
Need House Painting Services?
If you are looking for FREE house painting estimates, this site will make you an educated customer.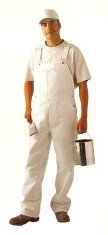 No contractor will ever take advantage of you!
You will learn about:
Worst and best places for finding quality home painters

What to look for in painting contractors

How to compare painters' quotes

How to do a contractor background check

Money-saving ideas, solutions and options
Want DIY Painting Ideas and Instructions?
If you are a do-it-yourselfer, you will LOVE our:
Exterior and interior painting ideas

Guides to choosing paint color

Beautiful room color schemes

Most popular paint colors

Best paint colors to sell your home

Faux paint examples

Faux finish techniques

Exterior and interior painting tips

Tutorials for painting every surface (from painting kitchen cabinets, to removing wallpaper, to garage floor epoxy coating instructions)

Ways to protect, beautify and raise the value of your home
This site is constantly growing, so subscribe to our RSS Feed to stay up to date with all the latest additions.
You can also follow us on Twitter and connect on Facebook.
Or, better yet, sign up for our Newsletter - you'll get our best stuff right in your inbox, so you never run out of ideas for your home!
Would You Like to Get
a FREE Quote for Painting?

Most Popular:
Fork estimate
New Jersey house painting contractor offers professional painting services for homeowners in NJ: painting, staining and more… Get a FREE quote today!
NJ painting contractor specializes in custom painting New Jersey homes. 2 Years written warranty for all New Jersey house painting projects.
Professional painting in NJ: receive a no-cost bid from an experienced painting contractor. New Jersey homeowners get a complimentary color consultation.
NJ house painter backs up all his New Jersey painting projects with a 2-year guarantee. Schedule your interior or exterior NJ painting job today!
Local NJ painting contractors - homeowners can request a quote for South Jersey painting projects from a trustworthy NJ house painter.
House painter New Jersey – a reliable NJ house painting contractor handles large and small NJ painting projects. Request a no-charge consultation and quote
Painting Contractor New Jersey: quality NJ painting contractor provides FREE estimates for painting South Jersey houses.
Paint Color Cheat Sheets is a shortcut to the best paint colors: a list of most popular Sherwin Williams paint colors that always work.
Interior paint colors: complete guide to choosing perfect interior wall colors every time.
House paint colors: tips, tricks and tutorials for matching and coordinating paint colors.
Room color schemes for painting and decorating. Learn how to create inspiring decor and paint color schemes for your home.
Explore house paint colours, find the right wall painting colors for your home...
Paint color experts and decorators show you how they choose and coordinate house painting colors
Paint colors critique - ask a question about choosing paint colors and get feedback on your chosen color schemes.
Painting accent walls: before you paint an accent wall, learn how to choose the right color and wall for your project.
Painting stripes on walls in your home: tips, tutorials and inspiration for striping paint projects...
Decorative painting techniques: learn about creative ceiling painting techniques and see examples of faux painting finishes for ceilings.
Decorative interior painting: find out how, by properly choosing interior paint colors and using decorative wall painting techniques, you can add some
Kitchen cabinet refinishing New Jersey – get a FREE quote for staining cabinets, cabinet door refinishing and kitchen cabinet painting in NJ area.
New Jersey wallpaper contractor – wallpaper removing, NJ wallpaper installation. Get an estimate for your wall papering and wall covering project today!
Remove popcorn ceiling, applying and painting a popcorn ceiling, popcorn ceiling patch
Wall painting techniques: how to paint a wall to hide its flaws - painting preparation, applying wall textures, decorative wall painting techniques.
Painting rooms creatively: find out how to paint a room to visually change its dimensions. You'll learn how to paint your room to manipulate the space.
Painting ceilings: learn how to paint a ceiling and make it appear higher or lower with our cool room painting tricks.
Interior paint finishes: find out how to choose the best paint finish for painting ceilings, walls, doors and trim in your home.
Sponge painting is a technique of applying or removing glaze from the walls with a sea sponge. Learn how to sponge paint here.
Ragging faux paint techniques involve dabbing or rolling a ball of cloth on a surface to create decorative glaze effects.
Faux painting New Jersey homes – get a FREE quote for decorative painting in NJ. Browse thru available faux finishes for NJ painting projects.
Staining contractors share their best tips for interior and exterior wood staining. Homeowners can get a FREE quote here.
Epoxy garage floor covering: find out how by painting a concrete floor you can turn your garage into a showroom. See transformation, get a FREE quote.
Sealing a deck is a must if you want it to last. Deck cleaning and sealing should always go hand in hand. Get the details and an estimate for sealing wood today!
Pressure washing services: get a quote for wood deck cleaning, cleaning siding, cleaning roof shingles. See what powerwashing can do for your home.
Home improvement painting: interior painting tips, exterior house painting tips, room painting tips and FREE estimates for house painting.
Types of paint finishes for the exterior of your house - find out which paint finish to use for your exterior house painting project.
House painting contractors NJ: need someone to do painting in New Jersey? Request an estimate for your South Jersey Painting project today!
Interior home painting: industry insider tips on how to save money on your next home improvement painting project.
Painting Contractor NJ: request a cost estimate for painting NJ homes. All work comes with a 2 year guarantee.
Home painter NJ: a full service NJ painting company offers professional service for painting New Jersey homes at reasonable rates.
Painting Contractors New Jersey: find out the price for your NJ painting project. NJ house painter offers custom interior and exterior work.
The House Painting Blog features our latest posts on choosing interior paint colors, room color schemes and creative painting ideas.
House painting tutorials newsletter: features best painting ideas, color tips, DIY projects and more. Sign up here.
Advertise on HousePaintingTutorials.com and tap into your target market - the marketing power of our niche site is dynamite!
Our affiliate program pays 50% commision for every sale you refer. Revolutionary product, hungry market, strong copy.
Submit your home painting project on this page and we'll put your name in lights!
Do you have a comment or a question you'd like to ask us? Contact us directly!