Black Walls:
Not For the Faint of Heart

Considering black walls in your home? This dramatic painting idea could work, but you need to follow a few guidelines below...
Black is a staple color in decorating and an essential element in refined interiors.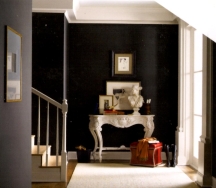 It is associated with worldliness, dignity and mystery.
When used correctly in accents, it helps to punctuate and ground any interior color scheme.
But in house painting, the color black is not popular at all - most people find black walls intimidating, gloomy and depressing.
And it's true: too much black can be uncomfortable to live with, so it's important to keep its importance in proportion.
Here's how...

Tips for Painting
Black Walls

Not every room lends itself to large amounts of black color.
In order to look chic, and even fresh and inviting, black needs a lot of natural and artificial light.
It also requires light-colored furniture, flooring and ceilings to balance out its heaviness (yes, colors have weight).
Rooms with extra-large windows, large wall art and/or big furniture pieces against the walls are usually the best candidates for this paint color (because in such rooms you only see a fraction of the wall space, thus minimizing the impact of black).
Another way to control the effect of this elegant, but powerful color is to limit it to only one statement wall, or use it only on the dado/bottom half of the walls (under the chair rail).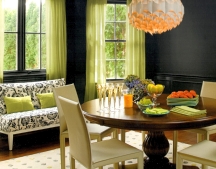 Even though black seems to lack any color, it actually comes in different undertones.
For example, black paints can be tinged with a hint of brown, blue, green or purple - so you have to take as much care choosing a black as you would choosing any other paint color.
Plus, it's a good idea to repeat the same shade of black somewhere else in the room decor for a cohesive, pulled together look.
Rooms with large amounts of black usually look like urban masculine spaces.
To add a little femininity, treat black walls in a room the same way as you would a little black dress, and accessorize to your heart's content!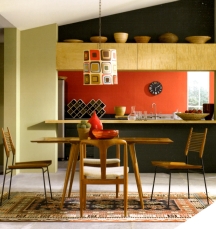 Black really does go with everything, but looks especially stunning when decorated with reds, greens and yellows (in strong, saturated, equally powerful shades).
It also loves the company of rich textures, as well as shiny, metallic and mirrored elements of the decor.
Black painted walls can also be varnished for a stronger, even more dramatic and glamorous look (allover or in stripes).
But if you want the effect of "magically disappearing", decadent walls, go for a flat, chalky paint finish.
So don't be afraid of black! And if you are not yet ready to commit to black walls, start using it in accents and watch what happens...
See Also:
White Wall Paint: It's a Color, Too
Shades of Orange: Bold, Classic, Natural

Explore Paint Colours for Your Home