Ideas and Instructions for
Painting Stripes
Looking for how to information on painting stripes? Here you will find tips, tutorials and inspiration for stripe painting any surface in your home...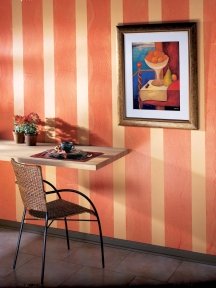 When you want a wall pattern that goes with anything, consider painting stripes.
They are an ideal vehicle for introducing accent paint colors, and a good way of breaking up blocks of solid color.
Wall stripes are always in good taste, and they can be adapted to any period style or current trend.
Thick or thin, tall or short - paint stripes can be either elegant or casual, subtle or dramatic, playful or serious - depending on the colors, pattern and how you execute the lines (a.k.a. paint application technique).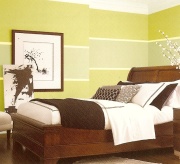 For an elegant look, use tone-on-tone stripes. Or make alternating stripes stand out with a coat of satin or gloss polyurethane.

To create a contemporary clean look, use bolder hues and consider horizontal wall striping.

Vertical stripes brushed on freehand, in any color palette, appear airy and casual. Choose a brighter color combination for a fun treatment in a child's room.

To create a playful mood and bring interest to a large, boxy room, alternate plain and faux-painted stripes, using a decorative painting technique of your choice.

A single wall of stripes sometimes has more dramatic, show-stopping effect than an entire roomful. You can also use this pattern to strategically lead the eye and direct attention. Choose the wall, select the colors, get busy painting colorful stripes and prepare for impact!
Striping Guides:
Painting Vertical Stripes
See these how to instructions for the most popular stripe type - 6 inch wide, equal size, 2 color repeat pattern. We'll cover how to measure, mark, tape and paint the stripes for beautiful, professional looking results.
Painting Horizontal Wall Stripes
Tutorial for applying horizontal bands of paint color. This striping project should go much faster, because horizontal stripes are usually very wide - which means the most tedious and boring part of the job (measuring, marking and taping) will not take as long.
How to Paint Stripes Without Taping
Creative striping ideas that don't require taping. See how to paint casual hand-painted or rolled on stripes, distressed dry-brushed stripes, multi-color stripes or pinstripes for a different take on this classic pattern.
How to Paint Stripe Combinations
9 Steps to Complex, Multi-Stripe Patterns. Want to create a multi-color, multi-size random pattern but don't know where to even start? This tutorial will guide you through the process - from figuring out your pattern's repeat, all the way to applying paint in your selected colors.
Guidelines for Painting Stripes on Walls
Here you will learn about choosing successful color combinations for your stripe pattern, deciding on the right direction of the stripes for your particular room, determining the best width/size for the stripes, and finally selecting the appropriate sheen (and possibly a faux finish) for your situation.
Examples of Painting Stripes on Walls
From vertical to horizontal to diagonal... and everything in between - here you will see how dramatically the direction of the stripes and the pattern you choose can affect the look you get.
Decorative Paint Striping Ideas
Faux finishes + stripes = a powerful combination! Enjoy these examples of faux painted stripes - the techniques used are sponging, ragging, glazing, colorwashing, moire, dragging, stamping, stenciling and metallic finishes.
Unusual Striping Paint Ideas
Why limit yourself just to the walls? Stripes can look really stunning on the ceiling, floor, staircase and furniture. In addition, a single wide horizontal stripe/band can do a great job serving as a chair-rail.
Tips and Tricks for Painting Stripes on a Wall
Learn some professional tricks of the trade. For example, how to prevent paint from seeping under the tape and messing up your project, how to clean up paint seepage and other trade secrets.
How to Paint Stripes Q&As
Check out these important things you should consider before starting your project. Also, you'll find the answers to the most frequently asked questions about different aspects of painting stripes.
BACK TO HOUSE PAINTING TUTORIALS
Request a FREE Painting Quote: