Re-Using Colors
to Paint a House
Looking for colors to paint a house? How about 100% free paint colors? Learn where to find interior and exterior home paints that don't cost you a dime.
When you need colors to paint a house, paint stores are not the only place to look. If you are on a tight budget, consider re-using home painting colors instead of buying new ones. You will not only save money, but help save the environment as well.
Sources of Free House Painting Colors
Use FreeCycle.org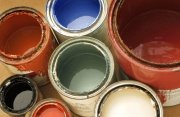 If you register on this website, you will get access to free home painting colors, furniture, home decorations and more. Members of this site are people who don't like to throw things away. Instead, they "re-cycle" everyting that can still be used and give things a second life, by passing them on to others.
If you need some colors to paint a house, you can post a request on their bulletin board and someone will respond with an offer - sometimes within minutes. Or you can browse their listings of existing offers to see if anyone is giving away un-used interior or exterior home paint.
Ask Your Friends
Don't be afraid to ask around. A lot of people will be only happy if you come and take some of their un-used paints off their hands! They've probably accumulated enough of half-gallons over the years to paint an entire house.
People's tastes change, they decide they want something different this time, or they simply forget that they have extra paint colors stored away. As a result, almost everyone has a garage or basement full of paint cans, some even un-opened.
House paints can't be stored forever, so don't be shy about offering to accept some of your friends'. Most likely, they will thank you, because now they don't have to deal with paint disposal issues.
Look in Your Garage
When looking for colors to paint a house, the best place to start is your own garage. Chances are, you too have some paints left over after your last house painting project.
Maybe you even have enough paint for a small room, or for painting stripes on walls. Also see if you can mix some of the paint leftovers together (for example, cream, gold and beige) to produce enough paint for a bigger project.
To learn how to shift and adjust the color of the paint you find, continue to "How to Mix Custom Paint Colors".
House Painting Estimates:

See also: