Decorative Interior Painting
Ideas and Tips For Foyers
The following decorative interior painting ideas will show you how, by properly choosing interior paint colors and using decorative wall painting techniques, you can add some "WOW" factor to your foyer.
A foyer is meant to be spectacular. It is the first room people see when they enter your home, it sets up expectations for the rest of your house and tells a lot about your taste (or lack thereof).
Most people struggle with decorating their foyers - they use furniture, pictures, mirrors and other decorative items trying to fill the room and make it look more inviting, but the result is often a space that still feels unfinished and even under-furnished.
If you have the same challenge, here are some interior painting tips that will help you add that little something that often seems to be missing in the foyer decor.
Decorative Interior Painting For Foyers
Tip #1:
When choosing paint colors for your foyer, make sure there is a good contrast between wall color and ceiling, trim and other structural elements.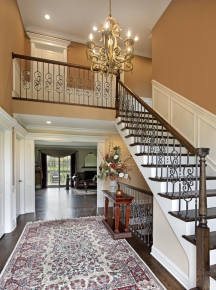 Bone white, off-white and similar "colors" are definitely not enough and will do nothing to enhance your foyer - all painted woodwork will just blend in, making the walls look bland and boring. Besides, light colors are simply not practical for such a high traffic area as a foyer.
Contrast in color, on the other hand, will turn even plain and ordinary structural items like trimwork, doors, windows or ceilings into decorative elements - it will make them stand out, adding interest to the room.
But here's a caveat:
If you have some natural wood elements in your foyer like a staircase or trimwork, you should realize that white is not the best color choice to bring out the beauty of the natural wood, even though it provides enough contrast.
And that brings us to...
Decorative Interior Painting For Foyers
Tip #2:
Choosing the right paint color is essential.
Every single piece of furniture or decoration needs the right color background to look its best.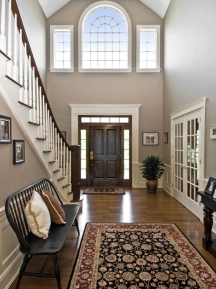 So before you even begin thinking of decorating your foyer, start by choosing paint color for the walls first. Once you dress up the walls in color, you may find that you don't even need as many decorative pieces any more. That is especially true with deeper colors like gold, coffee or burgundy - such rich colors make the room feel cozy and finished all by themselves.
A properly chosen color will add drama and character to the room, without cluttering it with more furniture and decorations.
Decorative Interior Painting For Foyers
Tip #3:
Break down the large wall space with decorative wall painting techniques.
Those huge, high foyer walls can look really overwhelming and are especially difficult to decorate.
But decorative painting patterns can help break down that extra-large space into smaller "fragments". Faux finishes will fill the surface with structured or free form patterns that will decorate the walls and make them look impressive, but not overwhelming.
Examples of faux painting finishes that you can use to decorate your foyer walls include sponging, ragging, colorwashing and stenciling.
Professionally done, faux painting finishes will turn your foyer into a showroom and will guarantee the most favorable first impression!
Need an Estimate For
Decorative Home Painting?

See also: