Sponge Painting Instructions,
Ideas and Techniques
Sponge painting is the application or removal of latex paint with a sponge onto or from the walls (or other flat surfaces).
Paint sponging was one of the first decorative painting techniques to gain mass appeal in the 1980s.
And although sponging in high-contrast paint colors and with a heavy-handed technique has since fallen out of favor, this finish is still popular and can look very current if you use the updated color combinations and methods suggested on this website.
In fact, even today, sponging is usually the first faux finish most people attempt in their homes, and no wonder: it's the easiest and most versatile decorative paint finish.
Its benefits are obvious: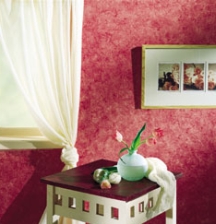 It creates a quick texture for any flat, painted surface (walls, ceilings, floors, furniture, etc)

It is very inexpensive, with materials and tools readily available (in any home improvement center or paint store)

It is relatively fast (although may be tedious, especially if you're decorating all of the walls in a room)

It can range from delicate to bold, and so can be adapted to any decorating style (the final result will depend on the colors you choose, the transparency and glossiness of your glaze, and how heavily you apply it)

It can help hide many surface flaws, imperfections and dirt (making it a great choice for high-traffic areas such as hallways, mud rooms, kids' rooms, etc)
It all starts with sponging...
As a result of learning this simple technique, you will also learn a number of other important skills that will come in handy for all your other decorative painting projects: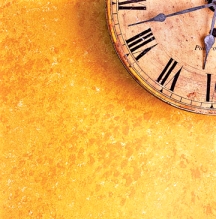 mixing paint with glaze

choosing and using tools

applying glaze properly

developing eye/hand coordination

selecting paint colors for layering

getting comfortable with paint processes
...and when you muster up the courage to try your hand at glazing, colorwashing or even faux stone painting techniques like granite, you will have one less thing to learn (because the instructions for those finishes often include basic sponging).
Ready to Learn Paint Sponging?
Then Let's Get Started!
How to Sponge Paint ON the Walls
Sponging on is the application of latex paint with a sponge directly onto the surface. It is fairly inexpensive because you are only covering about 80% of the surface with diluted paint. Here you will find complete step by step instructions for a basic sponging technique.
How to Sponge Paint OFF the Walls
Sponging off is a painting technique whereby a colored glaze is applied over a base color. The textured look is then created by sponging over the wet surface. Sponging off gives a softer, more subtle effect than sponging on.
Tips and Tricks for Sponge Painting Walls
Sponge painting may seem very easy, but if you look at most DIY sponging finishes, you'll realize that the people are doing it wrong. If you don't want your project to join the unofficial Hall of Shame, use these professional secrets for a smooth sponging process.
Examples of Sponge Painting Techniques
Different strokes for different folks - this saying rings especially true when you realize just how many effects a simple sponge + glaze can create on the walls! On this page, we give you some ideas and examples to help you find the right sponging finish for you.
BACK TO HOUSE PAINTING TUTORIALS from Sponge Painting
Questions and Answers About
Sponge Painting:
Enjoy the Q&As, get inspired and don't forget to leave a comment!


Need a FREE Estimate
for Paint Sponging?