Tuscan Paint Colors
For the Italian In You

With Tuscan paint colors, you can add the warmth and character of Italian countryside to your home.
The saying goes, "there is a little Italian in all of us" - so why not express it in the way you paint and decorate your home?
You don't have to be Italian to appreciate the warmth and beauty of the Tuscan paint color palette.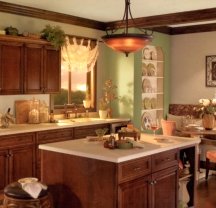 In fact, this is one of the most popular interior color schemes people use in their kitchens.
But why do we love these rich, somber hues so much?
Maybe it's because originally derived from natural earth pigments, Tuscan paints simply reflect the colors of Nature - which is the ultimate color expert!
So in a way, these paint colors help us "re-connect" and feel at one with the Earth.
Making Tuscan Paint Colors
Work in a Theme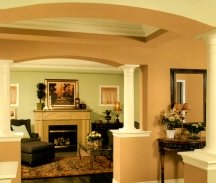 Tuscan paint colors mimic the colors of natural mineral pigments.
This paint color palette includes warm, yellow-induced hues - sage and olive green, rusty red and terra cotta, brown, gold and ocher, cinnamon and bronze.
Occasionally you will also see a touch of cobalt blue - inspired by the Mediterranean sea.
But perhaps the most under-used color in the "mainstream" Tuscan home color schemes is an off-white or cream - most people simply don't know that white is the traditional wall color of Italian farmhouses.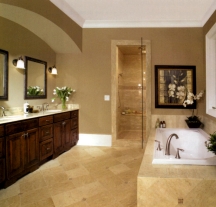 The Tuscan painting and decorating style is simple: it uses weathered, textured, and harmonious colors with no hard lines, startling primary colors or sharp contrasts.
So when putting together a Tuscany-inspired color palette for your home, look for gray-based, muddy, subdued shades - otherwise you might end up with a cheerful Mexican color scheme instead!
The best way to create an authentic-looking Tuscan theme in your home is to match your wall paint colors to some Old World art or tile - you will get beautifully balanced, ready-made color schemes every time.
But in order to make your theme look less artificial and "made", you need to add some texture to your decor - that's what creates that rustic atmosphere, adds character and makes the wall colors come alive.


Textured wall finishes are best - and the rougher they are, the better!
But if your walls are perfectly smooth, you can still imitate the rustic look - with decorative painting techniques such as Venetian plaster and color washing.
Also, don't forget to use natural fibers and materials in your decor - wooden elements, stone pieces, raw fabrics and rich tapestries, wicker accents and straw baskets.
And when you are done, add a finishing touch - green plants and flowers (live or silk) in the living areas, and fruits and veggies  (real or faux) in the kitchen.
This will introduce a splash of bold color and some life to the space - a design technique often overlooked by homeowners (use baskets and clay pots for containers, to reinforce the Old World theme).
P.S. Somebody told me that everything tastes so much better in a home decorated with Tuscan paint colors... and you know what? It does!
See Also:
Shades of Green Paint: Let Nature In!
Black Walls: Not For the Faint of Heart
Shades of Orange: Bold, Classic, Natural

Explore Paint Colours for Your Home