House Painting Tutorials:
Tips, Ideas and Instructions
for a picture-perfect home

In the world of home improvement projects, house painting has no rivals.
Nothing beats this cheapest, easiest and most dramatic way to improve your house inside and out.
For example, you may have a simple rancher or a small apartment furnished with flea market finds, but with the right paint colors your modest abode can be turned into a designer showcase.
A wrong paint color scheme, on the other hand, can really cheapen and distract from your very expensive kitchen, date your brand new flooring, or make even the most elaborate Victorian exterior look boring, bland and blah.
In other words, house painting can just as easily enhance your home decorating style as it can cramp it - the difference is all in how you do it.

The Problem With
House Painting

Don't you love the painting segment of home improvement shows?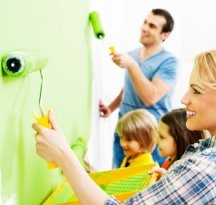 Their bold wall color choices, the before and after transformation, the dramatic reveal... and how it's always so fast, easy and fun?

It doesn't work like that in real life:
3 people painting the same wall at the same time? It will look exactly like 3 people took part in painting it (not a good look).


Completing an entire apartment top to bottom in 1 day? Not really - unless you have a small army of painters to help you.


Getting away with just 1 coat of navy blue or red paint? You could... but only if you are seriously myopic. 
The things is, home painting is all fun and games only on your TV screen.
In reality, it is often a messy, time-consuming and frustrating job - especially if you don't know what you are doing.
But not to worry, because...
I Can Take the "Pain"
Out of Painting

After living and breathing all things paint and color for so many years (literally!), I have learned quite a bit about the topic, and I will now share it all here with you.
You don't have to spend years building painting skills just to paint your own house.
No need to make hundreds of expensive and embarrassing mistakes like I did either, in order to learn how to paint.
You can avoid the steep learning curve and just benefit from my years of experience - simply follow the steps in the color lessons and painting tutorials on this site.

Because I used to be a teacher in the past life, I know how to make house painting simple.
But I won't just tell you what to do, or how to do it - I will also explain why, so that you can actually learn to see and use paint and color like a pro.

Are You a DIYer?

... then you will LOVE my:
Tips and tricks of the trade
Get the job done faster and easier - with these smart hacks and shortcuts you will create professionally looking results even without prior painting experience!


Creative painting ideas 
Stuck in a beige rut and need some inspiration? Browse through the DIY projects submitted by other visitors - they are proof that you don't need to be a professional painter or decorator to make your home look good.


How-to paint instructions
When you need direction and guidance, just follow the step-by-step tutorials for any room and surface, and your project will become as simple as painting by numbers.


Help choosing paint colors
Overwhelmed by too many choices out there? Don't know which colors look good together? My lessons will teach you how to pick the best paint colors for your home and create beautiful room color schemes with confidence.
Looking for Painting Services?

... then even if you don't use our company, this site will make you an educated consumer.
No contractor will ever take advantage of you again!
You will learn about:
Worst and best places for finding reliable paint pros
It makes a difference where you look, and may actually be the reason why you never have luck with painters!


How to compare painting quotes
You want to know exactly what you are getting, and which candidate is offering the best deal, but things are not always as they seem on the surface.


When you can really save money on labor
Just schedule your home improvement projects to be done during these specific times throughout the year, and enjoy lower contractor rates.

House Painting Is More
Than Just Pretty Colors

If you still think of house painting only as a way to make your home look pretty, you are not using it to its full potential.
Because when done properly, home improvement painting has many more benefits to offer.

For example:
Need to hide structural flaws and eyesores

,

or visually manipulate dimensions (make a ceiling seem higher, or a room smaller)? You can easily do that with paint and color, if you know how.


Like the look of expensive building materials but don't have the budget? Just use decorative and faux painting techniques to fool the eye and enjoy the realistic imitations that won't break the bank.


Have damaged surfaces that look like nothing can save them other than replacement? Proper surface preparation and the right products in skilled hands will restore, protect and extend the life of your house in the most economical way possible.


Want to sell your house faster? Use the paint colors that sell - to improve the curb appeal and raise the value of your house in the eyes of prospective buyers. After all, first impression is everything and when it comes to paint color, ugly costs you just as much as beautiful.


---

So... are you ready to get the most out of house painting? Then join our community of painting and decorating enthusiasts on this site! 
Subscribe to our RSS Feed to stay up to date with all the latest additions.
Connect on Facebook if you like social media.

Or, better yet, sign up for my Newsletter - and you will get our best stuff right into your inbox, so you never run out of ideas for improving and decorating your home with paint!