Designer Paint Colors
on a Bargain
Love designer paint colors but hate the price? If you cannot afford to pay $60 per gallon of paint, you'll be glad to learn about these sources of bargain interior home paints...
The Home Depot, Lowes and specialized paint stores like Sherwin Williams usually carry what is called "Oops Paints". Oops paints are designer paint colors that have been returned by customers due to a paint color mistake.
You see, sometimes a paint store clerk makes a mistake and mixes a different color than what was requested. Or maybe the paint mixing machine was due for a tune-up, resulting in a mistake in the paint color formula. Oftentimes, it's a homeowner who simply ordered a wrong paint color and brought the paint back to the store. In the latter case, the paint store will re-tint the paint color, to prevent the homeowner from coming back and buying the same paint at a discount.
But somebody else's "wrong color" can be just the right color for you!
Mismatched paints don't mean ugly colors (although sometimes you will see some that look gaudy). Ocasionally, you will find a color that you can use as is. But usually, when you buy Oops paint, you will need to adjust the color a little or a lot to meet your painting and decorating goals.
You can ask for the color to be adjusted right there, at the store - and they will usually do it for free. It will help a lot if you show them an example of the final color you have in mind.
Alternatively, you can bring the paint home and shift the color yourself, using craft colorants. See "Mixing Custom Paint Colors" for instructions.
How much can you save by buying Oops paint colors? The short answer is, a lot! Oops paints are usually sold for $5 per gallon, or $1 per quart. Compare that to $40-60 per gallon of "proper" designer paint colors, and you will agree that it's hard to find a better deal!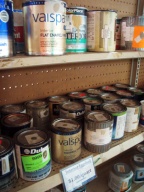 Mismatched paints offer you a great way to re-paint your entire house very cheaply - without compromising on quality. Many popular brands of paint can end up as Oops paints - including Ralph Lauren, Glidden, Behr and many others.
In the Home Depot and Lowe's stores, a shelf with Oops paints is located in the paint department, near the end of interior paint aisles. If you have a hard time finding it, ask a store clerk - they'll be happy to help you.
At any given time, there will be about 10 to 20 cans of mismatched paint, and the turnover is usually very quick. So if you don't like anything in their current selection, make sure you stop by a few days later.
Warning: hunting for bargain designer paint colors can be addictive. Once you try it, you may never go back to paying retail again!
Check This Out (recommended):
Most Popular Interior Paint Colors - Best Paint Colors
from Sherwin Williams - "Paint Color Cheat Sheets"
Get a FREE Painting Estimate:

See also: