Home Improvement Painting
and Maintenance Guide
Below is a collection of guides on home improvement painting and general interior and exterior home maintenance.
The articles also include interior and exterior painting tips, advice on power washing and wood waterproofing, as well as a seasonal home maintenance schedule - everything you need to keep your home in the best condition, all year long.
Your home is your shelter, a source of pride and most likely, your biggest investment. With regular and ongoing home maintenance, your house will continue to appreciate in value, serve you and bring you joy for many, many years.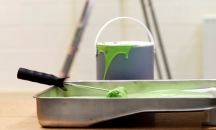 But when neglected, a house can become a real embarrassment. Besides, its value goes down and it turns into a money-eating monster - because the problems that have been accumulating for a while are now multiple, serious and pretty expensive to fix.
Just like a living organism, your house needs some TLC for it to "thrive". And as always, prevention is easier and cheaper than cure.
Home Improvement Painting
and Maintenance Guides:
Seasonal Interior and Exterior House Painting Tips
Here you will find a seasonal home improvement painting and maintenance schedule - learn when to do what (from pressure washing the body of the house, to cleaning your deck, to inspecting the condition of the paint/stain, to caulking and painting for energy savings).
Sealing a Deck is a Must If You Want It to Last
Find out why wood sealing and waterproofing is so important and what can happen if you leave the wood bare/unprotected. Also learn a simple water test that will show you if the wood on your deck needs protection.
Pressure Washing is Not Optional
Keep your house clean, improve its curb appeal and delay the need to repaint with regular pressure washer cleaning. You will find out that it's even possible to powerwash a roof to remove black and green mold and mildew.
Money-Saving Benefits of Caulking and Painting
This simple maintenance procedure will help protect your home from moisture damage, keep the bugs out and even save you money on energy bills. Neglect this and you are really looking for trouble...
Removing Mold and Mildew Stains
This tutorial provides step-by-step instructions for killing mold and mildew spores, cleaning the stains off the surfaces and preventing the mildew from coming back.
Epoxy Garage Floor Coverings
Painting a concrete floor with this low-maintenance product is a great solution for keeping the floors easy to clean and impressing your guests. These floor treatments can transform even the most ordinary and ugly garage into a showroom!
Smart Home Painting
Learn about the special washable type of paint that will keep your walls looking clean longer, and allow you to repaint less often. This is a great solution for the walls in high-traffic areas that get soiled fast.
How to Touch Up Paint
Have you ever tried touching up a small area on a wall and ended up repainting the entire room? In this lesson, you will get instructions and caveats when touching up paint on the walls and ceilings in your home.
Storing Paint
Most paints can be stored for up to 5 years without deteriorating (provided the cans are tightly sealed, and put in a dry place, off the ground). Here we'll show you exactly how to keep those paint leftovers fresh until the next use.
Paint Disposal
Fun and safe ways for using up leftover paints (such as painting primitive wall murals, wall stripes or color blocks, or covering the inside of a closet). And if all esle fails, we provide paint waste disposal instructions for getting rid of unwanted paint with minimal impact on the environment.
Fireproofing Your Home With House Paint
Can painting your house fireproof it at the same time? Yes it can! Find out how to protect your house and your family from the dangers of fire with this special paint coating.
House Painting For Sound Reduction
Eliminate echo in a room with soundproofing paint is another possibility most people are unaware of. This paint product can help make a room with very high, cathedral-type ceilings, feel quieter and cozier.
Green House Painting
With these 3 green solutions for house painting (widely available big brand zero VOC paints, more natural clay paints and completely harmless milk paints) you can breathe easier and support the environment at the same time.
Looking For Home Improvement
Painting Contractors?

See also: