Tan Paint Color:
How to Dress It Up
The right tan paint color is very adaptable, flexible and easy to work with in a home. It is like a blank canvas waiting to be filled and transformed.
And here are a few ideas to add interest and flair to a room color scheme based on a tan paint color:
Go for Contrast
With neutral paint colors, contrast is essential. Without it (or not enough of it), neutral color palettes tend to look blah and boring. So if your walls are tan, paint the ceiling and woodwork a bright white - that will make the color scheme pop and look fresh.
You should also add some black to the mix - a few touches of black will ground and punctuate the scheme.
In other words, black and white to a tan color are like salt and pepper to a meal.
Add Variation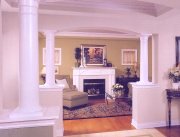 If you have an open floor plan, don't paint the entire space the same shade of tan by default. Instead, use 3 shades (light, medium and deep) to visually separate the areas and create an illusion of movement.
To add structure and dimension to an ordinary room, you can create a feature wall by using a color that is 2 shades deeper than the rest of the walls (but first see "Painting Accent Walls" to learn how to pick the right wall to accentuate).
Accessorize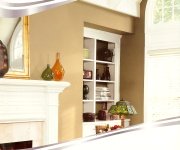 The beauty of the color tan is the fact that it doesn't demand attention (when the shade is right). Instead, it stays in the background, quietly contributing to the feel/atmosphere of the room. And it makes a great vessel for "real" colors.
With tan paint colors, you decide how subdued or bold you want the final result to be. The wall color is just a blank canvas, and it's your job to "bring it to life".
So you can choose to accessorize with texture and pattern only. Or maybe also add a little surprise with a pop of bright color here and there. Or even completely flood the room with color through fabrics (draperies, upholstery, rugs, etc).
Neutral paint colors give you an opportunity to express yourself... The question is: will you take it?
See Also: