Decorative Painting Techniques
for Ceilings
Decorative painting techniques are a great way to turn any interior home painting project into a masterpiece.
And if you love decorating with paint but ran out of wall space, look up!
Your ceiling is a perfect canvas for decorative ceiling painting techniques!
Ceilings are usually not given much thought and often overlooked. They are painted a boring white color by default and look identical from room to room, from house to house.
But in the most gorgeous and luxurious homes, professional interior decorators devote as much attention to decorating and painting ceilings as they do to walls, and the result of those efforts pays off in a big way - ceiling design ties all the other elements of the decor together and crowns the room with sophisticated faux paint finishes and intricate details.
Dome and tray ceilings look especially fabulous when decorated with faux paint techniques - it's almost like they were meant for each other, and if you are leaving yours white, you are not doing justice to that beautiful architectural feature.
Even the most plain and boring ceilings can be turned into a work of art with a little creativity and knowledge of some decorative interior painting techniques. And virtually every room in your home can be enhanced this way - foyer, dining room, living room or your master bedroom.
Faux painting finishes and decorative painting techniques are always a guaranteed way do add a WOW factor and some high-end drama to any decor, but they have an even more powerful effect when applied to such "unexpected" places as ceilings.
Examples of Decorative Painting Techniques
For Ceilings

Clouds are peaceful and airy. By painting clouds on the ceiling you can add a feeling of life and movement to a room.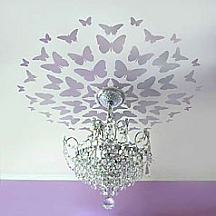 Glazing is layering of several faux finish glazes in different colors; the number of layers, application technique and the choice of colors will determine the end result, which can range from subtle to bold and dramatic.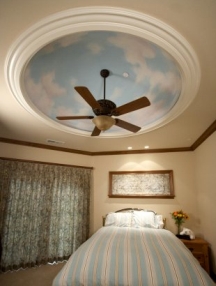 Venetian Plaster has a perfectly smooth, stone-like feel and appearance; it reflects light and makes a room look grander.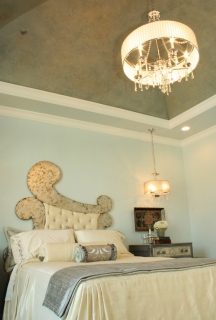 Stencils
will adorn your ceiling with designs and decorative painting patterns that can be as simple or elaborate as you prefer.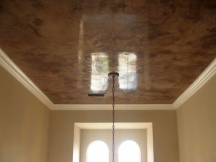 Gilded ceilings are absolutely breath-taking; whether used to highlight decorative crown molding or for the entire ceiling, gilding will evoke the feel of regality and splendid antiquity.
Need more ideas and decorative painting techniques for ceilings?
Click here to see real people's Decorative Ceiling projects and how they did it!
Check This Out (recommended):
Most Popular Interior Paint Colors - Best Paint Colors
from Sherwin Williams - "Paint Color Cheat Sheets"
Decorative Ceiling Projects From Other Visitors:
Here are some great decorative ceiling projects submitted by other visitors to this page - take a look and don't forget to leave a comment!

Stencil Pattern Over Wallpaper on the Ceiling
Here's the ceiling in our dining room. We did a couple of things with this project to make it look different than the other ceilings in the house. I …...
Our "Yellow Ceiling" Painting Project
I know this sounds silly because I'm not sure exactly what it's called. I'm sure my husband knows, but what we decided to do in the kitchen was to take …...
Decorative Painting Technique "Clouds" On the Ceiling
When we decided to paint our bedroom ceiling, we wanted to choose something both relaxing and fun. We naturally chose clouds.
We wanted to do it …...
The inspiration for this project was simple economy...I'm refinishing my basement, and we don't have a lot of room, height-wise. We wanted to do something …...
As a decorative faux painter, ceilings are the hot item of choice. In the home you see pictured, I used decorative hand painted papers from Vahallan. …...
Stenciled Ceiling/ Light Border in Dining Room
This was done almost entirely with stencils and three colors of paint: the sage green color and two shades of red.
It took about 1 1/2 hours (with …...
This picture is of my vacation home in Nasik, Maharastra.
My house is very beautiful and impressive, but I didn't like the way my foyer looked, it …...
This is a picture of some temporary fabric "wallpaper" I did on a rental I had in college. I hated staring at a white ceiling all day, but we were not …...
FREE Quotes For
Decorative Interior Painting:

See also: