Staining Contractors Share Tips
for Staining Wood
Whether you hire staining contractors or decide to DIY, here are a few tips you should know about wood staining.
Doing stainwork is considered the Ph.D. of painting, because with wood staining, the craft of painting becomes an art.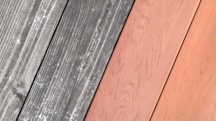 It takes professional staining contractors years of experience, knowledge of wood, patience and a good eye for color to produce a top-quality, custom finish.
Top-grade professional wood staining takes more skill than most painters have, and entrusting the work to incompetents can lead to permanently damaged wood.
Exterior Wood Staining
When talking about exterior wood staining, many people use the word "painting", when if fact the difference between paint and stain is enormous.
Paints work by coating a surface with a protective film, while most stains penetrate into the wood. That is why stains are usually lower maintenance than paints - when applied properly, they do not peel or blister, and generally look good even while they are naturally wearing away.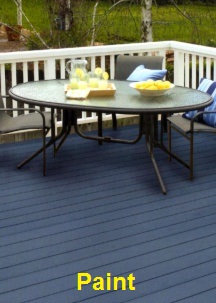 Transparent and semi-transparent stains look best on woods that are in a good condition - these stains allow the underlying wood grain to show through, but will also show any existing wood defects or discoloration. Such stains can only be used on new or previously stained wood.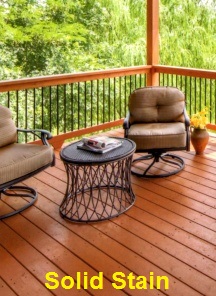 Solid, or opaque stains look almost like paint, only thinner - they will cover wood grain, but will still show the wood's texture.
Solid stains are generally soft, so they are not recommended for staining a deck floor and other high traffic areas, but on vertical surfaces they last longer than semi-transparent stains. Solid stains do not soak into the wood, and can be used over bare or previously stained, primed or painted surfaces.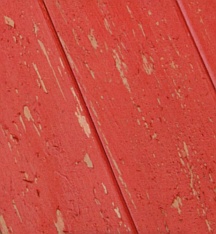 And you are not limited to natural wood colors only - these days you can find such exotic stain colors like blue, gray, green and many more.
Interior Wood Staining
By staining kitchen cabinets, staircases or doors, you can turn your house into a real showcase.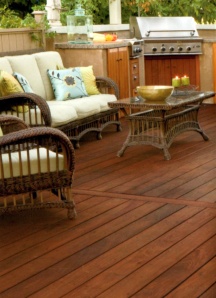 If you get tired of the same look and become tempted to paint the real wood - don't.
Home decorating trends come and go, but real wood's appeal lasts forever, and just a couple years later you may regret your impulse.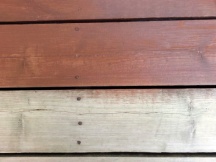 You can completely transform the look of your wood by changing stain finish and color.
Raw wood is like a blank canvas, and is the easiest to work with. But finished wood can be stripped and re-finished in any color of your choice as well. It's even possible to match stain color to other wood pieces in your home for more harmony and to tie them all together.
In fact, professional staining contractors can strip even painted surfaces down to bare wood, and then stain and varnish them to bring back their natural beauty - but this luxury is expensive, so it's better not to commit the crime of painting fine woods in the first place!
And here's a final tip from staining contractors:
If you like the color of your wood, but something still seems to be missing, consider applying a fresh coat of varnish to it. A clear varnish will bring out the beauty of the grain and give a visual depth to the finish.
Need Staining Contractors?
Get a FREE Quote:

See also:
Wood Staining Contractors South New Jersey: Cape May county, NJ: Avalon 08202 Cape May 08204 CMCH 08210 Ocean City 08226 Sea Isle City 08243 Seaville 08221 Stone Harbor 08247 Woodbine 08270 Atlantic county, NJ: Atlantic city 08401 Brigantine 08203 Egg Harbor Township 08234 EHT Galloway 08205 Linwood 08221 Longport 08403 Margate city 08402 Mays Landing 08330 Northfield 08225 Smithville 08201 Somers Point 08244 Ventnor 08406 Camden county, NJ: Barrington 08007 Berlin 08009 Cherry Hill 08002 08003 08034 Gibbsboro 08026 Haddon Heights 08035 Haddonfield 08033 Sicklerville 08081 Voorhees 08043.