Monochromatic
Paint Color Palette
A Monochromatic paint color palette usually produces very attractive rooms - let's see how to create one.
A Monochromatic paint color palette is based on a single color used in varying intensities and is considered one of the simplest and most successful formulas for painting and decorating your home.
For hundreds of years people have been intriqued by the Monochromatic paint color scheme.
In 1615, the Maharajah of Jaipur was so taken with pink that he built an entire pink city: several miles of pink palaces, temples, towers and bazaars.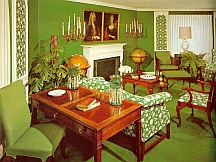 Elsie de Wolfe, who elevated decoration to the stature of a profession, was particularly fond of dark green. It became a trademark with her.
She went so far as to type her letters on a green ribbon and sign her name in green ink. She said she liked green because it made her feel "in tune with Nature."
A celebrated English decorator Syrie Maugham loved white and started the vogue for all-white rooms in the late twenties.
Ruby Ross Wood, the well known New York decorator of the thirties, had a passion for reds.
She decorated her Park Avenue apartment with more than a dozen different shades of red, from vermilion to pale pink. The effect was exhilirating.
How to Create a Monochromatic
Paint Color Palette
If you want to create a Monochromatic paint color palette, first choose a color which you find especially pleasing. Suppose you like yellow. Choose a very pale shade of yellow for your walls, ceiling and woodwork.
Paint the ceiling the same color as the walls or, if you want to "raise" it, a shade lighter. Paint the woodwork the same shade of yellow as the walls, particularly if the room is small. By painting the walls, ceiling and woodwork the same color, you create a sense of unity. A small room where the woodwork is painted a different color from the walls makes you acutely aware of the doors, windows, baseboards and moldings, and results in a feeling of jumpiness.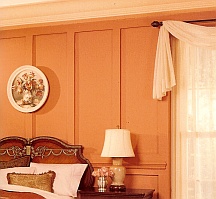 For draperies, choose a solid-colored material in a medium yellow shade. Or, for greater contrast, choose a print for your draperies which incorporates several shades of yellow.
Put the darkest shade of yellow in the carpet to visually anchor the room. This could be mustard-gold.
For upholstery fabrics, pick various shades of yellow, from light to dark. Upholster the sofa, the largest piece in the room, the same color or a deeper shade than the walls. On it, put a riot of yellow cushions from snapdragon to Siamese-orange.
Smaller furniture pieces like chairs, benches and ottomans can have a print or pinstripe in a variety of yellow shades.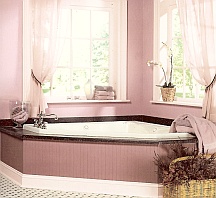 Lamp shades can be ivory, off-white or cream. As far as furniture, it can be bleached, stained or painted, ranging in color from ivory paint finish to yellow-red wood.
Finally, for accessories, use gold, brass and touches of the deepest shade of yellow.
So there you have it - a beautiful color scheme based on a single color. Likewise, you can create Monochromatic paint color palettes with blues, reds, greens or whites.
The only thing to keep in mind is, you need to incorporate different textures (fabrics, wood, metal, glass, etc) for interest and contrast.
See Also: