Examples of Ragging
Faux Finish Techniques
Ragging faux finish techniques produce a wide range of effects - from subtle and understated, to bold and dramatic. See which paint finish is your favorite from the examples below...
NOTE: looking for specific faux painting instructions? Then start at "How to Faux Paint With Rags".
The look of positive and negative rag painting varies a lot. The final result of this faux finish technique depends on the material chosen for the rags, the way the rag is scrunched when applying or removing glaze, and the color combination selected for this faux painted finish.
Additive Ragging Faux Finish Techniques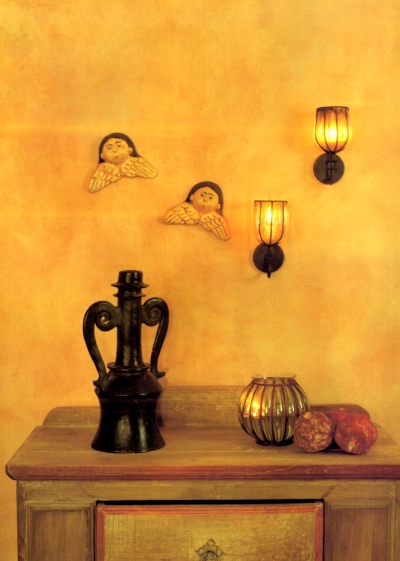 The positive ragging technique (in the photo on the left) enriches a bedroom with earthy, muted tones. The density of the ragging finish imparts a more formal look to the setting and a handsome palette for the framed mirrors.
This blended look is a result of using cotton, loosely bunched cloths and closely related colors.
Here, a somewhat chalky finish was achieved by applying a lighter glaze over a darker colored base coat.
This light-weight color combination creates an excellent backdrop for casually elegant interiors and furnishings. It looks very good with traditional dark wood and tapestries, but it will contrast equally well with bold and graphic contemporary decors.
In this bedroom, a ragging faux treatment was given only to the accent wall.
The top coat color - deep burgundy - was sufficiently diluted (3:1 glaze to paint ratio) to make the overlay coat look very subtle and transparent - like a black sheer voile draped over the rich red wall.
The effect is very sensual - a perfect technique for a romantic bedroom!
This example of ragging looks almost like the effect produced by sponge painting - with distinct specks of color.
To get a similar look for your own rag painting project, you need to choose a rag made of heavy-weight cotton (old T-shirts work best for this purpose).
See how dramatically different the glaze looks in this photo?
The method of application is exactly the same as in the previous example; it's the choice of cloth that made the difference in the final effect (they used an old, worn out, soft bed sheet as rag material).
And here the finish resembles wallpaper - because the pattern is structured, with distinct individual rag imprints.
You need to make a tightly bunched, rose-shaped rag ball in your hand, and press it firmly to the surface, trying not to overlap previous strokes.
If you prefer light, airy, ethereal color combinations and subtle faux finish techniques, you can use 2 or 3 pastel colors for rag painting.
The finish you see on the left consists of a cream color base coat, a light beige top coat glaze, and a diluted soft rose glaze, layered on top of each other.
Subtractive Ragging Faux Finish Techniques
Applying (and then removing) a darker, contrasting top coat of glaze to a light or medium-colored base coat of paint creates a richly textured appearance, without the application of new plaster or drywall compound.
The added texture effect here comes from using a ribbed/terry cloth.
This last example is a variation of rag painting - it is called rag rolling. The concept is the same - you use a rag of your choice to apply or remove glaze, but the technique is a little different.
Instead of dabbing the rag on the surface, you shape it into a long roll, and roll it (usually vertically) on the wall, top to bottom.
Rag Painting Projects from Our Visitors:
Here are some cool ragging faux painting projects submitted by visitors to this page. Enjoy, get inspired and don't forget to leave a comment!


Want a No-Cost Estimate for
Faux Painting?

See also: