Everything You Need for
Painting Stripes in Your Home

When you want a wall pattern that goes with anything, consider painting stripes.
They are an ideal vehicle for introducing accent paint colors, breaking up a large wall expanse and adding interest and structure to any space.
Wall stripes as a pattern are always "in" - they can be easily adapted to work in a period home decorating style, as well as beautifully fit into any modern trend.
Thick or thin, tall or short - paint stripes can be elegant or casual, subtle or dramatic, playful or serious, and anything else you can imagine (it all depends on the colors, design and the paint application technique).

For example: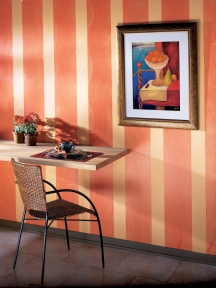 For a timeless look, go with tone-on-tone stripes. To create an even more understated effect, alternate same-color stripes in flat and glossy finishes.


If you prefer a contemporary

feel

, use bolder hues and consider horizontal paint striping.


Vertical stripes brushed on freehand can appear rustic. Choose a brighter color combination and a horizontal direction for a fun treatment in a child's room.


To add texture to a plain room, do the stripes in a decorative painting technique of your choice.


You can also use this pattern to strategically guide the eye and direct attention, because sometimes a single wall of stripes can have a more powerful, show-stopping effect than an entire roomful.
So choose a surface, select your colors and prepare for an impact!
Tutorials, Inspiration and
Guides for Painting Stripes

Painting Vertical Stripes
See these how-to instructions for the most popular stripe type in a 6 inch wide, equal size, 2-color repeat pattern. We'll cover how to measure, mark, tape and paint the stripes for beautiful, professional looking results.
Painting Horizontal Wall Stripes
Here is a tutorial for applying horizontal bands of paint color. This striping project should go much faster, because horizontal stripes are usually very wide - which means the most tedious and boring part of the job (measuring, marking and taping) will not take as long.
How to Paint Stripes Without Taping
These creative striping ideas don't require taping. Learn how to paint casual hand-painted, rolled-on, dry-brushed, multi-color stripes or pinstripes for a different take on this classic pattern.
How to Paint Complex Stripe Combinations
Want to create a multi-color, multi-size stripe pattern but don't know where to even start? These steps will guide you through the process - from figuring out your pattern's repeat, all the way to applying paint in your selected colors.
Guidelines for Painting Stripes on Walls
Tips and best practices for painting stripes - find out about successful color combinations, choosing the best direction for your pattern, deciding on the right size of the stripes, and using decorative finishes to create the effect you want.
Examples of Painting Stripes on Walls
From vertical to horizontal to diagonal... and everything in between - these popular ideas will demonstrate how the direction, contrast and size of the stripes in a pattern can produce dramatically different results.
Decorative Paint Striping Ideas
Faux finishes + stripes = a powerful combination! Explore these examples of faux painted stripes - the techniques shown are sponging, ragging, glazing, colorwashing, moire, dragging, distressing, stamping, stenciling and metallic finishes.
Unusual Ideas for Striping Paint
Why limit your painting creativity just to the walls? Stripes can also look stunning on the ceiling, floor, staircase or furniture. In addition, a single wide horizontal stripe can do a great job serving as a chair-rail.
Hacks and Shortcuts for Painting Stripes on a Wall
Learn some professional tricks of the trade - for example, how to prevent paint from seeping under the tape, skip a huge step in the stripe painting process, save money on tape or do the stripes without buying paint.
How to Paint Stripes Q&As
Answer these questions before starting your project to foresee any potential difficulties and avoid mistakes. Also, browse the FAQs about different aspects of stripe painting - from the best tools to use, to choosing colors for the combination.