Ideas for Faux Painting
Kitchen Surfaces

Faux painting kitchen walls is an interesting way to update and add character to a tired boring kitchen, but it's not the only way.
Cabinets, countertop, backsplash tile, floors and even ceiling are also suitable surfaces that you can use as a "canvas" for experimenting with different faux painting techniques and effects.
Whether you are trying to revitalize an old kitchen within budget or looking to create some coherence and color in a kitchen redo, there are many decorative painting techniques and tricks to achieve your goal...
..but!

Do not try to faux paint every kitchen surface if you want a clean and sophisticated look.  Nothing is more visually disconnected than too many patterns in conflict.
Do keep it simple and make only one or two areas your focus (cabinets, countertop, floor, ceiling, backsplash or walls) to create something individual and inviting.
Also, try to limit your entire kitchen color scheme to just 3-4 colors to keep it all united. That means you'll need to pull the colors for your faux finishes from the colors already present in your kitchen decor.

Faux Painting Kitchen Walls

Considering giving your kitchen walls an overall faux finish? Then it's best to keep the cabinets a solid color - this will create a nice contrast between the two and prevent the cabinets from disappearing into the background.
Besides, you don't want the cabinets to compete with your walls - it will only create busy-ness and "distract" the eye, not doing justice to either finish.
Faux painted kitchen walls in light to medium tones can look fresh and cozy, and will work both with lighter and darker cabinets.
So in most cases, you'll want to avoid dark wall colors - dark walls are harder to live with, especially in a space where you need lots of light for cooking and cleaning, and when combined with a faux finish, that might often create too much enclosure and drama for a kitchen.
And err on the side of subtle, especially if you are a beginner at faux painting. Low contrast and tone-on-tone faux finishes are more forgiving, so keep the difference between the base coat color and the top glaze to a minimum, if you don't want the walls to look spotty and garish.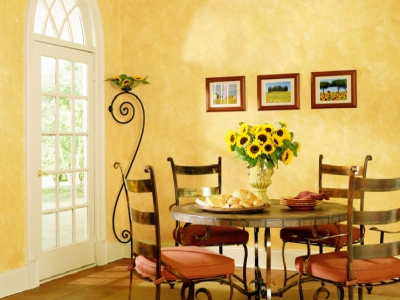 Another idea to add some unique character to your kitchen is to paint a simple mural or a trompe l'oel design on one of the walls.
For example, it can be a landscape or a faux rustic window for a country-style kitchen, a Tuscan theme for an Old World kitchen space, or even a graffiti-type painting to fit into a modern kitchen decor.
Have little or no talent, and can't afford to hire an artist for an involved faux finish? No worries.
Create a simple stenciled or stamped border at the ceiling or chair rail level, to give your kitchen more definition.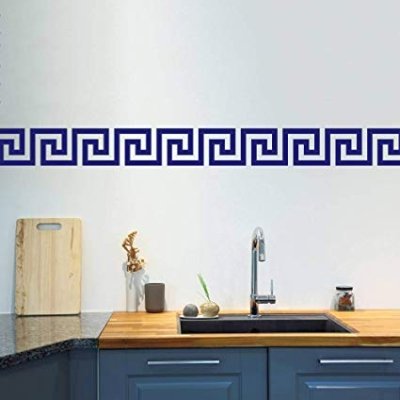 Or, just cheat with wall decals - it's a shortcut way to imitate hand painted designs with almost no effort!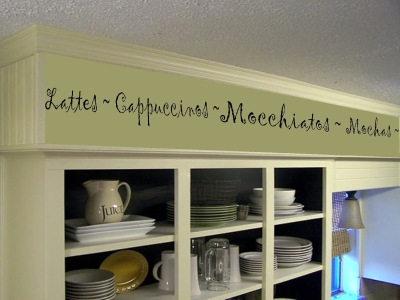 Just remember that any faux painted finish in a kitchen should be sealed for protection and durability, especially in an area that might need to withstand water and light scrubbing.
Faux Painting Kitchen Cabinets
A decorative/faux glaze is a transparent medium to which you add a paint color of your choice.
Glazing your kitchen cabinets allover will change their base color, but will not entirely cover it, creating tonal variation in the finish.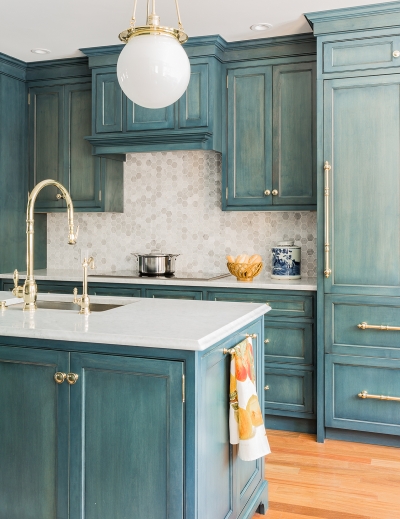 Glazing can also add depth and definition to the details and panels in your cabinetry.
A contrasting, darker color glaze will "catch" in the little corners and crevices and make them look more prominent and interesting.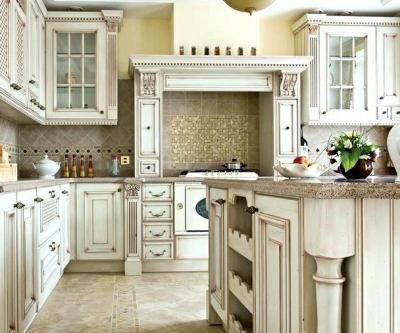 When glazing kitchen cabinets, the final effect is all about how you apply the glaze.
Dragging a brush through wet glaze and using different combs will produce a striae, or wood grain type of appearance (especially if you use realistic colors).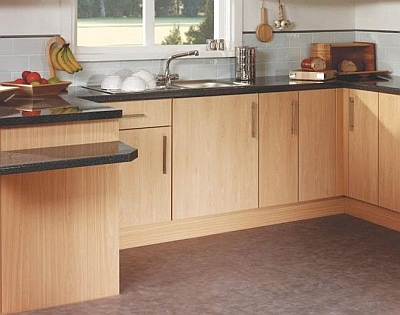 Working the glaze with a rag will make the finish look textured, while  using a cheesecloth will produce a  mottled, cloudy effect.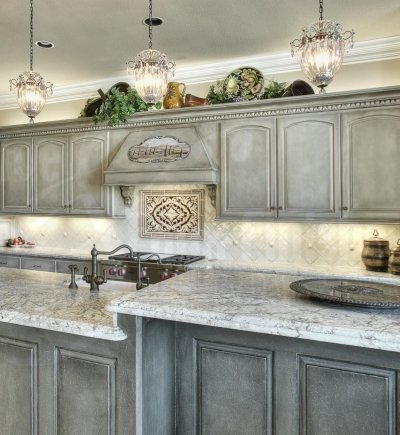 Darker glazes applied over lighter base coats give more detail to the cabinet surfaces, while lighter over darker tones create a more Scandinavian, "frosted" look.
You can also faux paint kitchen cabinets to make them look aged and distressed, by sanding off some of the top coat to reveal the base color underneath.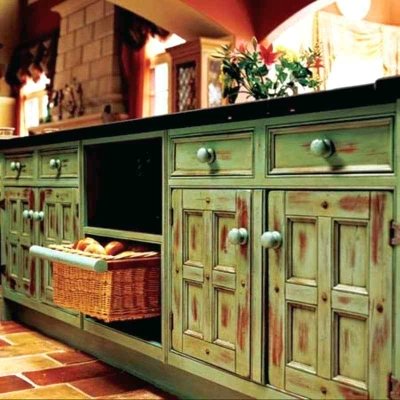 Stenciling a design on cabinet doors that coordinates with a fabric or wallpaper in your decor is another idea for renewing or pulling together your kitchen theme.
You might also try hand painting a fruit or vegetable on a single cabinet door for a surprise interest, or even draw some simple designs on all cabinets and drawers for both decorative and practical purposes.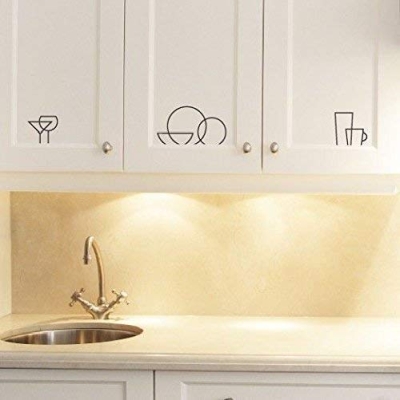 And do not neglect the interior of the cabinets! If the cabinets are older, the insides will most likely need to be refreshed.
Use a color that coordinates with your overall kitchen palette, as well as the exterior cabinet finish.
But why stop at painting the insides a single solid color when you can also use stamps, stencils and decorative painting techniques to make it even more interesting?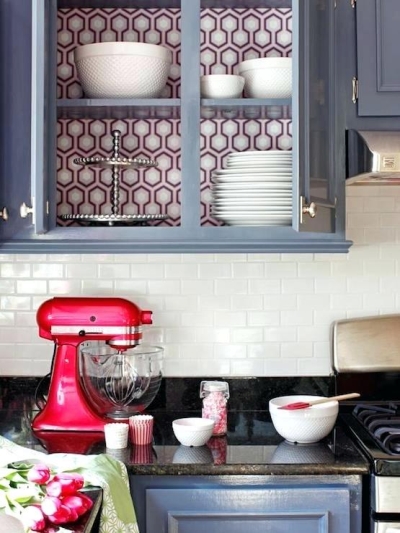 Dishes and glassware will look so much better against a bright background, and each time you open a cabinet door, a fresh new accent color and lively pattern will put a smile on your face and brighten your day.
Faux Painting Kitchen Backsplashes

If your backsplash tile is a wrong color, in less than perfect shape or looks dated, this little problem can be always fixed with paint.
The easiest way to go is to simply paint your backsplash a single color, but if you have more patience and time on your hands, you can paint each tile a different shade, or even create a mosaic-like effect by "breaking" each tile into several smaller pieces.

Prefer the look of real stone? Again, think faux painting.
Kitchen backsplashes can be made to look like granite, marble or limestone with just some rags, sponges and colored glaze.

No tile on your backsplash? No problem. 
Simply lay out a grid in your preferred shape and size, then fill it in with your chosen colors for a ceramic or stone tile effect. Use an artist's brush to paint the "grout" lines for even more realism.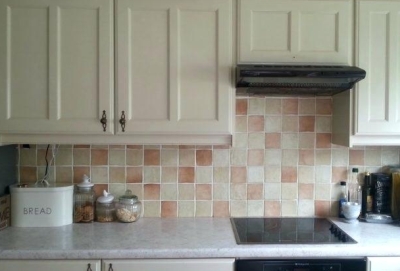 Brick imitation is another smart idea for faux painting kitchen backsplashes - they can be hand painted, stenciled or stamped with an ordinary household sponge for a variety of looks.

And then there is venetian plaster, which can make your backsplash look like stone or stained cement, depending on the color and the way you apply it.

Here's what the same product (venetian plaster) looks like when burnished to shine and "broken up" into faux tiles:


As you can see, with decorative paint finishes a backsplash transformation can be quite amazing.
Just remember to seal your work with a good quality varnish or urethane to protect the surfaces from water and dirty splashes.
Faux Painting Kitchen Countertops
Just like with tile, you can not only change the color of old, dated finishes like laminate, but even fool the eye and create expensive looking, real stone countertop imitations with paint alone.
Faux stone paint finishes are quite easy to do if you already know how to texture glaze with rags and sponges.
For a convincing look, copy from a photo or a real stone sample when painting.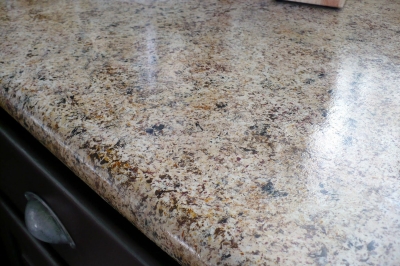 A wooden or laminate countertop could also be done as faux painted "tiles", but even a tiled countertop could be painted a different color, or made to look like stone.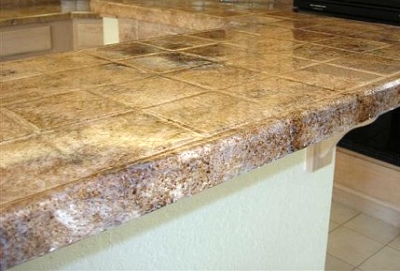 This is a great way to modernize a kitchen for very little money, but make sure to protect the painted finish with an industrial grade sealer, and always use a cutting board when cooking.
Faux Painting Kitchen Floors
Just like with other surfaces, faux painting kitchen floors can help you update and infuse your kitchen style with more character just for the cost of paint.
And concrete floors lend themselves especially well to decorative painting techniques - from stone imitations to geometric designs.

A very interesting floor look can be created by spattering two or three colors over a base coat.
This type of design is great for hiding poor quality wood flooring and certainly will not show dirt or wear. It is best reserved for a beach or country cottage though.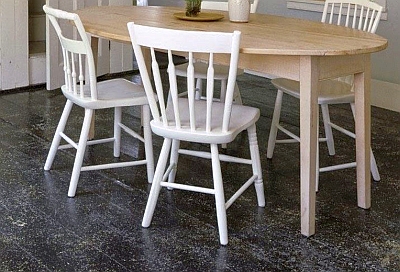 Checkerboard design is a classic, timeless choice and can resemble tile even when painted on wooden floors.
This pattern looks best if drawn on the diagonal, and it doesn't have to be black and white - you can choose any color combination that seems harmonious and makes sense in your kitchen space.

Color blocking, or geometric application of 3 or more colors is not only a striking decorative painting technique, but also a smart way to unify your wall, cabinet and appliance colors in your kitchen.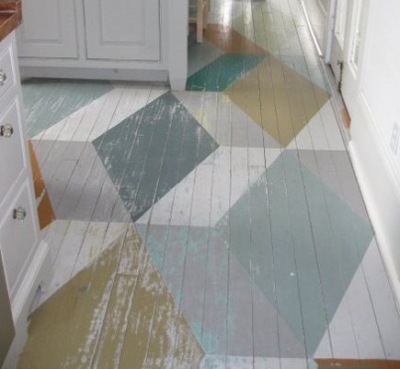 And how about painting a faux rug on your kitchen floor?
It can be as simple and basic as a filled in rectangle with a contrasting border, or as detailed and ornate as your creativity and skills allow.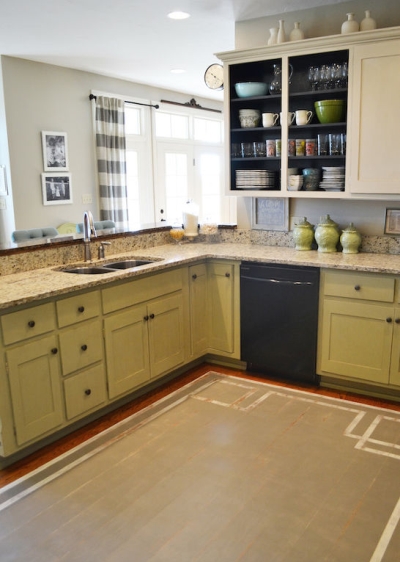 Stamps, stencils and hand painted elements work on floors too, especially when done as part of a cheerful color blocking or a faux rug design.


But even though there is definitely some charm in those faded and worn out painted floors you see in decorating magazines, you still need to choose paints specifically formulated for floors and porches for the most resiliency (you can always distress the finish if desired) and apply 2 coats of industrial grade sealer to protect your work.
Faux Painting Kitchen Ceilings
Faux painting kitchen ceilings to look like a sky can be done pretty easily with a pale blue base coat and some translucent swirls of white glazed on top.
Or you can create a more dramatic cloudy effect (as shown below) by using several layers of sheer colors - just make sure the rest of your kitchen decor can support the ceiling drama.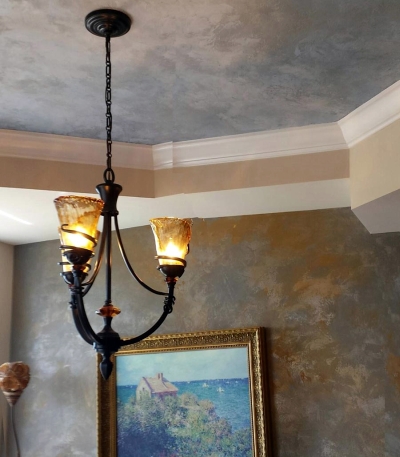 An antique tin ceiling could be made with a metallic paint onto which squares are drawn and shaded.
But if you don't want the pain in the neck from all that measuring and drawing on the ceiling to lay out the grid, metallic paints can look just as stunning when simply applied allover.

A mural on the ceiling? Why not!
Just make sure it ties with the style of your kitchen, be it contemporary, Old World, or something in between.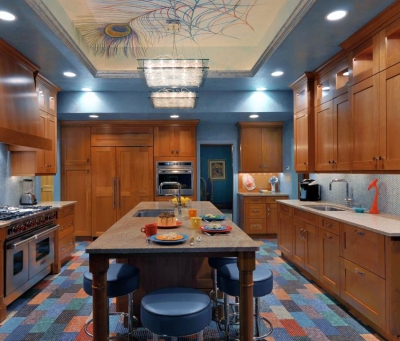 The shiny, stone-like finish of burnished venetian plaster is a striking application but like most other faux painting techniques, it requires a rather high ceiling to look its best.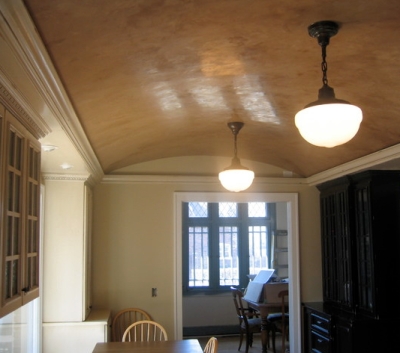 Tray ceilings lend themselves especially well to faux finishing because with them you don't have to worry about where to stop and how to transition to other areas (especially in an open floor plan), since this type of ceiling is clearly defined and contained.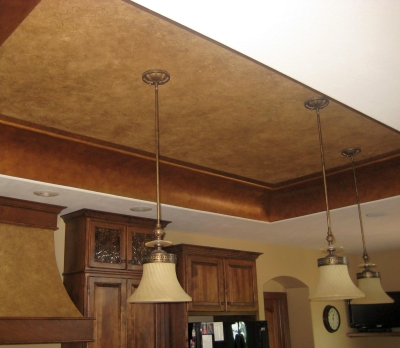 Color blocking is an effective option for ceilings also, but in most cases the bold ceiling design will have to be the star of the show, with everything else playing a more supporting role as not to compete for attention and to avoid creating a visual overwhelm.


With the art of faux painting, kitchen surfaces can not only be renewed and updated, but actually transformed.
You spend a lot of time in your kitchen, so make it yours!
See Also:
Negative Rag Painting: How-to Tutorials
How to Sponge Paint ON the Walls
How to Sponge Paint OFF the Walls