Color Wheel Paint Colors:
Pro's and Con's
Let's talk about the benefits and limitations of using color wheel paint colors in your home color design.
Color wheel paint colors have received a lot of bad rep over the years. The reason for that is most people don't know how to use a color wheel properly.
The first thing to realize is that a color wheel chart is a tool. You wouldn't use a hammer to cut off a piece of wood. Likewise, you shouldn't use a color wheel to do something it is not designed for.
What You CAN Do With a Color Wheel Chart: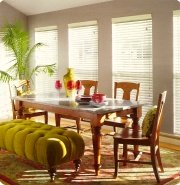 A color wheel can help you coordinate paint colors and give you ideas for harmonious room color schemes. Look at the professionally decorated homes featured in magazines and on TV. If you break down and reverse engineer the color schemes, you will see that most of them were created according to the color wheel paint color combinations.
Professional decorators have years of experience under their belts, so they can apply color wheel formulas and create successful home color schemes even in their sleep. They can even break away from the formulas and create new and fresh color combinations.
But if you are a newbie when it comes to working with interior paint colors, a color wheel can be very helpful. It allows you to find color ideas that will complement and enhance your existing room decor.
What You CAN'T Do With a Color Wheel Chart: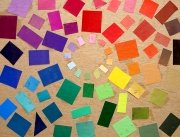 A color wheel can only give you ideas and show you color combinations that can potentially look good. But when it comes to deciding on color value (how light/dark) and intensity (how bright/dull), a color wheel is not of much help.
For example, if you have a blue-based decor, a color wheel will show you that orange is a complement to blue. But it will not tell you how light/dark/bright/muted the orange should be. You'll have to figure it out on your own. To help you with the process, follow these 3 steps:
use a color wheel to find a paint color idea that will enhance your existing decor (continuing with the example above, let's say the color wheel suggests an orange color).

use small color paint chips or a fan deck to find several shades of that color (several shades of orange that you like).

use large paint color chips to zoom in on one final shade (you'll find that perfect hue faster, if you use oversized paint color swatches).
Color wheel paint charts are great only when you use them appropriately - for paint color ideas and direction.
See Also: