Decorative Paint Striping
Ideas and Techniques
Paint striping on the walls is already an impressive painting technique, but decorative and faux finishes take it one step further - they add texture, depth and another dimension to the pattern.
NOTE: the basic how-to instructions remain the same: you still have to measure, mark and tape as usual (see "Painting Vertical Stripes" and "How to Paint Horizontal Wall Stripes" for details).
The only difference between "ordinary", solid color stripes and the ones shown here on this page is the paint and the application method.
Decorative Finish Ideas
for Paint Striping

Sponging
Sponging is a versatile technique - it can produce a dense, coarse, textured look or spaced out, barely-there, fine imprints (depending on how heavy- or light-handed you are with it).
The subtractive, or negative sponge painting method usually results in a softer, subtler texture than its opposite additive, or positive technique, but either can be used successfully for paint striping.
Just choose similar, tone-on-tone color combinations for this finish - to avoid creating that garish 80s look we all still remember so well.
Ragging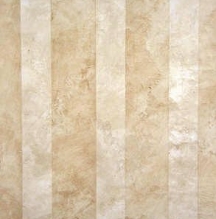 Rag painting creates a finish that can resemble crumpled fabric, old leather or even parchment (it's all in the technique and the colors used).

Just like sponging, ragging can be used to apply colored glaze on the walls, or to take it off.
For a truly understated look, go for low-contrast color combinations, but if you want more depth, use 2 or even 3 similar shades for the ragging step.  

Rag rolling is a variation that produces a more structured pattern, similar to wallpaper.
Glazing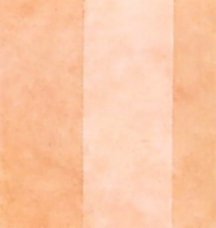 Glazing refers to moving colored glaze over a base coat, in order to produce a mottled, cloud-like effect.
In fact, this faux painting technique is most often used when the goal is to imitate the Old World look and feel on the walls (it's very popular in Tuscan-style decors).
Many tools can create this look (sponges, brushes, rags and even grocery store plastic bags), and they are usually rotated during the glazing process to texturize and blend the colors at the same time, so it can be hard to tell how the finish was done just by looking at it.

Colorwashing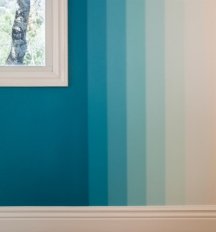 This decorative technique is often seen in a horizontal stripe pattern - those wide bands of gradient colors, that start dark at the bottom and become really light and airy at the top.
The resulting ombre can have an almost ethereal effect - that's why colorwashed stripes are a very popular painting idea for bedrooms, bathrooms and nurseries.
It also works for vertical stripes (especially as an accent wall), or you can use just 2 or 3 gradient shades, and repeat the pattern all over the room just like with regular stripes.
Distressing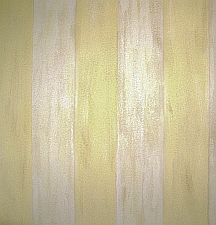 Paint distressing involves glazing to shade the finish, and subtractive sponging and ragging to create a worn out or even damaged effect (where the glaze is lifted off after it has started to set).

Some people like the look of old walls but don't have them in their homes, so this is a way to "age" even new walls without doing any real damage to them (they can be easily "restored" with a fresh coat of paint).
Besides, paint striping uneven walls is very difficult, but with this technique you can actually have your cake and eat it, too.

Combing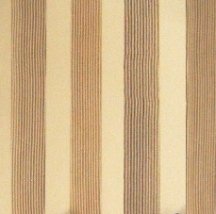 Pulling a rubber comb through colored glaze is the basic technique for creating vertical, horizontal or diagonal pinstripes (which can be overlaid for a basketweave effect).
But you don't have to drag the tool only in a straight line - you can twist it to make swirling moire designs, or overlap short strokes in a criss-cross fashion to create intriguing texture.

Because of the slightly raised texture of this finish, it can resemble luxurious corduroy or voided velvet fabric (the duller the finish, the richer it looks).
Dragging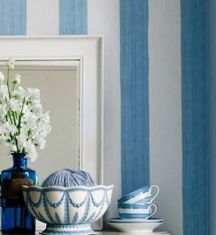 Dragging is done with a special brush that is pulled through glaze to reveal a bit of the underlying base color.
Unlike regular painting projects where you don't want to see much texture in the finish, the brush marks are not only desirable here - they are what creates this interesting look.
The dragged brush marks can go in one direction for a grasscloth effect, or they can be overlaid at right angles to imitate linen or denim (depending on the color combination you use).
Stencils
Ordinary, plain stripes can be really dressed up with stamp or stencil imprints.

But it's not necessary to paint regular stripes on the walls first - stamps and stencils can be used on their own for paint striping (as you can see in the photo example).
You can find them available in many themes, or you can make them yourself if you are handy and big on individuality. 
And if you like the wallpaper look, this is a great alternative to installing (and then having to later remove) the real thing.

Metallics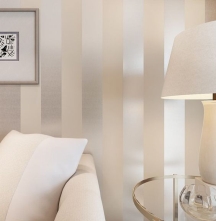 Metallic paints are a great way to give any striped wall an instant dash of class and sparkle, without overwhelming the eye.
Paint striping in metallics looks best on flat or low-lustre backgrounds, and in tone-on-tone color combinations (the metallic finish creates enough drama already - no need to pile contrast on top of that).

Metallic glazing can be combined with the sponging, ragging, stamping, and stenciling techniques described above - the only difference is that you will use a metallic glaze rather than a regular tinted one.
Textures

Textured paints create a product buildup that looks decorative when used for wall striping (for this reason, it requires a commitment - something to keep in mind before you start).
The texture can be fine or coarse, and have various patterns (random or structured) - it all depends on the product and the tool you use for the technique.
Venetian plaster is worth mentioning separately because in addition to adding texture, it can be buffed for shine and to imitate the look of polished stone.

See Also:

How to Paint Stripes Without Taping
Tips and Tricks for Painting Stripes on Walls

Striping Paint on Ceilings, Floors and Furniture
Ideas and Instructions for Painting Stripes