What Colors Look Good With
Natural or Stained Wood
What colors look good with wood? That's a question a lot of people ask when trying to decide on a paint color scheme for their homes...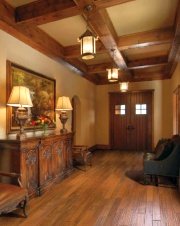 First of all, why do you need to know what colors look good with wood? Is it because you are trying to find a wall paint color for an empty, un-furnished room? If so, stop right there!
Your wall color should be determined by the fabrics, furniture and accessories you will use in the room, not by the color of your wood flooring, for example.
The reason for this is, in fully decorated rooms, natural woods look neutral - they usually go with everything.
Of course, you have to make sure that the color undertone of your wall paint does not argue or compete with the wood color (for example, yellow-toned wood cabinets on a pinky beige wall), and that the wood doesn't blend it too much and "disappear" (for example, deep red mahogany cabinets on a burgundy background).
Other than that, the color of your wood is mostly irrelevant when deciding which direction to take your painting and decorating color scheme.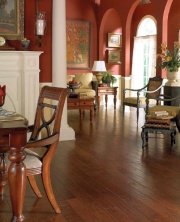 So forget about the wood for now and find an inspiration piece that you can use as a room color scheme starter. It will do a much better job of guiding you to the right paint color decision than the color of your wood will. And see "Planning Home Color Design" to learn the right order of adding color to your home.
On the other hand, if you want to know what colors look good with natural or stained wood because you want to highlight the beauty of your dining room furniture, or give your custom made kitchen cabinets the very best showing, the following tips will help you find a complementing wall color.
Tips for Choosing Complementary Wall Colors
for Natural or Stained Wood
Most woods can be placed into one of the 4 categories:
those that look yellow (bamboo, pine, birch, etc)

orange-looking woods (fir, oak, maple, etc)

brown-colored woods (ash, teak, walnut, etc)

woods with a red tone (cedar, redwood, mahogany, etc)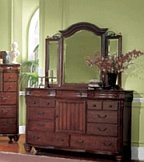 According to the color theory, complementary colors (those located on the opposite sides of the paint color wheel) enhance and intensify each other.
So if you want to highlight the red tones in your mahogany woodwork, green walls will help you do that, because green is a complement to red (your green wall color can be as subtle or as saturated as you prefer).
To showcase yellow-toned woods, consider painting your walls a complementary violet color (again, it can be pale or deep, depending on your preference and decorating goals).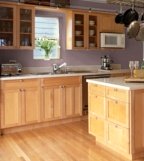 Orange woods look especially bright and vibrant on the background of blue walls.
And if you want to emphasize the richness of brown woods, use a blue-green paint color on your walls.
Of course, it's important to make sure your complementary wall colors work within the overall context of your home color scheme - otherwise the mismatched hues of your decor will "steal the show", not the color of your wood.
Finally, if the color of your wood is truly spectacular and intense, and you want to showcase it, let the walls stay in the background by choosing calmer, more subdued paint colors.
Get a Painting Estimate:

See also: