Testing Interior Painting
Colors On a Swatch Board
The best way to visualize how interior painting colors will look in a room is to create a swatch board. Here are some helpful tips and instructions for testing your home paint colors...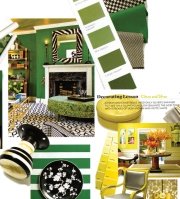 Making a swatch board to visualize different home color designs is not only a useful exercise, but is also great fun.
In fact, that's how professional decorators test their interior painting color ideas, and then present their plans for home decorating color schemes to their clients.
So if you would love to have a beautifully color-coordinated home, but professional decorating services are out of your budget, you can at least copy the best methods and practices of the pros.
How to Test Interior Painting Colors
With a Swatch Board
Begin with your source of inspiration for the room - something that will serve as a color scheme starter. It should be something that you really love, because your entire room will be built around it - it can be your favorite vase, a painting or a piece of fabric.
Then take a paint color deck and pull out all the colors from the piece. Alternatively, you can take your inspiration piece to your local paint store and they will help you find the matching interior paint colors.
Evaluate each paint color chip, and tweak those that look too dark or too bright for the function, style and lighting of the room. Try to visualize each color on the walls, and eliminate those chips that don't pass your "big vision for the room" test.
Once you've narrowed down your choices to no more than 5 colors, go back to the paint store, get some paint samples, and apply those interior painting colors to large, foam swatch boards (at least 1x1' in size).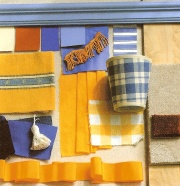 Now when you go shopping for fabrics, furniture and accents, take your swatch boards with you. If you can get samples of fabrics and other finishes you are considering to buy, pin them to the boards. If samples are unavailable, at least take a photo of the item.
And if you don't want to make a costly mistake, make sure every single item you buy for the room looks balanced, harmonious and relevant against the color of all your swatch boards.
TIP: It's a good idea to use samples of fabrics and other finishes that are sized proportionately to the amount in which each color will be used in the room. This "collage" will help you see the complete picture in small scale, so you can make any changes before money is spent.
Finally, make up your mind about which of the interior painting colors you will use on the walls (one of the colors you tested on your boards) - the right one will jump out at you (in a good way) when you view it in the context of your new decor elements.
See Also: