Wall Color Ideas
Inspired by Fabric
If you are struggling coming up with creative wall color ideas, head to the nearest fabric store - you are guaranteed to walk away with a complete color scheme for painting and decorating your home!
A very common and generally successful starter for a room color scheme is a piece of printed fabric. Perhaps you will find one so appealing to you that it completely decides your home decorating color scheme, even cancelling a previous decision to base your room on a certain color.
If you are starting with an empty room, a piece of beautiful printed fabric will not only give you wall color ideas, but will also determine the colors of your furnishings and accessories. Why do all the hard work trying to coordinate colors when you can piggybank on the successful results of designers?
If you already have furniture and decorations, you can still base your color scheme on a print or chintz. But of course you will have to search for a pattern which incorporates the colors of your existing decor.
Using a Print or Chintz
for Paint Color Ideas
This colorful piece of designer fabric is made up of orange-red flowers and green leaves on an aqua blue background. The flowers have touches of yellow, and the green of the leaves ranges from deep forest green to sage.
Now that we've determined our color palette, it's time to see how it translates to a room decor.
Taking a clue from the fabric, we'll use the same color proportions for this room.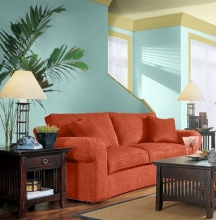 We'll paint the walls aqua blue - this will serve as a background for our color scheme. The couch upholstery will be orange-red - a color second in importance in our fabric pattern. We will paint the woodwork (window trim and crown molding) a light shade of sage, and will tint the ceiling the same color to avoid harsh contrasts.
Since the deep green is quite tricky to use here without going overboard on contrast and variety, we'll use a clever option.
Instead of adding the missing green in the form of accessories, we'll bring in live plants and voila! We've used all the colors of the palette without turning the room into a peacock.
So what are you waiting for? Pulling wall color ideas from fabric is too fun and easy not to try in your own home!
See Also: