Find Your Signature
Home Decorating Color Schemes
Learn how to find house painting and home decorating color schemes that reflect your style.
Sometimes it can be hard to decide on colors to paint a room. With so many different colors and home decorating color schemes, how do you zoom in on only one?
When decorating with paint, it helps tremendously to know your "signature" color style. That way, you will stay true to yourself and will not fall victim to the latest color trend in home painting and decorating.
You will be able to express yourself through your home and plan room color schemes that speak to you and about you.
Finally, if you choose home decor color schemes that represent you, your home will always be in style - in your unique style.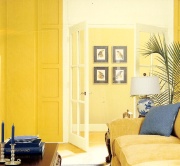 The best way I've found to discover your signature home decorating color style is to build a collection of your favorite decors. Every time you flip through a home decorating magazine or browse online, save the photos of the home designs you admire the most. These should be the rooms that you can picture yourself living in.
As your file grows, your preferences my seem all over the place at first. But if you study the rooms closely, a pattern will start to emerge. By the way, on this page you can see some photos from my personal file of favorite home decor color schemes. Can you spot a pattern to it?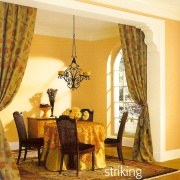 Your file will reveal what colors and color combinations you favor over others.
For example, you may find that you gravitate towards a blue and orange combo in different shades. Or that you prefer muted, warm color schemes in your decor. Maybe you will realize that you tend to add color to a room only through accents, while keeping the background neutral. It will also become obvious whether you like drama or simplicity. And so on...
The sooner you start your "Favorite Decors" file, the sooner you will discover your signature color style. Then, your home decorating color schemes will stop looking as if different people have put them together. Instead, they will start looking consistently personal, like your unique handwriting.
See Also: