Interior Wall Colors:
3 Types of Neutrals
Neutral interior wall colors: they are not what you think! This tutorial will teach you about 3 different types of neutral paint colors and tips for using them in your home.
Neutral interior wall colors are very popular and even necessary in home color design. Neutrals help separate different colors used in a home color scheme. They give our eyes a rest, and have a grounding effect on bright paint color palettes.
Most people don't understand what interior paint colors are really neutral. So let's set the record straight.
True Neutrals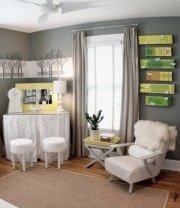 There are only 3 real neutrals, period. They are white, black, and gray (which is created by mixing white and black).
Real neutrals are rarely used in house painting, because people find them too cold (gray), clinical (white) or depressing looking (black).
But these non-colors are very effective when used sparingly in the decor.
They help add some dramatic accents and serve as punctuation marks in any room color scheme.
Complex Neutrals
These are interior wall colors like beige, tan, brown, taupe, etc. They are created by mixing 2 or more colors together - see the Paint Color Mixing Chart.
It's funny how many people want to keep their homes "neutral" thinking it's a safe and fool-proof way to decorate. Meanwhile all designers agree that these colors are particularly challenging and unpredictable.
Because beiges, browns and similar "neutrals" are complex (meaning they consist of several hues in various proportions), determining their undertones is tricky. For example, you may think that all beiges are the same, but when you compare them side by side, you see that some look greenish, others orangey, yet others appear pinky. So a neutral decor does not guarantee harmony - you still need to know how to tweak and coordinate it.
Colored Neutrals
This group of interior wall colors will surprise you... because it includes green and blue!
Yes, green can be a neutral - just think of how much green color there is in nature. Doesn't it seem like a perfect neutral background?
Or take blue - and think of the sky and the sea, or even the ever-present blue jeans! Calm, muted shades of blue and green usually provide a perfect backdrop for other, bolder colors to unfold.
Oftentimes, when we are surrounded by a color in large amounts, it becomes "invisible" to us, we stop noticing it after a while. That means that in the right context, virtually any color can be a neutral, providing it's not too strong or crazy.
See Also: