Unconventional
Interior Trim Colors
There is a whole world of interior trim colors - other than white. Are you ready to try something new? Then let's get started!
When it comes time to choose interior paint colors, most homeowners spend a lot of hours choosing the right paint color for the walls, but completely ignore the woodwork in their homes. "Ignore" is another way of saying they paint the doors, windows and trim boring white by default, without giving it a second thought.
But did you know that sometimes it makes more sense to use accenting interior trim colors? Let's study the following rooms where the woodwork has been painted a decorative, non-white color. Hopefully that will give you ideas and reasons for painting your own home differently than everybody else.
Examples of Decorative Interior Trim Colors: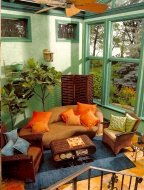 Sometimes pure white can be an intruder. This room has a deep and saturated color scheme going on, without a hint of white anywhere. Introducing white to this decor would have only added one more color to an already complete palette, and would've looked totally out of place and irrelevant.
Instead, the decorator re-used one of the existing colors and created a room color scheme that flows. Notice how the room seems to continue past the windows into the green yard? White trim would have interrupted this effect.
If you have really beautiful doors, windows and other woodwork in your home, choose paint colors that will highlight those features. This is especially true if the woodwork is the most beautiful or interesting part of the room.
For instance, the carved baseboards, doors and window trim are obviously the star of the show in this photo, and have been accentuated with a contrasting color. The beautiful woodwork now looks like a jewel in a frame.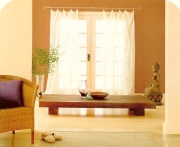 When choosing interior paint colors for a simplistic decor, the mantra is "less is more".
Here, the color of the front room has been used for painting the woodwork in the adjoining back room.
The result is clean and simple, the choice of colors is warm and calming.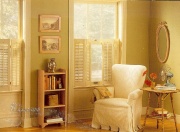 In a historic home where surfaces look old, pure white will look inappropriate. For a more authentic and consistent look, choose interior trim colors that look somewhat old, too - antique white, old lace, weathered white are much better choices.
Avoid pure white on trim, it will scream "fake" and "plastic" in a period home.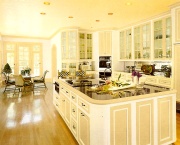 It doesn't take long to figure out the reason why the owners of this kitchen chose this light beige for painting the woodwork.
The kitchen cabinetry has this color, so continuing with it seems only natural.
The beige color embraces the entire kitchen area and creates a sense of flow.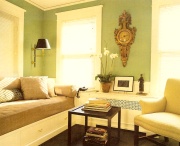 Deep colors look especially bad with pure white trim, because the contrast is too stark. But even mid-tones can benefit from non-white shades used on the woodwork.
If you trade your pure white for cream, the result will be softer and warmer, like the color scheme of this reading room in the photo.
As you can see, there are plenty of reasons to choose non-white interior trim colors. Plus, non-white colors are often more practical - they don't show dirt and wear as much.
And don't worry, if you paint your woodwork blue and start having withdrawal symptoms, you can always go back to white!
Need a Quality Painter
for Your Project?

See also: