Unusual Ideas and Paint Colors
for Kitchen Walls
There are certain paint colors for kitchen walls that most people never consider. And that's too bad - because unusual kitchen painting ideas like pink, purple or turquoise on the walls can work just as well (if not better in some cases) as the traditional, "safer" kitchen paint color choices.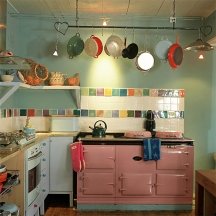 Paint is the ideal medium when it comes to experimenting with color in the home. It's relatively inexpensive and easily changed when you get tired of your paint color choices.
So don't be afraid to try unusual paint colors for kitchen walls. Sometimes a fresh, new, even "unexpected" wall color idea might be exactly what your kitchen needs to bring it out of the doldrums.
My motto when it comes to choosing paint colors is simple: "it's only paint".
So if you're itching to try different and "unconventional" kitchen wall colors, go for it! You can always change it again later.
Purple Paint Colors for Kitchen Walls
Maybe your favorite everyday dishes have clusters of grapes and it happens to be your favorite shade of purple. When you pull your kitchen paint color from well-loved items, you're sure to be pleased.
While purple is a popular choice for girls' bedrooms, it's considered an unusual color for painting kitchens. But you are the one who lives with your choices, and the colors you choose should make you smile.
If you have dark stained cabinets in your kitchen, try to limit the purple color to a light to medium shade.
But if your kitchen is large and bright with plenty of natural daylight, you can choose a darker shade, even a deep eggplant purple.
Just remember that darker colors absorb light, instead of bouncing it back into the room. This can make the room feel smaller - or cozier - depending on your perception.
Orange Paint Colors for Kitchen Walls
If orange just happens to be your happy color, don't be afraid to use it on the kitchen walls.
Orange is actually quite popular in contemporary designs, and it works well with other citrus shades, like lemon yellow or lime green.
Orange is also the perfect partner for chocolate brown, beige and other neutrals.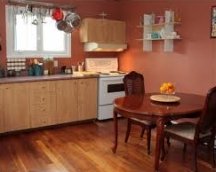 Just like any paint color, orange color family varies greatly in intensity and value. It can be very bright and saturated - the effect you get by mixing primary yellow and red, or reserved and toned down - like clay and terra-cotta earthy shades that lean more toward brown.
Pumpkin is a luscious shade of orange that's a little bit calmer than bright orange, but still far from being neutral.
Pink Paint Colors for Kitchen Walls
There's probably no more feminine kitchen painting idea than pink walls. So if you are not afraid to get in touch with your feminine side, go ahead and indulge yourself with your favorite shade of pink in the kitchen.
Any shade of pink will do when what you want is the most unusual and fabulous kitchen on the block. And for your girls night in, try adding a little pink champaign to the scenery!
Pink paint colors run the gamut from hot pink to pale pastel.
Pink is actually an easy color to work with because it coordinates well with so many colors. For a muted soft effect, try it on the walls in a soft pastel shade, then use grays and whites to decorate.
Pink provides a good backdrop for both white and stainless steel appliances, as well as for white and gray stone/tile surfaces. Beige finishes and brown wood also look beautiful with pink walls.
Although pink is an unusual paint color for kitchen walls, it's probably going to be easier than you think to find new and vintage small appliances and dishes to accessorize your feminine kitchen.
Turquoise Paint Colors for Kitchen Walls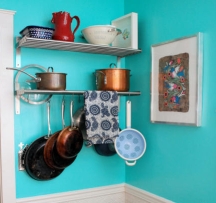 Turquoise is a unique color choice for most kitchen walls. That is, unless you're lucky enough to live beach-side. If that's the case, many shades of turquoise feel right at home near the ocean.
Since turquoise is a combination of blue and green, it has elements of both colors. Blue is considered a cool color, so pair it with plenty of natural earthy shades to warm it up.
For the floors and accessories, include sandy shades of beige by using wood and wicker items. Then add generous amounts of white cabinetry or wooden furniture, and you have a refreshing seaside cottage kitchen.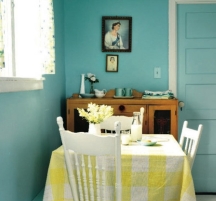 On the opposite end of the spectrum, consider the appeal of turquoise stones set in sterling silver jewelry.
You can bring that same color combination to your kitchen by painting the walls turquoise. Then add the gleam of silver with stainless steel appliances and continue with other smooth, light-reflective surfaces.
Good examples are sleek and contemporary white lacquered cabinetry, white porcelain tile, Cararra marble and shiny accessories.
See Also: