Interior Paint Color Ideas
Inspired by Nature
Interior paint color ideas inspired by nature: learn how to create harmonious room color schemes for painting and decorating your home...
Whenever you need some inspiration and fresh interior paint color ideas, all you have to do is look out of your window - nature is always there to help!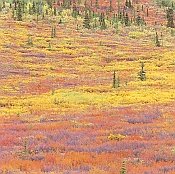 The colors of the changing seasons, natural environments and landscapes can offer you perfectly coordinated, ready-to-use paint color schemes.
Plus, if you do an especially good job matching and using these colors in your decor, you can even re-create the mood and "feeling" of your inspiration source.
So why not let a bit of the outdoors in? Just take a picture of your favorite scene (a sea shore, blooming fields, multi-colored sky, etc) and match your room colors to it.
There are websites that can help you extract all the colors from your photo, or you can ask the experts at your local paint store to help you find matching paint colors, or you can do it yourself - if you have a good eye.
Example of Nature-Inspired
Interior Paint Color Ideas
Benjamin Moore is one of many paint companies that often features nature-inspired paint color ideas. At their stores, you can pick up project idea cards like the one on the left.
The cards will include the source of the color ideas (a photo of a flower, landscape, etc), specific paint color names and chips that have been matched to the photo, and the end resuld - a room painted and decorated with the suggested colors, so you can visualize the effect.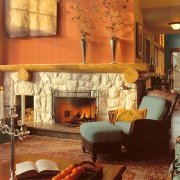 Take a look at this interior inspired by the colors of the lake and autumn.
The walls have been painted a rusty red, and the fireplace stonework a soft yellow to match the leaves in the photo. The rest of the colors - hazy blue, orange, red and green - are incorporated into the room with fabrics, rugs, and accent items.
When putting together room colors, remember that 1 color should "dominate" in the space, a second color will play a supporting role, while the rest should be used sparingly, as accents - for a harmonious, non-competing look.
Getting interior paint color ideas and creating home color schemes with nature's help is so fun and easy, it can almost feel like cheating!
See Also: