How to Coordinate Undertones
In Neutral Color Palettes
Creating successful neutral color palettes in your home requires a lot of thought. Here you will learn how to coordinate different neutral colors based on their undertones.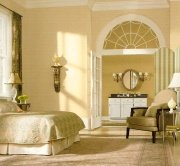 The secret to harmonious neutral color palettes is in the details.
Tiny nuances in color (a.k.a. undertones) can make or break the entire look. Oftentimes, they are the difference between professionally designed room color schemes and amateurish ones.
To learn more about this aspect of color, see "Interior Paint Color Undertones".
Now let's see how to make a beige paint color work with other beige shades in your home.
Keep the Undertones the Same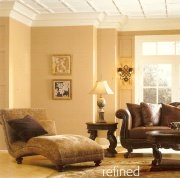 The easiest way to ensure your neutral color schemes will work is to only select those neutral colors that share the same undertones.
For example, a room done in yellow-based beiges (walls, carpet, upholstery, window drapes) will look very harmonious and pulled together. But of course you will need to vary the value (lightness/darkness) and texture/finish of the beige to add some contrast and depth to the scheme.
Likewise, you could choose to use only green-based beiges in your decor, or paint and decorate your room only with the beiges that have red/pink undertones.
Combine Different Undertones
Another approach to coordinating neutral color schemes is to mix those neutral colors that have complementing undertones.
For example:
In a home, just like in nature, greens go with everything. That means green-based beiges will work with both yellow and red-based ones. But not both at once - you have to pick just one!
If you pair a greeny beige with a yellow-based one, you'll want to get rid of any red-based beiges in the room (otherwise the combination will clash).
If you combine a greeny beige with a pinky one, any yellow-based beiges in the room must go. But keep in mind that the greeny + pinky beige combo will intensify the corresponding green and pink/red tones in both beige shades.
Or in a nutshell:
Green-based beiges work with (one at a time):
yellow-based beiges
red-based beiges
Yellow-based beiges work with:
Red-based beiges work with:
It's a good idea to print out or memorize these combinations - they will surely come in handy the next time you need to choose and coordinate the undertones in a neutral color palette!
See Also: