Beige Paint Color
and Its Undertones
Beige paint color is tricky to work with in painting and decorating. Even though it's a neutral, it doesn't mean it goes well with any other color.
A lot of people choose neutral paint colors thinking they are playing it safe. When in reality, it's just as easy to make mistakes when selecting and coordinating colors for neutral color schemes, as it is with "real" colors.
And a beige paint color is no exception. In fact, beige is probably the most difficult of all neutrals to get right.
The Color Beige Comes in 3 Flavors
You see, all beiges come in 3 different undertones or "flavors". There is a red-based beige, a yellow-based beige and a green-based beige.
But to see that, you have to compare several different beige shades next to one another. Otherwise, your (untrained) eye won't see the subtle differences in the color's nuance (especially if you are looking at a tiny paint chip). For example, if you look at this beige (on the left), it may be hard to tell what "flavor" it has.
But if you compare it to other beiges (below), it becomes more obvious that our beige (#1) has a slight red/pinkish undertone.
The other two beige shades also reveal their "true nature" - you can now easily see that beige #2 is golden/yellowish, while beige #3 is a bit greenish.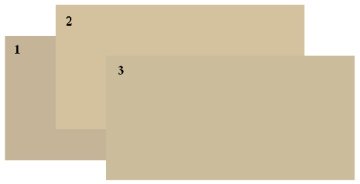 Do you see now that even though they are all beige, they are not really all that neutral - and each one has a bit of color to it?
That's why working with neutral color palettes is so difficult - grays, off-whites and beige paint colors are a lot like chameleons; they change their appearance depending on the background.
Because of this, mixing different neutrals together doesn't guarantee success (unlike what most people think). And if you've ever wondered why your beige couch looks pinky against the walls, or why your neutral drapes don't work with the neutral walls, now you have the answer.
So in order for a beige paint color to work in your decor and not stick out like a sore thumb, its undertones must be aligned with the other colors in the room (both with "real" colors and other neutrals).
To learn how to do that, continue to "Coordinating Neutral Color Palettes". Also see the Paint Color Cheat Sheets for 7 best beige shades.
See Also: