Shades of Orange Paint
Color for Your Walls
Shades of orange on the walls can add warmth and life to your home. Learn how to get the most out of orange paint colors...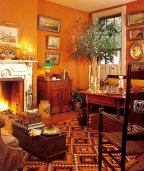 What happens when you combine the energy of red with the optimism of yellow? Of course, your get orange - the world's friendliest hue!
Best suited for rooms with Northern exposure, orange paint color can compensate for the lack of sunlight and chase away the gloominess of dark spaces.
And with so many shades of orange - ranging from sublte peach to funky tangerine, you are bound to have a favorite!
Bold and Funky Orange Shades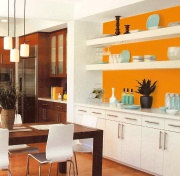 Got attitude? Why not make a statement with intense orange colors like tangerine, carrot, persimmon or pumpkin? Used together with turquoise, lime green and hot pink, these fiery shades can add a lot of punch to an ordinary room.
Bright orange color like this is an extremely good accent color, and it is most powerful when used sparingly. To infuse your room with fun and passion, all you need is a few hot orange color accessories in your decor.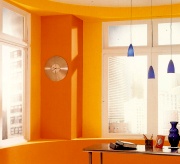 Remember that a striking orange is too hot and stimulating to be used for painting your entire room.
To satisfy your craving for this intense color, settle for just one accent orange wall, and then spread some accessories in the same color around the room.
Definitely not for the faint of heart, bold shades of orange look best in contemporary and minimalist decors. But to make an orange color scheme work, you need to tame the "flame" with lots of white and neutrals. Let the color "speak", and keep the rest of your decor "quiet", remaining in the background.
And avoid using black together with bright orange colors - or you mind end up with a Halloween-ish room color scheme!
Classic and Conservative Orange Shades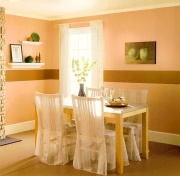 If you are not used to bold colors in your decor, you can still use orange. Subtler shades of orange like peach and salmon are great when you are just getting started experimenting with color in your home.
These classic orange colors are appropriate for any home decorating style. In fact, you can often see these shades in many traditional floral fabric patterns.
Unlike the brighter hues, soft orange tones are less trendy and stimulating. You can bathe an entire room with them, and still keep the atmosphere peaceful and serene. Different shades of green and blue will add coolness, and balance out the scheme.
Because peach and salmon hues complement most skin tones, they are a good choice for painting bathrooms and other areas where you apply makeup.
Earthy and Natural Orange Shades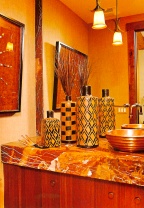 Think of the colors of dried leaves, clay pots, cinnamon spice, terra-cotta tiles and copper... These are the most timeless shades of orange that have been around for ages!
Originally derived from natural pigments, these muted tones look almost neutral - and just like in nature, they beautifully coordinate with most other, nature-inspired colors.
And even though you can most often find them in Tuscan, Mexican, Santa Fe and Mediterranean decors, toned down and muted orange wall colors are appropriate and acceptable in most home decorating color schemes. They serve as a natural backdrop that allows other hues to unfold.
Orange Room Projects From Our Visitors:
Here are some great orange room photos and stories submitted by other visitors to this page - take a look and don't forget to leave a comment!

Need an Estimate for
Painting Your Home?

See also: