Orange Accent Wall Painting Idea: Sherbet Paint Color by Martha Stewart
by Candice Liverett
(Payson, IL)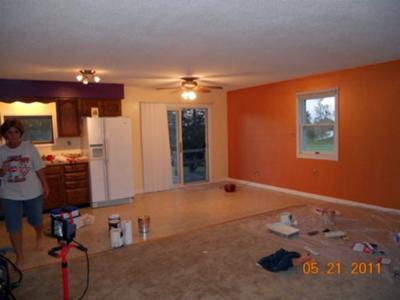 Orange Sherbet paint color on the wall


I just bought my first home... everything was primed white, so that gave me an open palette to do anything I wanted to do to it!!

I went to Home Depot and found the Martha Steward Precious Metals colors and origionally picked out a turquoise color, but then I found Orange Sherbet!!

After two coats with a regular roller and a few calls to my local Home Depot... I finally got the right rollers and the last coat did it. It looks great!

As for the other colors, the creamy walls are Behr Cracked Wheat in semi-gloss and the purple above my kitchen cabinets is called Nostalgic in Behr also.

Love this area in my house! Can't wait to move in!!

See also:
Shades of Orange: Which One is Right for Your Home?