What Colors Look Good
With Natural or Stained Woods?

"What colors look good with wood?" That's a question a lot of people ask when trying to decide on a paint color scheme for their homes, but...
But first, why do you need to know what colors look good with wood? Is it because you are trying to find a wall paint color for an empty, un-furnished room? If so, stop right there!
What Colors Look Good With Wood...
...if you're starting with an empty room
Your wall color should be primarily determined by the fabrics, furniture and accessories you will use in the room, NOT just by the color of your wood flooring, for example.
The reason for this is, in fully decorated rooms, the focus becomes on the colors of the decor and how they work together with the walls, making your wooden floors move more into the background. As a result, they look pretty much neutral - and usually go with everything.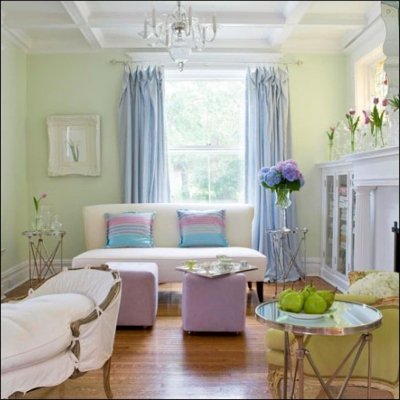 So unless your wooden floor is a very intense or unusual color, and/or you are planning to paint your walls the same color as the floor stain, it's safe to say you can ignore it when choosing a color for your walls.

However, if you have a lot of vertical fixed wood in the room (trim and doors, or cabinets), it becomes more prominent and should also be coordinated with the wall color, but even then you are limited only in 2 ways:
1) there should be enough contrast so that the wood doesn't blend in too much and "disappear" against the background of the walls
2) you need to check that the undertone of your wall paint does not clash with the wood tone (keep reading!)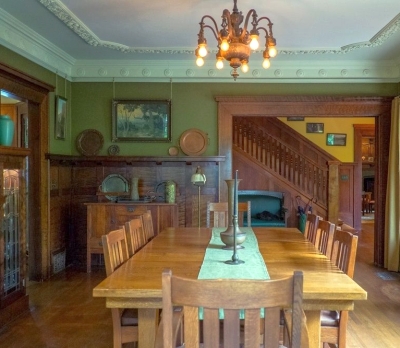 Other than that, the color of your wood still allows you plenty of options when deciding which direction to take your painting and decorating color scheme.
So if you are starting with an empty room, try to find at least a couple of important inspiration pieces first, that look great with your vertical wood and that will be your room color scheme starters (for example, a couch, a painting and an area rug).
This approach will do a much better job of guiding you to the right paint color decision than just the color of your wood will, because you'll be able to see and better coordinate the various colors of your decor all at the same time, all together - the way they'll actually be used in the room.


---
On the other hand, if you are selling an empty house and want to highlight the beauty of the floors or custom woodwork, or give your stained kitchen cabinets the very best showing, the following tips will help you find a complementing wall color to achieve all that.
What Colors Look Good With Wood...

...depends on the value

And by "value", we are talking about how light or dark the wood is - NOT how much it cost you to install!
This is important because getting the contrast right creates a background that will show the wood to best advantage.
For example, dark woods really stand out against light colored walls, while light woods need a strong dark color to come into focus.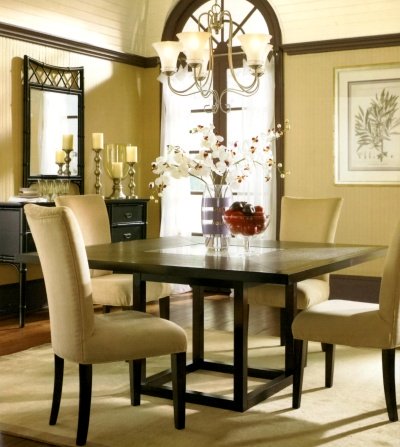 But while high contrast calls more attention to the wood, it also adds drama and even busy-ness to the room.

Besides, if you have a lot of wooden elements and a highly contrasting wall color, keep in mind that it's a lot of contrast that makes a space seem smaller.
TIP: if you have highly contrasting wooden furniture against the walls, you'll need to arrange it in a way that evenly distributes the weight of the colors around the room, to avoid a crowded and unbalanced look.


---
But high contrast color combinations are only one way to highlight your wood. Another is through lower contrast pairings - they work if you prefer richness and texture in your decor, rather than drama.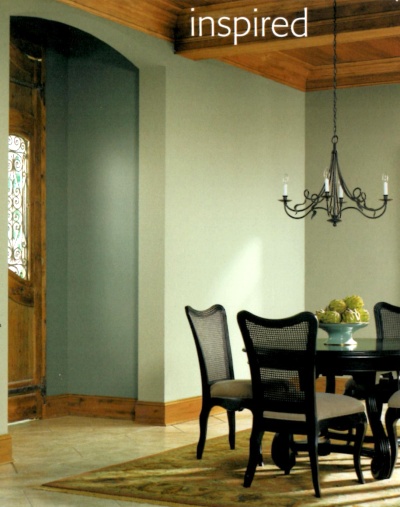 To pull it off successfully, keep the value (lightness/darkness) of the colors 2 shades apart when the colors are related (for example, tan walls with orange wood).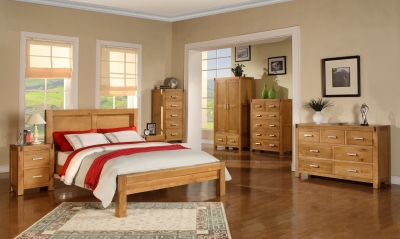 Or, keep the value about the same but the colors drastically different (for example, green walls with yellow wood).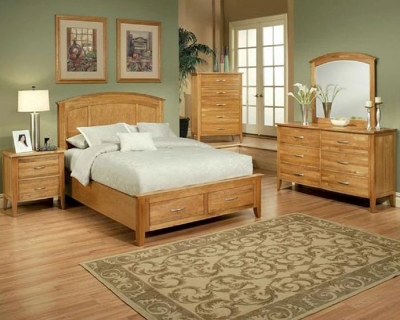 As long as you don't match too closely you don't have to worry about your wood disappearing into the walls.
And if you have multiple color wooden pieces/elements in the same space, see which one(s) you want to bring forth and which you want to let blend more into the rest of the decor, and decide on the contrast accordingly.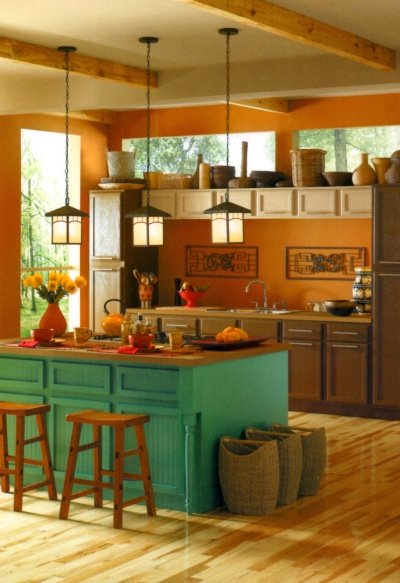 What Colors Look Good With Wood...
...depends on the undertone
Whether you are dealing with natural or stained wood, most can be placed into one of the 4 categories (based on their finish):
yellow stains and natural woods (bamboo, pine, birch, etc)
orange stains and natural woods (fir, oak, maple, etc)
brown stains and natural woods (ash, teak, walnut, etc)
red stains and natural woods (cedar, redwood, mahogany, etc)
According to the color theory, complementary colors (those located on the opposite sides of the paint color wheel) enhance and intensify each other.
So if you want to highlight the red tones in your red wood cabinet finish, for example, green walls will help you do that, because green is a complement to red (your green wall color can be as subtle or as saturated as you prefer).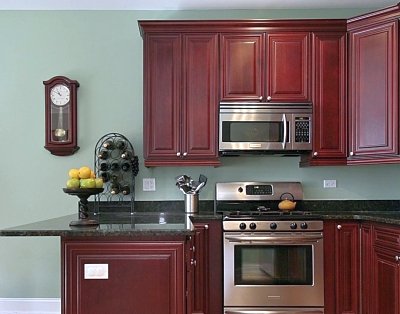 Red woods and stains also harmonize well with yellow, blue and pink colors and undertones in paint. Anything orange-y will compete, and may clash.


To showcase yellow woods and bring out their golden tones, consider painting your walls a complementary violet color (again, it can be pale or deep, depending on your preference and decorating goals).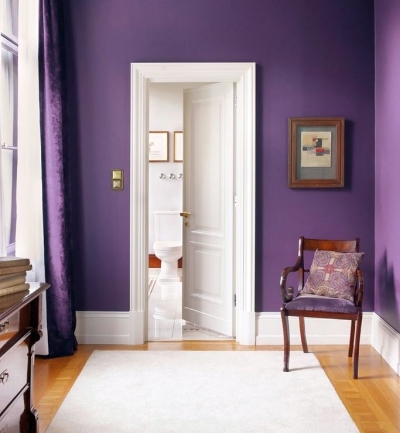 You can also successfully pair yellow woods with paints in green, blue, yellow and orange colors and undertones. Reds are good but avoid neutrals with a pink undertone.


Orange woods look especially bright and vibrant on the background of blue walls.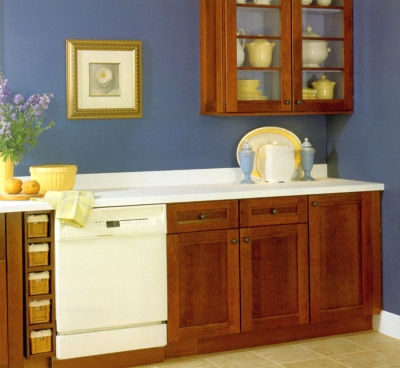 Orange wood tones also work with yellow, orange, violet and green based colors and same undertones. Reds and pinkish neutrals will compete and clash.


And if you want to emphasize the richness of brown woods, use a blue-green paint color on your walls.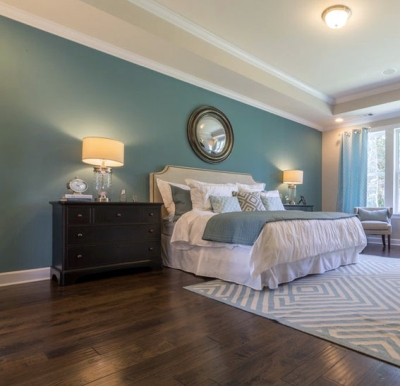 Because brown woods are often complex in color, they can look good with a variety of paint colors and undertones. But some still lean more red, yellow or orange - in that case, you will need to treat them as that wood tone.


FINAL TIPS: if the color of your wood is really intense, don't compete with it - let the walls stay in the background by choosing calmer, more subdued paint colors (rather than saturated tones).
And of course, make sure that the paint color you choose for your wood, also works within the overall context of your color scheme - otherwise while making the wood look great, you won't be doing any justice to the rest of your decor.
See Also:
White Wall Paint: It's a Color, Too
Gray Paint: the Color of Sophistication
Brown Paint Colors for Comfortable Walls
Explore Paint Colours for Your Home