NJ Painting Contractors
Are Only As Good As Their
Customer Feedback

All NJ painting contractors are biased when it comes to representing their service, and our company is no exception.
That's why we are not going to tout our horn on this page - we've done it enough elsewhere on this site!
Instead, here we will share with you the comments of our South Jersey customers - their actual experiences with our company, described in their own words.
Click here if you have your own testimonial to add.

Our Customers Are Saying:


It is very rare that a contractor would show as much integrity and pride in doing the job right as your team did. Your attitude of doing it right the first time showed every time your crew tackled this very difficult house.
You accepted responsibility for any errors your crew made. You fixed every concern (without hesitation) that we, as owners, mentioned. In short, you delivered on every promise you made to us.
Alek, you are a unique businessman in Cape May. You understand the importance of keeping the customer happy. You pay attention to running your business responsibly. And you accepted the reality that our house would take longer to complete than any of us expected.
Our house is the talk of the town! Thank you.
Ken Rowan, Cape May, New Jersey
---

Alek,
I'm very happy with the job you did for us. But I am particularly happy with your attitude concerning the weather-vane on our garage roof. I know you had to research and find the proper chemicals to do the job right.
When I offered to pay more money, you refused and said "It's not always about money". That indicates character to me. I'm proud to know you.
Joseph Giordano, Cape May, New Jersey
---

Dear Alek and Staff:
Joe and I would like to thank you for the thorough and professional job you did on our business at 4403 Park Blvd. I had heard you speak about your company, your knowledge and professionalism really drew me to your company.
Our building has improved 200% in appearance since your job was complete. I appreciated your input and help in picking color and detail. Thanks again. I have and will continue to recommend you to friends and acquaintances.
Best of Luck. You are one of a kind.
Kathy and Joe Breuss, Wildwood, New Jersey
---

I had my entire inside house painted by a contractor who provided shoddy, below-par workmanship and I ended up suing him.
I chose Alek's company on my boss's recommendation. Alek has done quite a lot of work in my boss's home and his work was VERY satisfactory.
All the work done at my home was done in a timely manner, the painters were extremely courteous, cleaned up promptly at the end of each day and finished to my complete satisfaction. Alek inspected all the work on the last day and paid attention to details I did not notice.
We encountered a woodwork problem early on, but Alek found an immediate solution and sent a contractor to rectify the problem and did not hold up the job process.
Unlike other NJ painting contractors I had tried, Alek was very easy to reach and returned messages usually in the same day, if not within minutes.
I would absolutely recommend Alek and his team to anyone looking for a dependable, trustworthy, honest and very capable team of expert painters and powerwashers.
Donna F. D'Angelo, Blackwood, New Jersey
---

I would highly recommend AK PAINTING AND POWERWASHING. They did a very neat and clean job.
Our home looks a lot better and I'm sure increased in value. Alek is a very honest and reliable person.
James Good, Sea Isle City, New Jersey
---

Alek was referred to us from our siding contractor in Longport. Our past experience with NJ painting contractors was less than good.
Alek was meticulous and timely, and he was a pleasure to deal with. He was respectful to our family and property.
I highly recommend Alek and AK PAINTING AND POWERWASHING.
Carol Marquess, Stone Harbor, New Jersey
---

Dear Alek,
Now that your contract with us is complete and you have painted the entire interior of our home, I would like to take a minute and say "Thank You" for your good work and for your excellent service and attention to detail.
You were recommended to us through our realtor but we had no direct experience with your company. You responded promptly to our request for a quote and delivered a very competitive price quote quickly and completely.
You were responsive to our needs in start and complete dates and also to our request that work stop in the evenings and on the weekends.
It was noticed and appreciated that each evening your crew placed furniture in work rooms as close to their original positions as possible for the least disruption to our daily life. Your crew was skilled and courteous and showed respect for our property.
Once the job was close to complete, I was amazed to see you there, inspecting all aspects of the job and leaving tapes to indicate corrections or missed spots. I always thought I would have to do that myself.
I feel I now have trust in the quality of your workmanship and in your professionalism after this experience and would not hesitate to recommend you to anyone in my community.
Sincerely,
Kate Liddle, Cape May Court House, New Jersey
---

Alek keeps me informed, follows up with me and lets me know what's going on. I appreciate the attention to detail and follow through - it's like I'm his only customer!
Alek's very concerned about doing an excellent job and willing to do what's necessary to keep everyone happy. Compared to other NJ painting contractors I've worked with, AK willingly goes the extra mile.
Level of service is outstanding!
Victoria S. Allison, Cape May, New Jersey
---

I have been a client of AK PAINTING AND POWERWASHING for the past year. The company was recommended to me by 2 other clients who had been very satisfied with their work.
I own and rent several properties in the South Jersey towns of Anglesea, Wildwood, and Cape May. I have hired several NJ painting contractors over the years but have never found a company to be as thorough and commited to quality and customer service as AK PAINTING.
AK PAINTING has done a variety of jobs for me: exterior preparation and painting of historic homes, preparation and staining of exterior natural-wood finishes, exterior power washing of vinyl-sided new homes, exterior trim and finish work on decorative railings and porch columns, and a variety of interior paiting and finish work.
I have found every aspect of AK PAINTING's work to be excellent. From initial job quotation to finish, AK has acted as both an advisor and a contractor. Alek has used his extensive experience to select the best products for the seashore environment.
His quotes are very competitive and complete, with no surprises. His crews show up for work when he says they will, and they work hard while they are on the job. His crews are also very sensitive to the environment, taking extra care to protect both my property and my neighbors' properties from the dust and drips that are natural with this kind of work.
Every member of the AK PAINTING staff takes pride in their work. Alek is able to keep several crews on a variety of jobs simultaneously and every member of his team is polite, trustworthy, and careful with my property.
Alek pays personal attention to every detail. He has often, without my asking, directed his crew to do extra things on my jobs so that the end result is even better that I had expected. And, upon completion of each job that AK PAINTING has done for me, Alek has taken the time to do a "walk through" with me to review the quality of the work and be sure that it is satisfactory. Whenever I have asked for changes or futher work on a job, he has responded quickly, with quality results.
I highly recommend AK PAINTING AND POWERWASHING. Their work is excellent in every respect. They are honest, their services are comprehensive, they pay attention to quality and timeliness, and Alek takes the time to be sure that everything his company does meets his own high standards.
Mary McKenney, Cape May, New Jersey
---

Alek -
thanks again for a great job - please feel free to use us as a referral.
Larry and Debbie Morier, Cape May, New Jersey
---

I used AK Painting during the winter of 2016 to paint most of the interior of my home in Ventnor, NJ.
It was a pleasure to deal with the owner of this business, Alek. He is a hard-working, polite, responsible, and trustworthy man.  His price was very reasonable and he was quite efficient completing the job in a few weeks. 
The house looks beautiful and I would highly recommend him for any painting needs you may have. 
Cheryl Cohen, Ventnor City, New Jersey
---

We have used AK PAINTING for interior and exterior painting on several occasions. AK has also done powerwashing for us and they took down a popcorn ceiling and hung a ceiling fan. AK also took down some brick decorative work in the kitchen and replaced it with a modern, wipeable polymer-like surface.
We have been very pleased with AK and are especially happy that Alek answers our questions and is willing to come back and correct any problems. I am very happy to recommend AK PAINTING AND POWERWASHING.
John Cogan, Ocean City, New Jersey
---

Dear Alek:
I am writing to thank you for the professional painting job at my property. The preparation undertaken by your staff was beyond my expectations.
I believe that in the future those efforts will reduce the cost of repainting my home. A job well done!
Very truly yours,
Brian S. Thomas, Atlantic City, New Jersey
---

We were more than happy with our experience using AK PAINTING. We've had three less than favorable experiences with other NJ painting contractors. I am glad we found Alek and AK PAINTING and have already recommended AK to two of my friends.
I was impressed from the start when I called Alek for the first time on his cell phone. He did not know me but he actually answered his phone and pulled off to the side of the road to speak with me! Alek ALWAYS answers his phone or returns calls immediately. (WHO DOES THAT ANYMORE???)
Alek arrived when he said he would with his workers, who were all very polite, and they cleaned up nicely each evening before they left my home. The job was beautiful and Alek and his guys took care of a few "missed spots" immediately after I called.
I will be using AK again! Thank you!
Rita Ogg, Marmora, New Jersey
---

Alek,
The recent interior paint work on my home was done in a superior manner by your people - with attention to detail - and well within the time I thought it would take to do the job. I would have no hesitation in recommending you to my friends and business clients who may need painting services.
At this time I can think of nothing you could do to improve your already excellent work.
Yours sincerely,
John Henderson, CMCH, New Jersey
---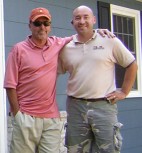 Alek,
I was most impressed by your professional approach at our first meeting.
The customer testimonials and photographs of past work assured me that you would provide a first class job. Also not requiring payment until the job was finished was proof that you were confident in your work and not under-capitalized in your business.
There was also good personal chemistry between us.
Rudy Meyers, Somers Point, New Jersey
---

My wife and I have owned a property in the historical district of Ocean City for nearly forty years. There are two dwelling structures on the property, one of which is more than a hundred years old. Over the years we have dealt with numerous NJ painting contractors to maintain our property in a good state of repair.
During the summer of 2006, we engaged the services of AK PAINTING to paint all the wooden surfaces of both dwellings. They approached the job by sanding and removing the old dried and cracked paint and then applied where needed primer and a final coat of quality Sherwin Williams paint.
We were very pleased with their workmanship and the cooperation of the employees as the job progressed. We are happy to recommend AK PAINTING as a qualified, honorable, and competent NJ painting contractor.
Very truly yours,
Warren A. Gingrich, Ocean City, New Jersey
---

Alek -
just wanted to say thank you so very much once again for the beautiful paint job which you did all over! I appreciate all that you did and your patience with me. Very nice job - thank you for getting it done so quickly!
I know I will recommend you to anyone who needs painting or powerwashing, and I too will call you again - thanks so much!
Peg McGowan, EHT, New Jersey
---

We recently used AK for our home and were pleasantly surprised by their professionalism, attention to detail, neatness and craftsmanship. We have been dealing with many contractors over the last two years in enhancing our home.
Historically the contracting principle sells you and then sends subcontractors, never seeing the principal again. In our case Alek was on the job site every day. What was more impressive was that he didn't ask for payment until the job was complete. To me that represented someone who was confident in his work and his company.
Both my wife Maria and I highly recommend AK PAINTING and quite frankly we have already recommended them to friends and associates.
Sincerely,
John D'Angelo, EHT, New Jersey
---

I chose AK PAINTING because I liked Alek and his price for painting my home was very reasonable.
He listened attentively when I explained what I wanted done, and in spite of rain delays in the spring he was very accommodating by scheduling the job to be done at my convenience. He had his men do all of the work meticulously, and he was there to insure that they cleaned up thoroughly.
I'm very proud of the way my house looks, and I highly recommend AK PAINTING to anyone who wants a job well done.
Daris Larison, Ocean City, New Jersey
---

They are awesome painters - they are neat.
We had several areas of our home done by AK Painting and the walls are beautiful. We also had power washing done by them and they did another awesome job.
We would highly recommend them.

Lori Gaffney, Mays Landing, New Jersey
---

I was very pleased with the time it took to start the job and complete it. In the past I waited weeks before the contractor would start. Not with AK PAINTING - when they said they would be there they were.

The professionalism was second to none.
Johnnie Walker, Villas, New Jersey
---

My front doors are 11 years old and have been refinished several times by other NJ painting contractors. This time they really look like new.

Alek, my hat off to you and your guys who did a great job.
Francine Vogin, Ventor, New Jersey
---

Alek is on the job to supervise each day. He is honest and reliable. I particularly like his follow up. He does not leave a stone unturned to make sure the job is done to client's complete satisfaction.
I have experienced his expertise on two of my properties and several in our neighborhood. I will not hesitate to have him on the job again!
Robert S. Fite, Cape May, New Jersey
---

Painting contractors in the past have almost always been a problem in one way or another.
My wife found your company in the phone book. You were courteous, friendly, very neat and did a qood quality job on time and very quickly.
Easy communication, great service, problems were solved immediately. It's been a pleasure and I would like to be able to use your services at any time. It has been a breath of fresh air.
Dale Lintner, Ocean City, New Jersey
---

We hired AK PAINTING because he painted our neighbor's house and it looked beautiful. Alek came over, gave us a fair price, all in a timely manner.
I would not be happier with the work that was done. His men were here on time, cleaned up after themselves, and paid attention to detail. They painted 4 rooms total and all the trim and 6 doors.
Everything came out great and I would not hesitate to hire AK again. I've already referred him to a friend's mom and she is also very happy.
Barbara Berg, Absecon, New Jersey
---

We would definitely recommend AK PAINTING. They did a neat, thorough job. Painting the trim brightened up the whole appearance of our house.
We would hire AK PAINTING again.
Jennifer DeRosa, Seaville, New Jersey
---

Alek made it easy and worry free to get my shore house painted.
Being a painter myself I couldn't find the time to get there with my other work load and Alek came through finishing in a timely manner and very respectful of my neighbors properties.
Price was very reasonable! Would definitely use him again!
Ed Sweeney, Ocean City, New Jersey

Looking for NJ
Painting Contractors?


See Also:

New Jersey House Painting Company: AK Painting And Powerwashing
NJ Painting And Powerwashing: Our Complete List of Services
Gallery of a House Painter: New Jersey Projects

The Unusual Painting Contractor: New Jersey Company Behind the Scenes