The Unusual Painting Contractor:
New Jersey Company's Story

Our customers often ask about how we ended up becoming a painting contractor in New Jersey, and we understand their curiosity.
After all, it's not every day that they meet a house painter with a Russian accent, and they want to hear the story behind it.
But our story is pretty simple, really (even if unusual - compared to most other painters' beginnings).

How We Started
Painting NJ Homes

In Russia, where we come from, the home improvement contractor industry for the residential sector has only recently emerged, but was practically non-existent at the time we still lived there.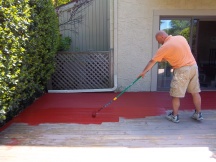 That's why homeowners had to be Jacks of all trades - everybody knew how to paint, hang wallpaper, do landscaping and even minor carpentry and tile work.
So let's say this is how we got our feet wet in the house painting field.
We thought we knew everything there was to it, but when we came to this country, we were astonished by the variety of all the products, tools and equipment available here in the home improvement stores - that made any house painting project fun and easy.
So we started trying new things and experimenting with different painting techniques in our first apartment, then in our home.
And when someone noticed our enthusiasm and excitement and suggested (in a half-joking, half serious tone) that maybe we should open a house painting business, we took the suggestion literally and actually thought it was a great idea - and so AK PAINTING AND POWERWASHING was born!
That is how we got started, and - lo and behold - within a few months we had more painting projects lined up than the two of us could handle.
Challenges of Being a
Painting Contractor in New Jersey

During our first year in business, we were disappointed to learn about the negative stereotype that seemed to surround every South Jersey painting contractor.
New Jersey homeowners were so used to their local house painters not returning phone calls, not showing up for appointments or running with the down payment, that right from the start they expected us to act the same.
Their distrust was discouraging at first, but then we saw it as a challenge - which also inspired us to create our mission:
To restore homeowners' goodwill, trust and confidence in the painting industry and New Jersey painting contractors.


To over-deliver on our promises.


To build long-term relationships with all our customers.


To protect, beautify and raise value of properties.


To provide advice and education to homeowners and help them make better choices when it comes to taking care of their homes.
Our Secret to Success
With NJ House Painting

Looking back, what do we think contributed the most to our fast growth and success as a house painting contractor in New Jersey?
We think it's been the personal touch - that attitude of putting our hearts into work and doing everything as if it were for our own home, just like we did back in Russia.
Need a Painting Contractor
in New Jersey?


See Also:

New Jersey House Painting Company: AK Painting And Powerwashing
NJ Painting And Powerwashing: Our Complete List of Services
Gallery of a House Painter: New Jersey Projects

NJ Painting Contractors Are Not Created Equal: Customer Feedback