Should a NJ House Painter
Guarantee His Work?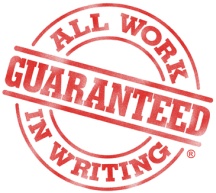 A written guarantee protects you in case of premature paint failure or other problems with the paint job.
Having something in writing gives you the peace of mind knowing that your contractor will return to fix any unexpected issues.
It also serves as a memory refresher - for you to remember the conditions and time frames the guarantee is valid, and for the contractor to remind him of his promises to come back should any problems arise.
A guarantee makes your contractor financially invested in the longevity of the paint job, so he will use only the best materials and proper techniques on your project.
After all, who wants to re-do the same job for free?
Are NJ House Painters Required
by Law to Provide a Warranty?

Offering a guarantee has nothing to do with the state's requirements, and everything to do with the personal and professional code of ethics of a painter.
So does a NJ house painter have to guarantee his work?
He doesn't.
Should he?
Yes, he should - if he cares about his customers and his business integrity.


---

Right now the industry standard is 2 year warranty on labor and materials for exterior projects, and 3 years on interior.
Keep in mind that not everything can be covered by a warranty though. Even the most reputable painting contractors will have a number of situations spelled out in the contract where their warranty does not apply.
This is because some things are simply outside of a contractor's control, like:

structural defects
settling or movement of the house
bleeding caused by knots, rust or cedar
ordinary wear and tear
abnormal use or misuse
surfaces with a high moisture content
color and finish affected by environmental conditions
older underlying layer(s) of product failing
intentional or accidental damage
For this reason, cracks, bleeding, peeling and blistering caused by the above mentioned factors are excluded from a standard warranty:
Deck and porch floors, steps and railings, roofs and gutters (exterior horizontal surfaces like these allow water to collect, and moisture is paint's worst enemy)


Drywall and wood in an improperly winterized house (surfaces with chronically high moisture content reject paint)


Basements and garages (these are areas that tend to be damp, have poor ventilation and a possibility of getting flooded)


High trafficked areas like floors, corners, edges and other surfaces that get a lot of friction


Any surface that shows previously applied layers of product failing (due to age, substrate moisture or improper original surface prep)
Some painting contractors provide an extended guarantee (5+ years), but with more limitations (e.g. labor only) and twists in the terms.


---

Finally, remember that it's very easy to make promises, but not so easy to actually keep the word.
Not every New Jersey house painter is able or willing to honor a guarantee even if he offers one, so it's helpful to check out his references and pay attention to how established he seems financially.
Guarantee of This
NJ House Painter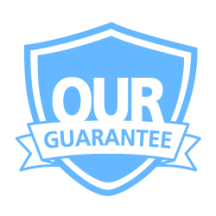 With us, your painting project is not officially complete until we do a final walk through together with you, and you sign our quality acceptance form.
We back up our work with a written 2 years warranty for labor and materials: your new paint job is guaranteed not to fail or we will come and correct it free of charge.
Since our goal is to build and maintain long-term relationships with all our customers, we stay in sight and keep in touch even after the job is finished.
Looking for a Qualtiy
NJ House Painter?


See Also:

Interior and Exterior House Painting in NJ: Our Process
NJ Painting And Powerwashing: Our Complete List of Services
New Jersey House Painting Company: AK Painting And Powerwashing
The Unusual Painting Contractor: New Jersey Company Behind the Scenes