Kitchen Cabinet Refinishing:
New Jersey Service

When it comes to kitchen cabinet refinishing, New Jersey homeowners have at least 5 options to choose from - staining, painting, and 3 decorative paint finishes.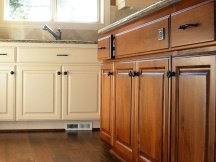 A kitchen has the potential to be the most favorite gathering place for the entire family, a pride of any woman and a major selling point of any house.
But outdated cabinet materials and wrong colors can become a real eyesore both for you and for prospective buyers.
And if you don't want the huge costs and mess of a complete kitchen remodeling or refacing, but would like to dramatically update the look and feel of your kitchen, then our cabinet refinishing ideas and services are just what you need.
Creative Kitchen Cabinet Refinishing:
New Jersey Project Ideas

Staining Wooden Cabinets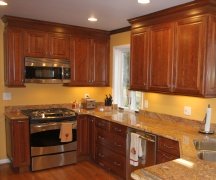 Staining is a classic option that should be the first choice for any solid wooden kitchen.
This finish can never go out of style, as long as the stain color is kept current.

To update the look, your cabinets will have to be stripped down to bare wood first (if they've been previously painted or stained).
Then - the possibilities are endless! You can choose from dozens of traditional, natural looking wood colors and finishes or, if you dare, you can even go with decorative stain colors like blue or green.
Painting Kitchen Cabinets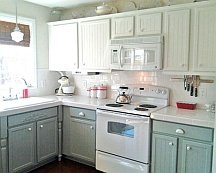 For this idea to work, your cabinets don't even have to be wooden. In fact, even painting laminate cabinets is possible!
Surface preparation varies depending on the existing finish, but once it's done, you can experiment with color.
And you don't need to limit yourself to one color only - combining 2 or 3 colors can produce a very different and interesting style.
For example, you can try white and peach, cream and blue, different shades of the same color and so on.
Faux Wood Graining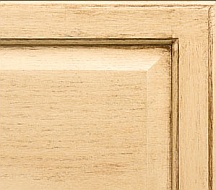 Also known as glazing, this faux painting technique involves using a lighter color base coat, and then applying a darker glaze over it to create a realistic-looking wood grain pattern.
Thorough surface preparation is a must in the beginning (deglossing, degreasing, priming), and a protective coat of clear sealer in the end for a rich, beautiful, durable finish.
It doesn't matter what your cabinets were originally made of - with faux wood graining, it's possible to imitate the look of wood without the expenses of refacing!
Crackle Painting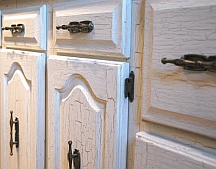 This decorative paint finish looks great in the kitchen, but for some reason it is more popular for bathroom cabinet refinishing.
It produces an aged, antique looking, crackled finish that can add character and shabby-chic charm to any surface.
Again, you can play with different color combinations for the "cracks" and top coat, and as always, a protective coat of sealer is crucial for durability.
Paint Distressing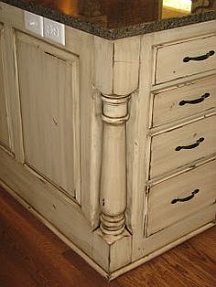 Distressing is a technique for wooden cabinets only.
Distressed wood looks chic and stylish, and can give your home that warm, comfortable, weathered look and feel of heritage.
This finish is achieved by sanding off the existing or new layer of paint (or stain), to reveal the undercoat or bare wood in places where finish would wear off naturally.
The bared areas may be waxed, or the entire kitchen may be coated with sealer in the end for a more finished look, and easier maintenance.

The best results are produced when working with oil-based paint (water based paints don't wear off as gracefully).

Need a Quote for
Kitchen Cabinet Refinishing
in New Jersey?


See Also:

Apply, Repair, Paint or Remove Popcorn Ceiling?

NJ Painting And Powerwashing: Our Complete List of Services
New Jersey House Painting Company: AK Painting And Powerwashing