Apply, Paint, Repair or Remove
Popcorn Ceiling Texture?
These days, most people want to remove popcorn ceiling texture from their homes.
Popcorn ceilings were very popular from the late 50s to early 80s, but then fell out of favor when people realized that such ceilings are hard to maintain, become dust traps over time, and often contain asbestos.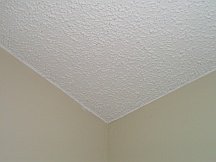 Besides, most realtors now say that the dated look of  "popcorn" negatively affects a house's value, causing prospective buyers to negotiate down.
Nevertheless, there are some people who still love the look of popcorn texture and, more importantly, the reasons for installing it are still valid:
It hides many surface flaws and is a great alternative to replacing uneven drywall.
Plus, acoustic ceilings are often helpful for noise insulation, and can add a cozy feeling to a room.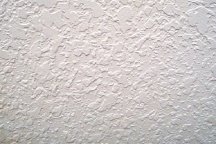 NOTE: There are also other ways to texture a ceiling that provide similar benefits but more durability than "popcorn" (which may crumble).
The most popular ones are mud swirl, knockdown (shown), and orange peel ceiling texture.
To Apply "Popcorn" Texture...

A special acoustic sprayer (an air compressor with a hopper gun) is required to apply "popcorn" to the ceiling.
Rolling it on is possible, but the result will be a flatter and more random textured look, so sprayer application is best for uniform coverage and proper appearance.

The job is very messy (not just to apply, but also to paint and remove popcorn ceiling texture), so the entire room must be covered with plastic - walls, floors and furniture.
The same sprayer is usually needed to apply orange peel and knockdown, but mud swirl can be applied by hand, so the mess is a bit more controlled.

If you don't want to paint your new popcorn ceiling, right after applying the texture is a good time to add a light sprinkling of gold or silver flakes - that will dress up the "fifth wall" and make it look more interesting and fresh.
To Paint a Popcorn Ceiling...

Painting a popcorn ceiling successfully is usually only possible by spraying.
The exception is very small areas, like a powder room ceiling - provided the texture was properly applied and is not crumbling.
It's because popcorn texture is very fragile when wet - the more you go over the area with a roller, the more "popcorn" will come off (even special roller covers can easily damage or strip the texture layer down to the drywall).
Painting knockdown, orange peel or mud swirl textures can usually be done with a roller, however spraying is always safer (zero impact).
To Repair Popcorn Texture...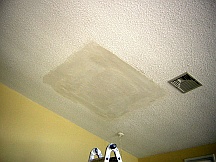 Popcorn ceiling repair is tricky, because the larger the damage area, the more difficult it is to match the existing ceiling texture pattern ("popcorn" size and pattern density).
Small areas are usually reconstructed with a "popcorn in a can" type of product.
For large areas (like the one shown) it's necessary to use an acoustic sprayer, just like with the original application. It may also be needed to apply a light layer of fresh popcorn to the rest of the ceiling as well to really blend in the repaired patch.

All textures pose the same challenges of matching the existing pattern - not just popcorn.

And with all texture repairs, it's usually best to repaint the entire ceiling - otherwise the repaired area will stand out.
To Remove Popcorn Ceiling Texture...

If your acoustic ceiling was installed prior to 1979, your "popcorn" contains asbestos.
Removing popcorn ceilings that contain asbestos is not only not advisable, it is plain dangerous! So for safe and legal removal, you should find a local asbestos testing and abatement company to do the work.
Your second option is to install drywall right over the popcorn, to cover the texture and seal in the asbestos, but it will lower your ceiling a little.

Or, you can simply spray a fresh coat of "popcorn" right over the existing asbestos containing texture - that way the harmful stuff will be encapsulated, but you will still have to live with the texture.
Removing orange peel, mud swirl and knockdown texture is usually done by skim coating it with joint compound (usually after knocking off any peaks and/or power sanding the entire area).
In newer homes, you can safely do the stripping job yourself - if you learn how and have the time, patience and energy to tackle this messy and labor intensive project.
Otherwise it's better to use a professional who can remove the popcorn ceiling texture without damaging the drywall, smooth out the ceiling surface and properly prepare it for painting.
Need a Quote to
Apply, Repair, Paint or
Remove Popcorn Ceiling?


See Also:

Unusual Painting Contractor: New Jersey Company's Story

Interior and Exterior House Painting in NJ: Our Process
Gallery of a House Painter: New Jersey Projects

NJ Painting And Powerwashing: Our Complete List of Services