Shades of Purple Paint
Colors for Your Home
Purple paint colors are one of the most fascinating palettes to play with in your home, because they are so complex and versatile.
The Many Faces of the Color Violet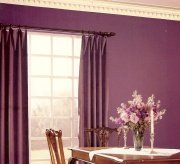 Purple, or violet color calls up images of lushness, regality, high ideals, religion, imagination and emotion. With such associasions, it's no surprise that artists and musicians are drawn to this color!
One of the most powerful and intriguing hues, violet color is hard to figure out because it is a mixture of red and blue. Technically a cool color, it can appear both warm and cool in reality.
For example, geranium is mixed with more red than blue, and therefore looks warm. Lavender has more blue in the mix, so it "reads" cool, like blue.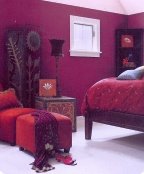 Purple paint colors have the shortest wavelengths on the spectrum, so they absorb light easily. That means you usually have to go a shade or two lighter than what you think you need, because the color will look much deeper and more saturated on the walls than on a tiny paint chip.
Shades of purple can range from meditative and magical, to energizing and even downright irritating, so take your time selecting this capricious hue, and always test (using large paint color samples) before commiting to any shade!
Full Strength Purple Paint Colors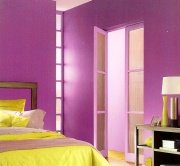 People who love strong purple colors are usually extroverts, creative, with lively pesonalities and a sense of adventure. They tend to love red as well, and often use the two together in their homes.
Bright and very saturated purples are real attention getters, and can steal the scene no matter where they are used.
But they are also very difficult to use in interior design, except as accents. They can really jar the senses, and are hard to live with for long periods of time. That's why it's better to use these bold shades just for painting a feature wall, or incorporate the color into your decor through artwork, vases or pillows.
Usually found in contemporary settings, vivid purples and violets are more appropriate for family rooms, playrooms, kids' and hobby rooms, and not recommended for quiet areas - such as bedrooms, nurseries and studies.
These shades pair well with reds and blues, because they are next to one another on the color wheel. Greens, browns and golds help keep the color scheme grounded, while whites, off-whites, linens and wheat tones provide relief to the eye.
Sophisticated Purple Paint Colors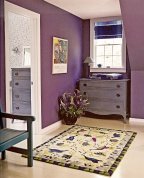 Complex shades of purple are made up of a combination of varying hues of other colors. They are duller and less powerful than the brighter shades, but attention-grabbing nonetheless.
Toned down/grayed violet colors have a definite presence and can create a feeling of regality, but without shouting at you or being overly dramatic. They let the other elements in a room to take center stage, and offer a great background for showcasing artwork.
Intimate and sensual, shades like amethyst, eggplant or deep purple velvet are a great choice for romantic bedrooms.
In the low lights of a formal dining room, they can look really chic and solemn, and create an atmosphere of Hollywood glamour - especially when complemented with gold metallic finishes, silverware and shimmering glassware.
Deep shades like these look better with a sheen - which also helps make the color seem brighter. They require light flooring, furniture and ceilings to balance their heaviness, combine well with taupes, neutrals and greens, and look very lush and decadent with rich corals.
Understated Purple Paint Colors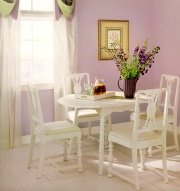 Versatile and interesting, pale shades of purple change their intensity dramatically with light. They appear more vivid in sunlight, and visually darken under artificial lighting.
Lilac and lavender tints are restful, pretty and not distracting. In that respect, they are similar to pale blues, and work great in rooms where you want quiet - bedrooms, bathrooms and nurseries. But unlike the blues, these shades don't have the "chill" - instead, they apprear to have a warm and subtle glow.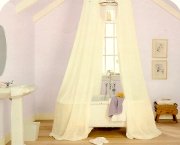 Light purple paint colors look best in a flat finish, and nicely coordinate with different shades of peach, pink, greens and neutrals.
But while restful, soothing and light-hearted, pastel purples have a reputation of being too ethereal. Some people believe that these hues can drain your energy and disconnect you from the real world.
And whether you believe this or not, keep in mind that browns can help ground a pale purple color scheme and keep it from looking too otherworldly.
Purple Room Projects From Our Visitors:
Here are some great purple/violet room photos and stories submitted by other visitors to this page - take a look and don't forget to leave a comment!


A Shade of the Color Violet on My Bedroom Walls: Light Lavender Paint
My bedroom is painted a Lavender Lace color. I chose this paint color because it gave the room a serene feel. I also like it because it is very muted/subdued …
Light Lavender Paint Color in a Baby's Nursery Room
I am currently a mother of 2 boys, and expecting my first girl in June 2010. When my boys were born, beginning in 2003, my husband and I lived in apartments. …
Get an Estimate for
Painting Your Home:

See also: