Why You Should Use
Large Paint Color Chips
Professional interior decorators insist on using oversized paint color chips. Should you follow suit?
It's almost impossible to determine how a color will look in real life based on a typical 2" chip in a color deck.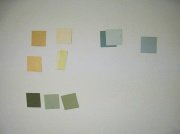 You will agonize for hours trying to figure out the undertones and other color nuances. You will have a hard time visualizing the color on the walls. Some chips will appear identical, even though you know they are not. And you will drive yourself crazy wondering which one is right for you.
When it comes to choosing paint color, small color chips can only give you a starting point. They can help you narrow down your options, but they are of no use when you need to make a final decision.
In order to zoom in on a single color, you need to sample different hues using large paint color chips.
Large paint color swatches will give you a much better idea of what the color will look like when painted on the walls. You will be able to clearly see the difference between all the hues you are considering. It will become easier to determine whether or not the color undertones relate to your existing room colors. In other words, large paint color swatches will put an end to confusion.
When testing interior paint colors, the larger the size of the color chip, the better. But how big is big enough?
Well, some professional decorators use 5x5' boards to demonstrate different paint colors to their clients. While this size is ideal, this option may not always be feasible for homeowners. You can usually get away with smaller swatch sizes.
Just remember that any sample smaller than 6x6" will never give you a true representation of color (1x1' seems to be the optimal size).
You can special order oversized paint color chips from some paint stores, buy them online, ask your painting contractor to make them for you, or create them yourself. If you chose the last option, see step-by-step instructions in the tutorial "How to Make Paint Color Swatches".
See Also: