How to Use Color Paint Chips
For Choosing Colors
Learn the right process of choosing a wall paint color with small color paint chips and large color swatches.
There is a process to using color paint chips. To find the best interior paint color, you start with small chips found in a color deck, and finish up with large swatches.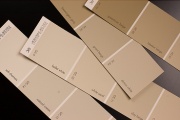 Regular paint color chips are too small to base your final wall color decision on. But they are useful when you need to narrow down your options though.
Start out by picking a bunch of paint colors that you like and that seem to coordinate with your room decor. Read "Choosing Interior Paint Colors From Decor" to learn how to pull color ideas from furniture and accessories.
Keep those color paint chips that look right with your home design elements, and eliminate those that do not relate to anything in the room. As you evaluate each color, try to understand what it is you don't like about it. If the color is too dark, try a lighter shade. If it looks too yellow, find the one with less yellow in it.
Follow this process until you narrow your color selection to 3-5 best candidates.
All done? Now it's time to test those remaining colors in real life. For that, you will need to buy paint samplers and create large paint color swatches.
Your oversized paint color swatches will reveal many color nuances you didn't initially pick up from the small chips. Differences in intensity, temperature and undertones will now become more obvious.
Compare the swatches next to one another, then look at them individually. Check them out against all 4 walls in the room. Live with the paint color swatches for a few days and view them in different conditions to see how the morning, daytime and evening lighting affects them.
See how the colors on the sample boards interact with your room decor:
view them next to your furniture, wall art, drapes

hold them near the floor and under the ceiling

place them next to the woodwork, cabinets and countertops
NOTE: when looking at the swatch, practice tunnel vision in order to isolate the color and remove the influence of the existing wall color.
You'll know you've found the right paint color when it looks and feels right. When in doubt, figure out what's wrong (too light, too dark, too cold, etc.) and improve from there once again. It's better to test additional colors than having to re-paint the entire room.
See Also: