Sponge Painting Techniques:
Ideas and Examples
The examples below will show different sponge painting techniques and the effect you can achieve by using a natural, marine sponge or a regular kitchen sponge for applying or removing glaze...
NOTE: need instructions for the sponge painting techniques below? Then see the tutorials "How to Sponge Paint On" and "How to Sponge Paint Off" for detailed how-tos.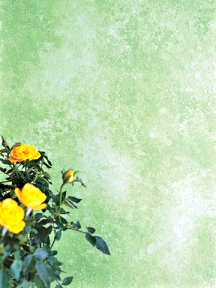 Do you still think of sponge painting as this jarring, overdone finish that is shown on the right?
Fortunately, sponging has come a long way since the 1980s when high contrast in colors and heavy application was all the rage.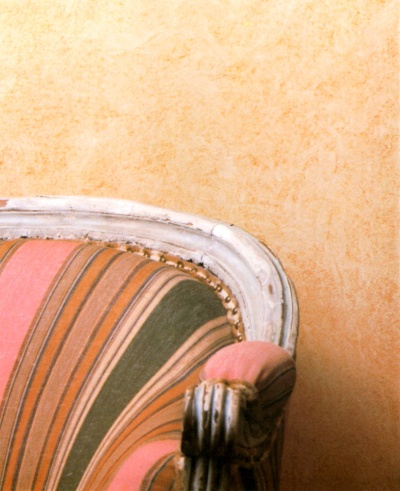 These days, successful sponged finishes require a lighter hand and a more subtle color combination.
Mind you, the effect can still be very impressive and dramatic (like these foyer walls), but when it's done in earthy and closely related colors, the result is more natural and current-looking, don't you agree?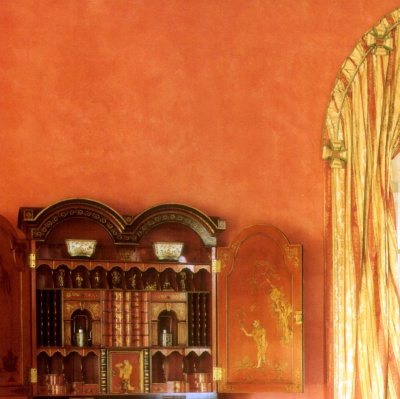 Here in this living room, a persimmon color was densely sponged over a paler background color.
The paint and glaze colors are similar to the previous example, but the final result is "quieter", because the glaze was applied more evenly.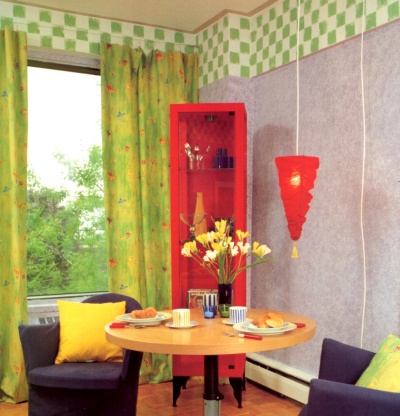 These guest bedroom walls were loosely sponged off with a glaze tinted a warm yellow color. The low-contrasting sponging finish is a background player: it enhances, rather than overwhelms the room.
This finish works in all settings and with a variety of fabrics.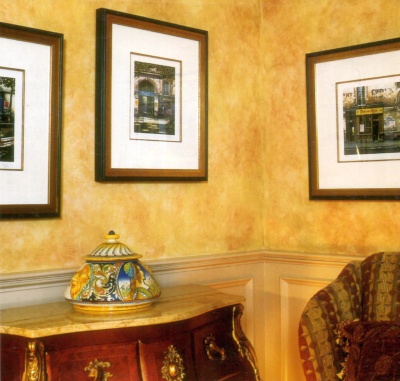 When you want to create a warm, cozy feel in a room, choose yellows and warm pinks. If you prefer a cool, serene retreat, sponge on or off in shades of cool, pale blue or in lighter greens.
Notice how restful this bedroom looks - the soft sponged texture on the walls is imitating wallpaper or fabric panels.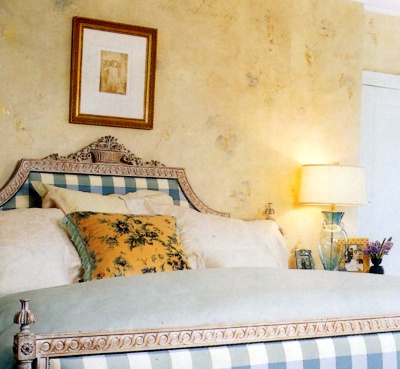 The look of sponge painting techniques can be easily customized to satisfy any taste and to suit any decorating situation. It's all about what colors you choose, how many of them you combine in a finish and what method you use to layer them.
In this photo, a light-color wall was sponged off with a deep green glaze to give it a boost of color, texture and interest, but not much drama.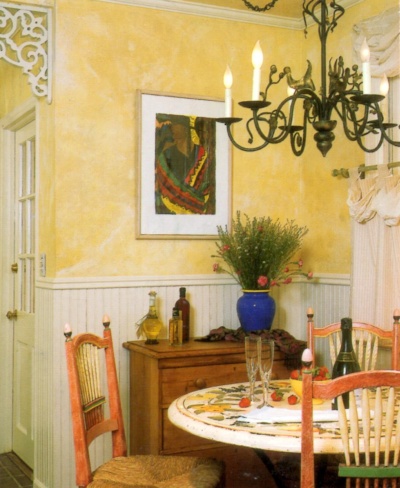 As a guideline, remember that the denser and more structured the pattern, the more formal and traditional it will look.
The more open and loose the pattern, the more laid back, painterly and even whimsy the final effect will be - just like in this bedroom example.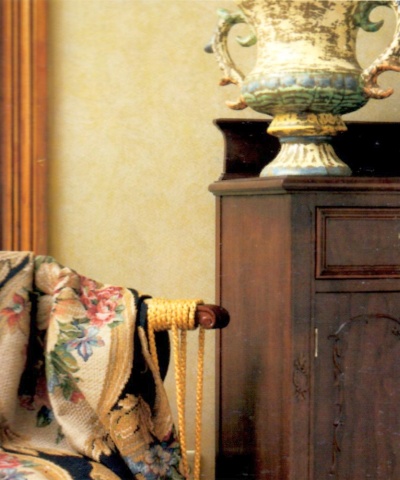 Paint sponging techniques are suitable for any flat, relief-free surface such as walls, ceilings and plain furniture.
They are especially useful in situations when you need to camouflage old, uneven walls with lots of dents and other imperfections.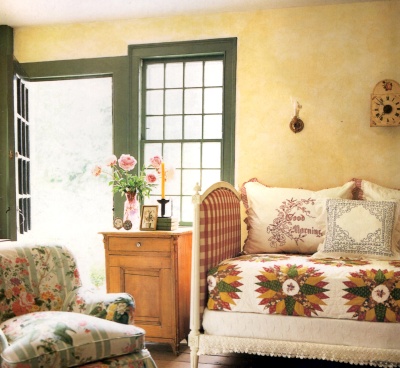 Sponged wall stripes? Why not! Here, 2 colors from the same paint card were used to create this hand-painted interpretation of classic, striped wallpaper.
When art and furniture are the focal points in a room, choose subtle, neutral colors - they always translate well into a stylish, relaxed look like this one.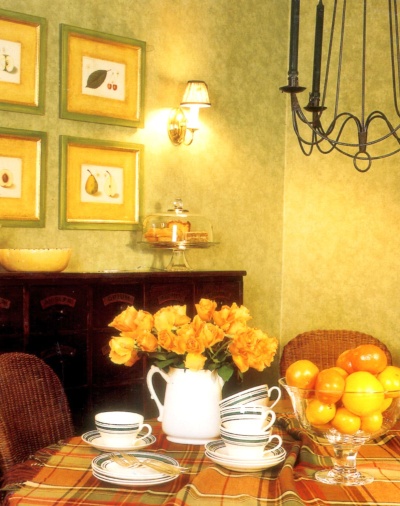 Did you know that many faux stone painting effects (especially faux granite) are created by using a simple three-color sponging process finished with some spattering?
With basic sponge painting techniques, you can easily imitate granite tiles on the walls, or transform plain shaft pillars, laminate countertops and tabletops into stone finishes.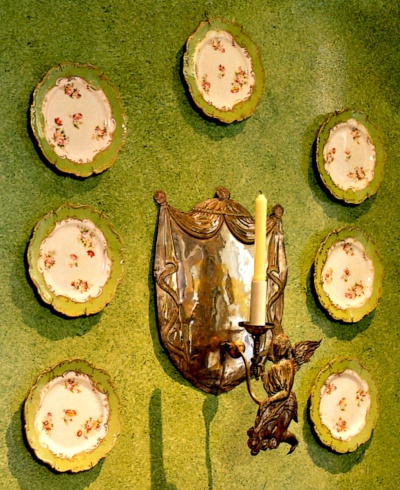 Even though both additive and subtractive sponging is usually done with a sea sponge, sometimes a regular kitchen sponge can be used, too.
The photo on the right illustrates the impact of sponging as stamping. Use this sponge painting technique in rooms where texture as well as color contribute to the design (for example, in small powder rooms or on kitchen backsplashes).
Need more sponge painting examples?
Click here to see other people's projects!
Check This Out (recommended):
Most Popular Interior Paint Colors - Best Paint Colors
from Sherwin Williams - "Paint Color Cheat Sheets"
Sponge Painting Projects from Our Visitors:
Here are some cool faux painting projects submitted by visitors to this page. Enjoy, get inspired and don't forget to leave a comment!


Paint Sponging Finish "Faux Brick" on Our Kitchen Backsplash
This sponging paint finish is done by using a rectangular kitchen sponge, and is very cost efficient.
Our kitchen looked terrible before, and the …...
Sponge Painted Bedroom Walls With Orange Accents Not rated yet

My husband and I sponge painted one of our spare bedrooms. We have never done anything like this before, but it turned out to be a great experience …...
My Faux Paint Sponging Bathroom Project Not rated yet

After thumbing through a book on faux-finishing techniques, I decided to attempt the sponging technique in my hall bathroom.
I chose this particular …...
Sponge Painting Finish on My Bathroom Walls Not rated yet

When we first moved into our new house, I decided that I did not want a solid wall color in our bathroom, but my husband was adamantly against wallpaper. …...
Paint Sponging Finish on My Living Room Walls Not rated yet

I decided to try paint sponging in my living room because I didn't want a solid color. I wanted to add a little texture and dimension to the room rather …...
Faux Painting Finish "Sponge Painting" Not rated yet

I picked this sponging finish because I was redoing this room and adding some nature wood wainscoting. While trying to figure what I should do with …...
Faux Painting Finish "Sponging" in My Bedroom Not rated yet

About 6 years ago, I acquired the loft bedroom at my parents house. The walls were a very bland whitish-beige. I hated it. I grew up in the beautiful …...
Need a Faux Painting Estimate?

See also: