Sponge Painting Techniques:
Ideas and Examples
Sponge painting techniques can be done using a natural marine sponge or a regular kitchen sponge, in contrasting or subtle color combinations, and in various sheen and transparency levels.
As you will see below, there are several ways to apply or remove glaze with a sponge and give it a unique feel.
But even the same sponge painting technique (whether positive or negative) can look different, depending on the execution - the way you work the sponge, your choice of colors and how you layer them, and your actual glazing recipe.

NOTE: need instructions for the sponge painting techniques below? Then see the tutorials "How to Sponge Paint On" and "How to Sponge Paint Off" for detailed how-tos.
Not Your Mother's
Paint Sponging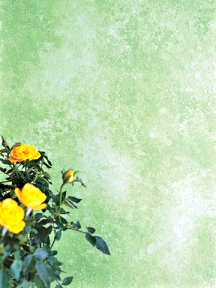 Do you still think of sponge painting as those jarring, overdone finishes from decades ago?

Fortunately, sponging has come a long way since the 1980s when high contrast in colors and heavy application was all the rage.

These days, successful sponged finishes require a lighter hand and a more subtle, well thought-out color combination.

Mind you, the effect can still be very impressive and dramatic (the proof is in the pictures below), but when it's done in organic or earthy and closely related colors, the result is more natural and current-looking... less forced, don't you agree?

43 Examples of
Sponge Painting Techniques

...by application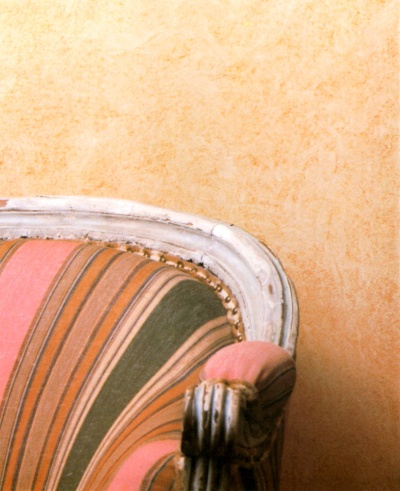 The photo above is an example of basic sponging on - but notice what's working here:
the juxtaposition of the wall finish and the striped furniture is similar to how various prints are effectively combined in decorating.
The color of the glaze does not repeat the colors of the upholstery exactly, but it's close enough to look related to the orange color family, and thus to pull the space together with one common denominator.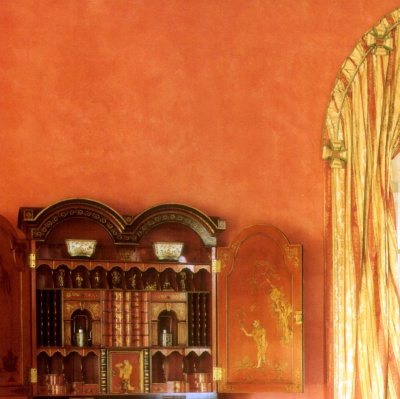 And this is what sponging off looks like - here in this living room, a bold persimmon shade was lifted off a golden background color using a sea sponge.
Both colors were clearly taken from the existing decor elements, for a dramatic but unifying effect.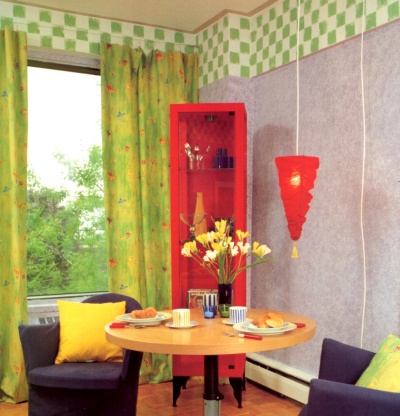 The lilac sponged walls in this youthful space are a good example of the maximum amount of contrast you should use between the base coat and glaze colors, when it comes to additive sponging.
Because of the speckled nature of this finish, even a little too much contrast, and instead of adding interest, the texture will just overwhelm the entire room.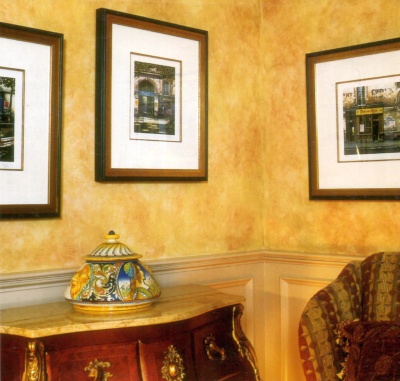 Subtractive sponging, on the other hand, can usually handle much more contrast without taking over - that is due to its softer, cloud-like texture.
In fact, sponging off actually requires that there be more difference between the base coat and glaze colors than for sponging on (not enough contrast, and the finish will be invisible).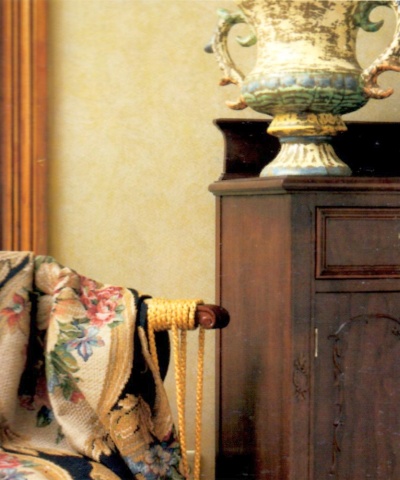 And here's an example of subtle additive sponging - a bright yellow color was applied over a pastel yellow base coat.
The beauty of low-contrast sponging applications comes from the fabric-like texture they create, not from the actual color combination. The result is a graceful finish that will look relevant for a long time.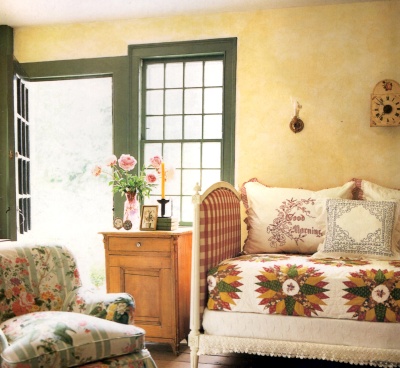 Sponging off can be done in a low-contrast palette, also - as long as you can still see some difference between the shades once they are overlaid (test the combination on a cardboard first).
Depending on the colors used for the technique, the result can often resemble soft suede texture or an old-fashioned lime-washed finish.
In the picture above, the walls look almost like old plaster - simply because of the country-style, rustic decor that is influencing how we perceive the painted effect.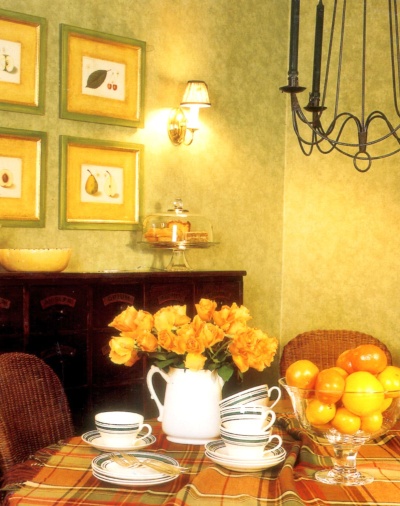 As a guideline, remember that the denser and more structured the sponging pattern, the more formal and traditional it will look - similar to wallpaper.
So if you like wallpaper, consider this application instead - unlike the real thing (which is a pain to remove), when you get tired of the look, all you'll need to do is simply paint over it with a solid color.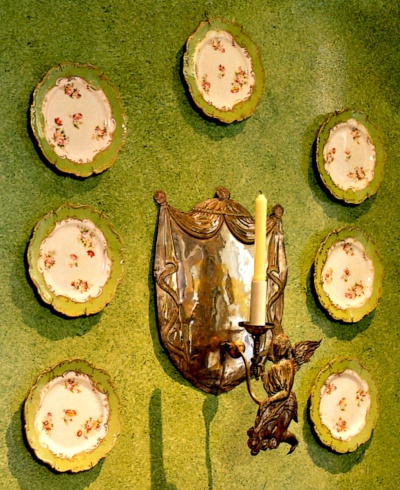 Subtractive sponging can be done densely as well - here an oil-based, moss green glaze was lifted off a cream colored wall, using the tips of a grass sea sponge, and rinsing it often.
The effect of this particular sponge painting technique resembles additive sponging in some ways, with a finish that looks slightly crunchy but without the dotted pattern typical of sponging on.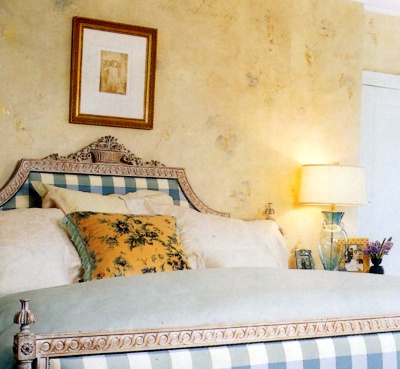 The more open and loose the pattern, on the other hand, the more laid back, painterly and even whimsical the final effect will be - just like in this bedroom example.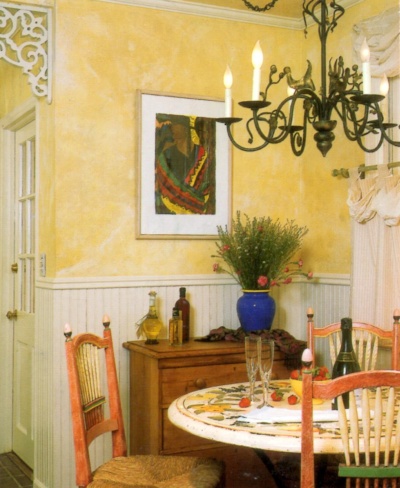 ... and the same is true for sponging off.
See how much more casual this sparse pattern looks, compared to the moss green example above?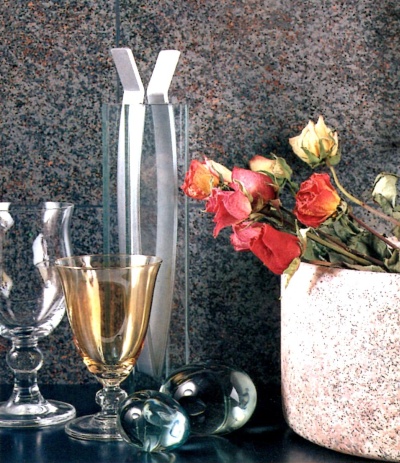 Positive sponging is a great and easy way to create an illusion of stone texture on a smooth surface.
In fact, the faux granite painting technique is done by using a simple three-color sponging process finished with some spattering.

That's also how the flat wall boards above were made to look like rough stone tiles.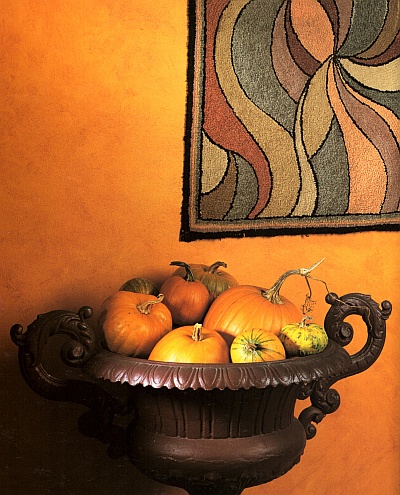 But sponging also works over an existing wall texture, like in this example - where a stucco wall was sponged off in 1 color, to play up the texture and create an even bolder mottled finish.
...by room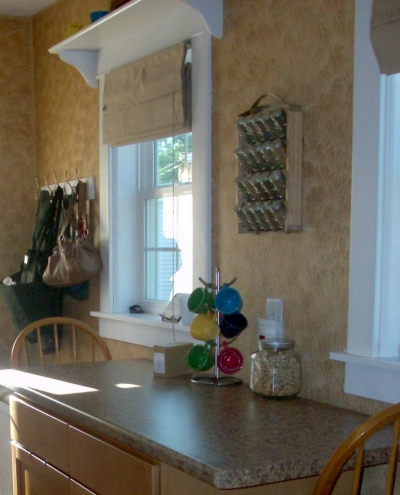 Sponge painting techniques are appropriate for any room in your house - with modifications, the result can be as formal or as playful as you like, and anything in between.
The kitchen walls above were done with a grass sea sponge (thus the discernable repeating imprint pattern) - the dense and structured finish resembles textured wallpaper with a fitting rye field-like design.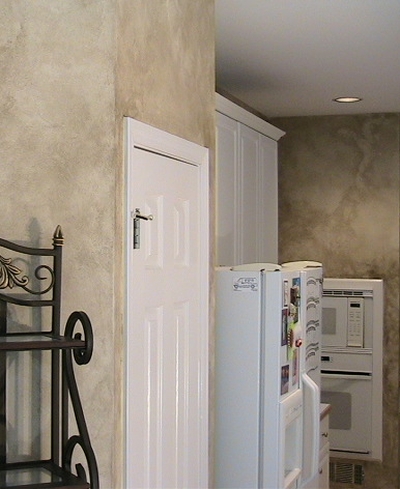 This kitchen finish looks more dramatic because it was sponged off in random sections, with longer wait times than is usual for subtractive techniques.
This method created slightly dried edges and coarser texture that now give more depth and character to the finish.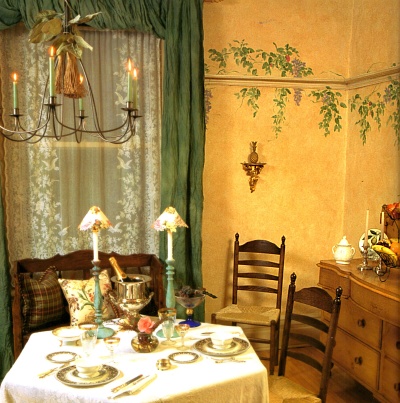 The low-contrast sponged on wall finish above makes a perfect backdrop for this pretty, welcome look - it's the soft terra-cotta colors that give this effect, and the hand-painted wisteria adds a bit of whimsy and old-fashioned charm.
In daylight, this dining room is fresh and sunny, but in the evening, with the right lighting, the room takes on an intimate, romantic glow.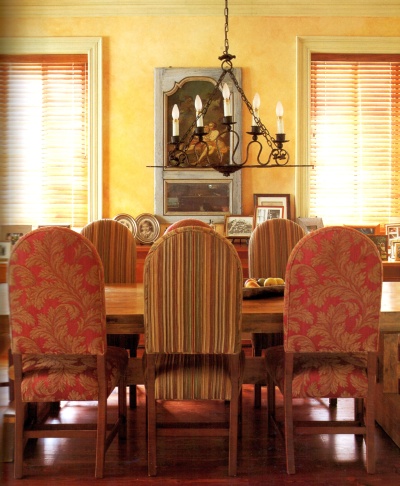 Decorative paint finishes hold pride of place in a traditional room, and make a fresh alternative to wallpapers - like in this formal dining room that was sponged off in a tone-on-tone color combination.
You can layer colored glazes to build drama, depth and history, as they allow us to use even strong colors without the heaviness of a solid surface of opaque paint.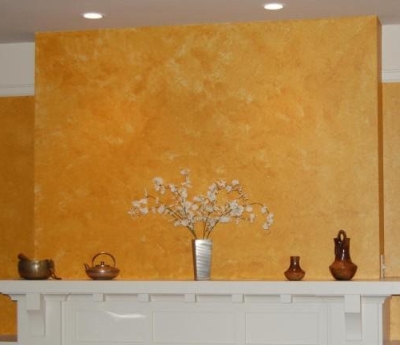 As you can see, sponge painting works well in most settings, depending on how paint is applied and the colors chosen.
In this living room, the walls were sponged on in different shades of yellow - the finish contrasts well with the white of the millwork.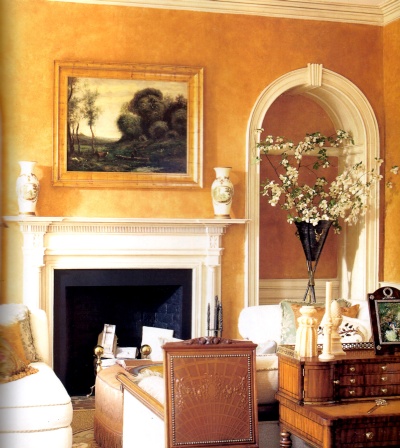 The paint and glaze colors used in this living room are very similar to the previous example, but the final result is "quieter", because the glaze was sponged off instead.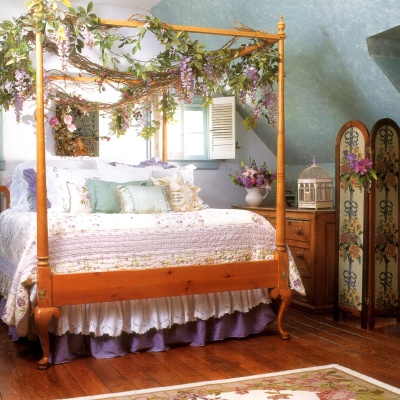 The light-over-dark color application used in sponge painting this country-style bedroom makes the finish look chalky - usually not desirable, but here it's a perfect complement to the shabby chic decor.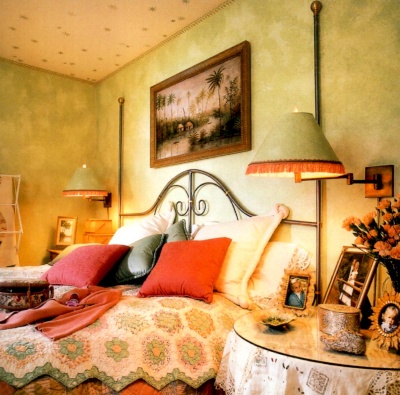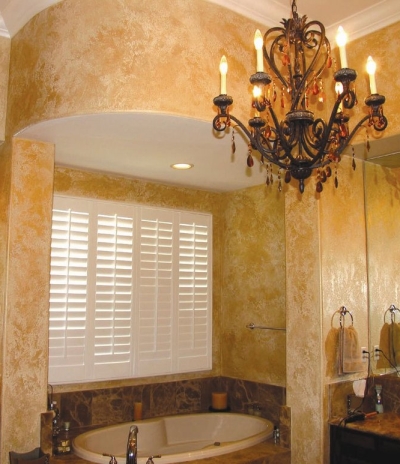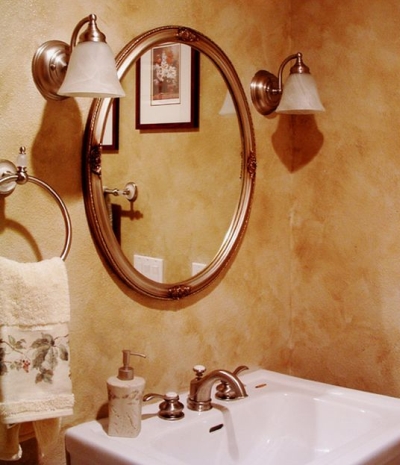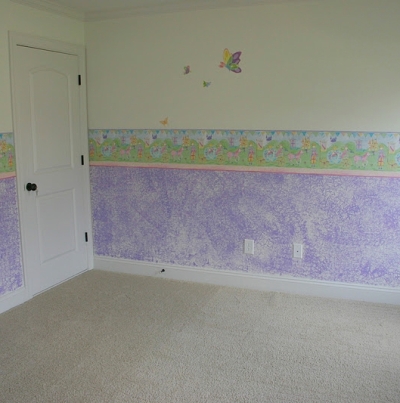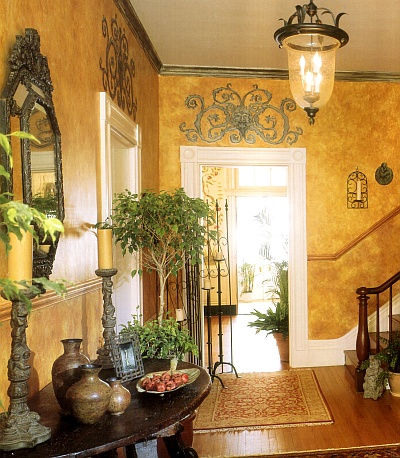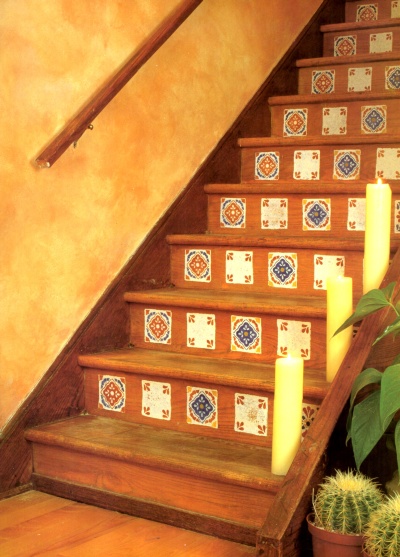 ...by surface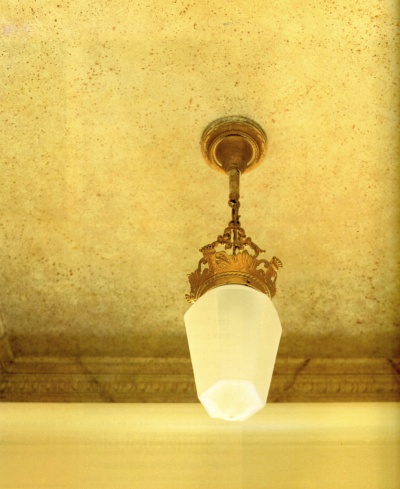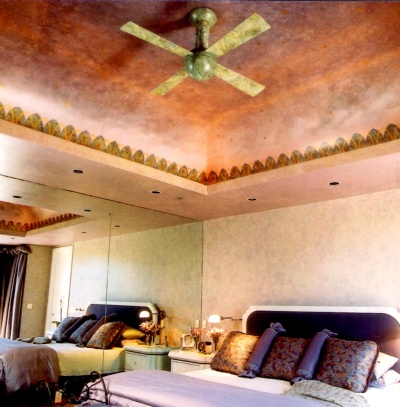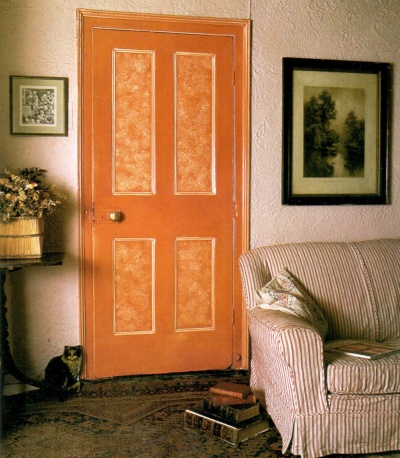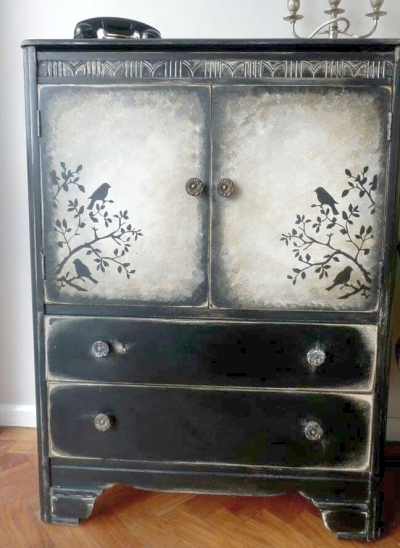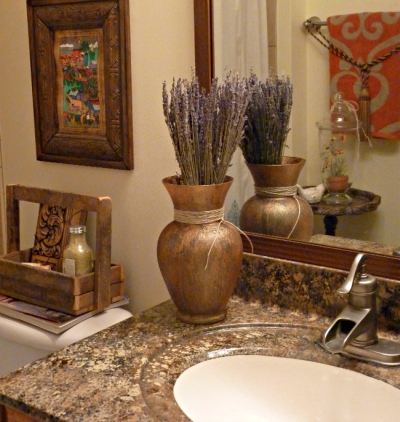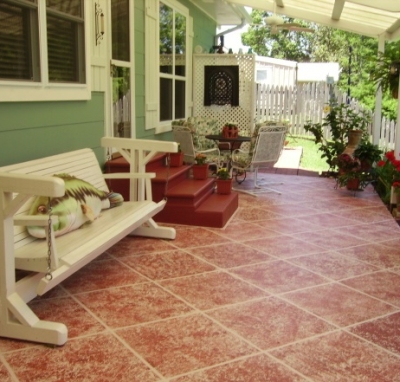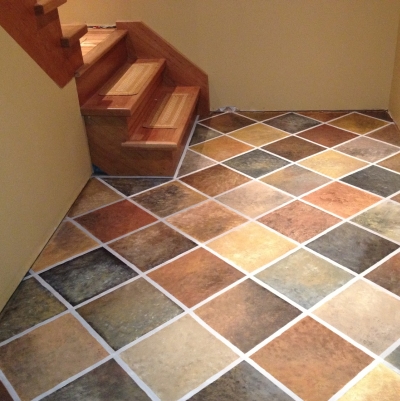 ...by design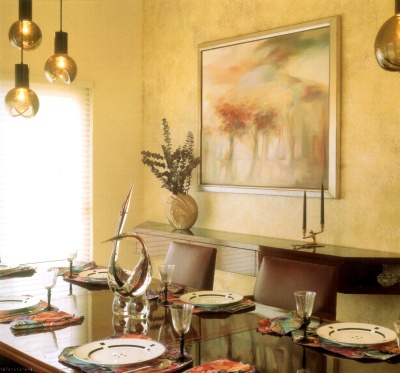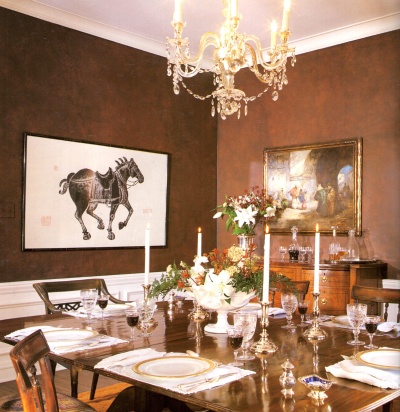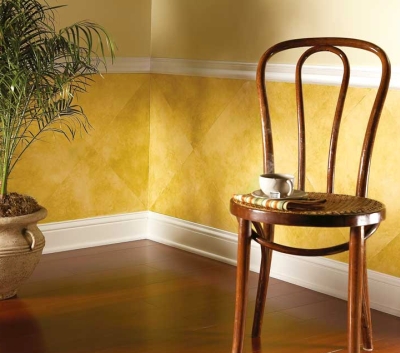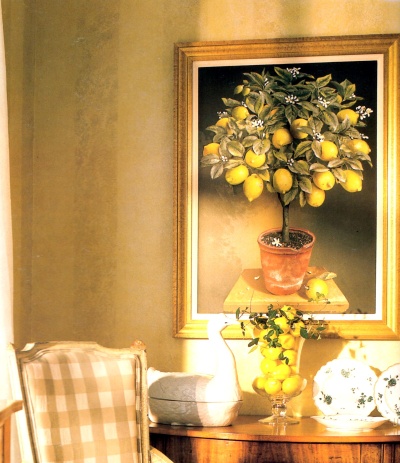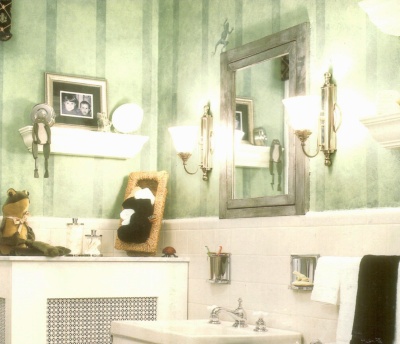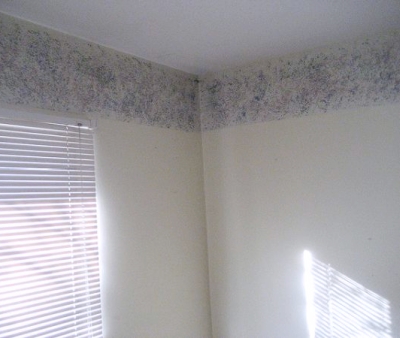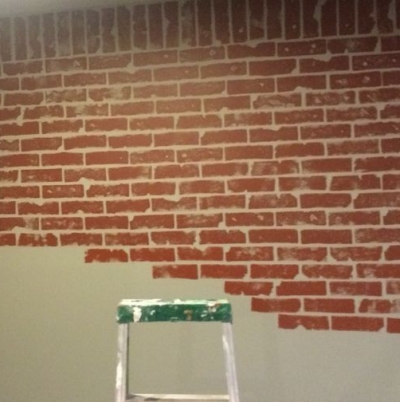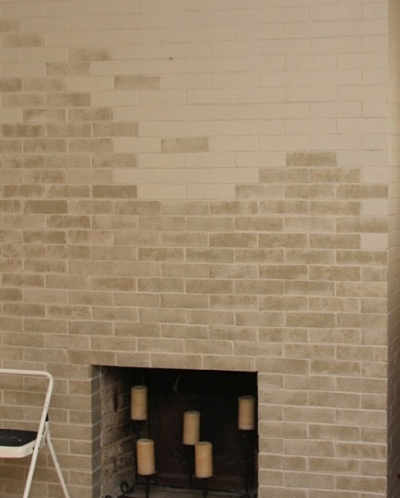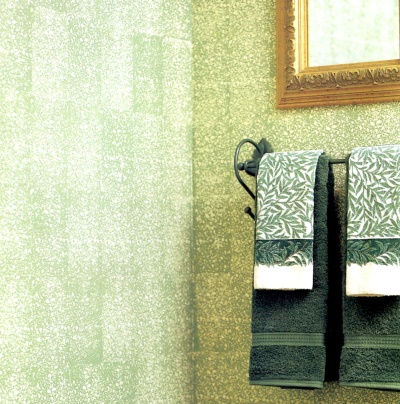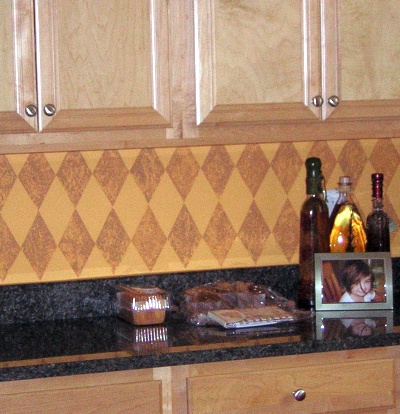 See Also:

How to Sponge Paint ON the Walls

How to Sponge Paint OFF the Walls
Tips and Tricks for Sponge Painting Walls
Sponge Painting ON and OFF: Ideas and Instructions